Roy Moore Could Win The Election, But That Doesn't Mean He's Heading To D.C.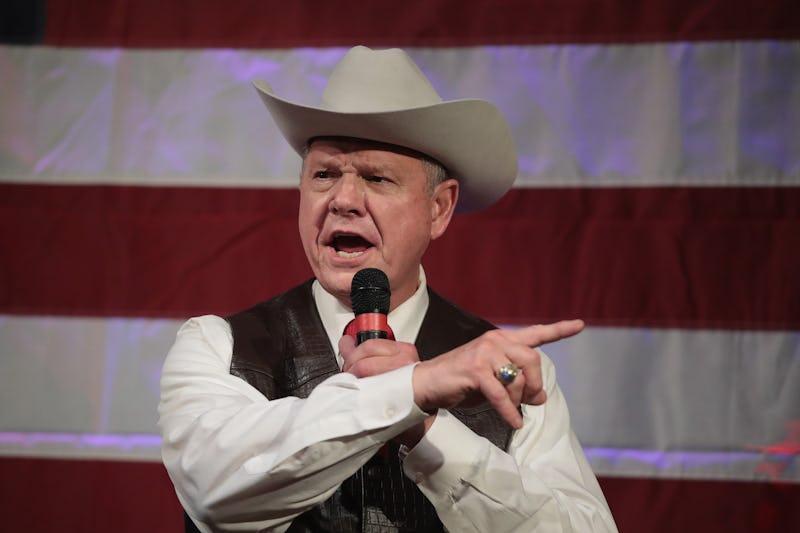 Scott Olson/Getty Images News/Getty Images
The controversy surrounding the Senate candidate Roy Moore in Alabama grew even worse Monday with yet another accuser coming forward. Despite Republicans' calls that he step down from the race, Moore has pushed on and denied the claims, calling it a conspiracy in campaign e-blasts. But even if he wins the special election, that doesn't mean he's heading to D.C. if Senate Republicans have their way. Moore could still be expelled from the Senate if he wins his race.
The idea was raised by Sen. Cory Gardner, a Republican from Colorado. "I believe the individuals speaking out against Roy Moore spoke with courage and truth, proving he is unfit to serve in the United States Senate and he should not run for office," Gardner said in a statement Monday. "If he refuses to withdraw and wins, the Senate should vote to expel him, because he does not meet the ethical and moral requirements of the United States Senate." Gardner heads the Senate GOP's campaign arm.
That's a step beyond Sen. Majority Leader Mitch McConnell's call that he quit the race — and it's actually possible. Expulsion has happened 15 times, although all of them were more than 150 years ago, the last being Indiana Sen. Jesse Bright in 1862, a Democrat. Fourteen of the 15 were expelled for supporting the Confederacy, including Bright. Since then, more have been considered for expulsion, but most have stepped down or there weren't two-thirds of senators willing to vote them out.
That's perhaps the trickiest part of the issue. Article I, Section 5, of the United States Constitution sets out the basics:
Each House [of Congress] may determine the Rules of its proceedings, punish its members for disorderly behavior, and, with the concurrence of two-thirds, expel a member.
That leaves little doubt for how the procedure would be carried out. The only question then is if there would be enough votes to do so. With McConnell's approval, there surely would.
The benefit for McConnell and the Senate GOP with this plan is that it would allow them to keep the Alabama seat in Republican hands. Once they expel Moore, it would be up to the Republican Alabama Gov. Kay Ivey to appoint someone to fill the seat, or schedule another special election. Voters are highly unlikely to choose a Democrat for the seat, unless there are special circumstances like this one.
But it could happen this time around. If Moore were to quit the race or be disqualified by the state GOP, there may appear some sort of write-in campaign. If Moore and the write-in candidate split the GOP vote, the Democrat in the race, Doug Jones, could pull it off. He's even leading in some polls this week.
More likely is that Moore could still win, even after being disqualified. Some of his supporters have said to pollsters that they're more likely to vote for him because of the accusations. According to Alabama Secretary of State John Merrill, if Moore were to win in such a circumstance, though, the election results would be invalid and the governor could call another election. "Our election would be declared null and void, and Governor Ivey would have to call another special election, and we'd start the process all over again," Merrill said on Fox News.
The natural choice for a write-in campaign would be Sen. Luther Strange who lost the primary to Moore. But Strange has said it's "highly unlikely" that he will run a write-in campaign against Moore. Instead, it might be up to a two-thirds Senate vote to ensure that Moore does not become the junior senator from Alabama.