So ... Ted Cruz Could Replace Jeff Sessions As Attorney General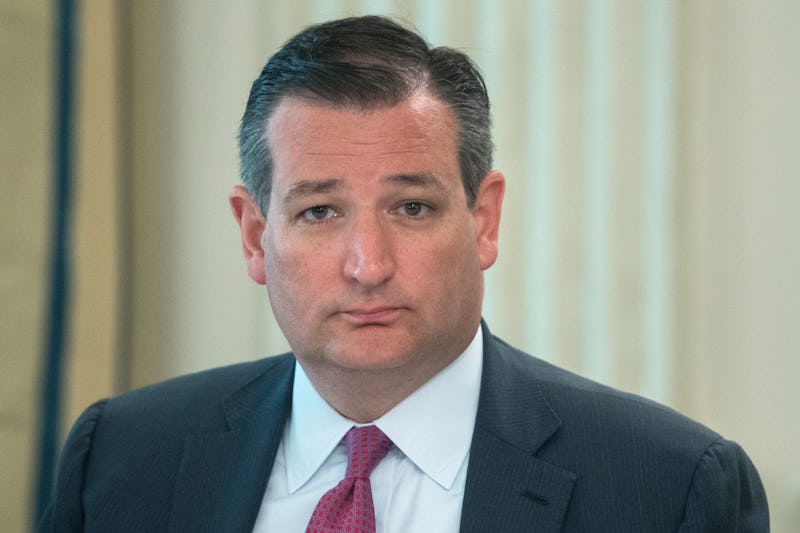 Pool/Getty Images News/Getty Images
In recent weeks, President Donald Trump has increasingly expressed frustration with his attorney general, Jeff Sessions. These frustrations have apparently reached such an apex that reports have begun to emerge that the president is considering replacing him. Indeed, The Washington Post noted on Monday that Trump is considering replacing Sessions with Sen. Ted Cruz, a staunchly conservative Republican from Texas. Cruz, however, has firmly denied these claims.
Trump's frustrations with Sessions stem from the attorney general's decision to recuse himself from the Justice Department investigation into the Trump campaign's alleged ties with Russia (which Trump has repeatedly denied). In an interview with The New York Times last week, Trump bluntly revealed his displeasure with the Sessions' recusal decision:
Sessions should have never recused himself, and if he was going to recuse himself, he should have told me before he took the job and I would have picked somebody else.
As the Times reported, Trump blames Sessions for the appointment of a special counsel, Robert Mueller, who is currently investigating his campaign's alleged Russia ties. Mueller also recently announced that he will be expanding the investigation to include an examination of Trump's business dealings. Following the Times interview, Trump has continued to publicly decry Sessions, even taking to Twitter on Monday to call the attorney general "beleaguered" and once again condemn his department's handling of the Russia probe.
The Washington Post reported on Monday that Trump and his advisors are discussing replacing Sessions and "floating ideas" for potential Attorney General candidates. The Post noted that, according to people familiar with the talks, Cruz is one of the individuals Trump is considering for the position, as is former New York City mayor Rudy Giuliani.
Cruz, a former Republican primary opponent of Trump's, flatly denied these claims late Monday evening, saying in a statement reported by NBC News:
Jeff Sessions is a friend and a strong conservative. I was proud to vote to confirm Jeff and to vigorously defend his confirmation, and I'm deeply gratified that we have a principled conservative like Jeff Sessions serving as Attorney General. ... The stories being reported in the media tonight are false. My focus is and will remain on fighting every day to defend 28 million Texans in the U.S. Senate.
Notably, Giuliani also denied that he was being considered for the role, the Post reported. He praised Sessions for his decision to recuse himself from the Russia investigation, saying it was the "right decision."
While tensions appear at an all-time high between Sessions and Trump, denials from Cruz and Giuliani that they have been approached to replace Sessions seem to indicate that the president has not yet made a decision about if and with whom he will replace the attorney general.
For his part, Sessions seems determined to stay in his role unless explicitly asked to resign, saying during a press conference last week that he will remain attorney general "as long as appropriate" and that he is very confident that he can continue to run the office effectively.