Courteney Cox Would Love To See A 'Friends' Reboot Too, But It Isn't That Easy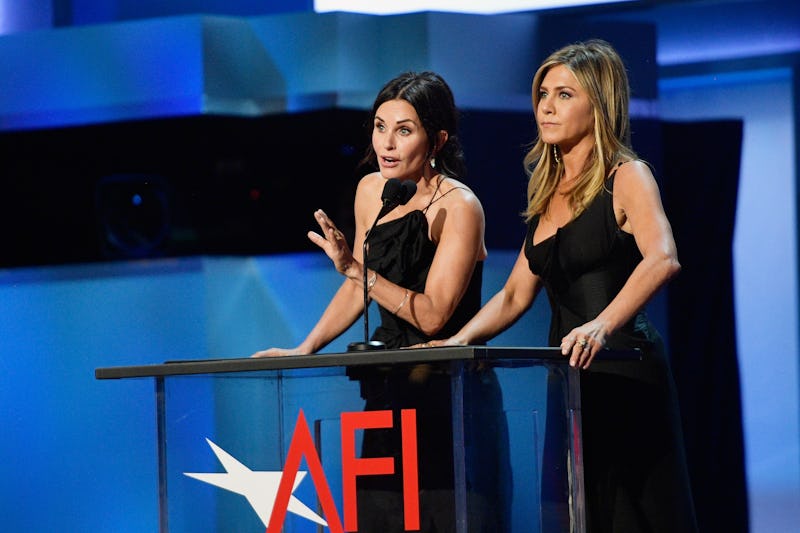 Matt Winkelmeyer/Getty Images Entertainment/Getty Images
It's the kind of bittersweet news you can't help but feel disappointment at hearing. Courteney Cox's recent comments on a 'Friends' reboot confirmed everyone's worst fears: there's a very, very small chance of it ever happening. Though Friends has never been scheduled for an official reboot, cast members and fans alike have speculated throughout the years on how glorious that might be. And while Cox isn't shutting down the possibility entirely, she admitted that it doesn't seem like it's in the cards any time soon.
While attending the "Through Her Lens: The Tribeca Chanel Women's Filmmaker Program Luncheon" in New York on Monday, Cox told People, "People ask us all the time, 'Will we ever do a remake?' That was a story about these group of people that are friends in their 30s who are finding themselves. I don't know if there's a way to redo it."
The 54-year-old actress continued, "I just don't see it happening. Even though I would do anything to be in a room with all of those people acting and having a great time. But I don't see it happening."
Friends ended in 2004, after a record-breaking decade on NBC that spanned 10 seasons. And while there does seem to be a certain level of excitement for television reboots these days, there are, unfortunately, no official plans to reboot Friends.
Cox's former co-stars have shared her sentiment in recent appearances. David Schwimmer said on Megyn Kelly Today in January, "The thing is, I just don't know if I want to see all of us with, like, crutches and walkers. I doubt it, I really doubt it."
As for Matthew Perry, he had a slightly darker slant on his perspective of a Friends reboot. To Variety in June, he said, "I have this recurring nightmare – I'm not kidding about this. When I'm asleep, I have this nightmare that we do Friends again and nobody cares. We do a whole series, we come back, and nobody cares about it. So if anybody asks me, I'm gonna say no. The thing is: We ended on such a high. We can't beat it. Why would we go and do it again?"
Lisa Kudrow had a little more optimistic of an opinion about a Friends reboot, even if she was a little skeptical. To Conan O'Brien, Kudrow said, "I mean, something should be done. I don't know what. They're rebooting everything, but how does that work with Friends though? I mean, that was about people in their 20s, 30s. Well, the show isn't about people in their 40s, 50s. And if we have the same problems, then that's just sad. That's not fun."
Jennifer Aniston had perhaps the most optimistic response of anyone to the idea of a Friends reboot. She said in an interview with InStyle magazine,
Before that show ended, people were asking if we were coming back. Courteney [Cox] and Lisa [Kudrow] and I talk about it. I fantasize about it. It really was the greatest job I ever had. I don't know what it would look like today, but you never know. So many shows are being successfully rebooted. I know Matt LeBlanc doesn't want to be asked that question anymore. But maybe we could talk him into it. If we give it some time, Lisa, Courteney, and I could reboot The Golden Girls and spend our last years together on wicker furniture.
Cox seemed to share the love, as well as the idea of extending Friends for years to come. When Cox was later asked how she felt about a new generation discovering Friends on Netflix, she replied, "That makes me thrilled, I can't believe it."