Crock-Pot Is Responding To Upset 'This Is Us' Fans & Totally Feels Their Pain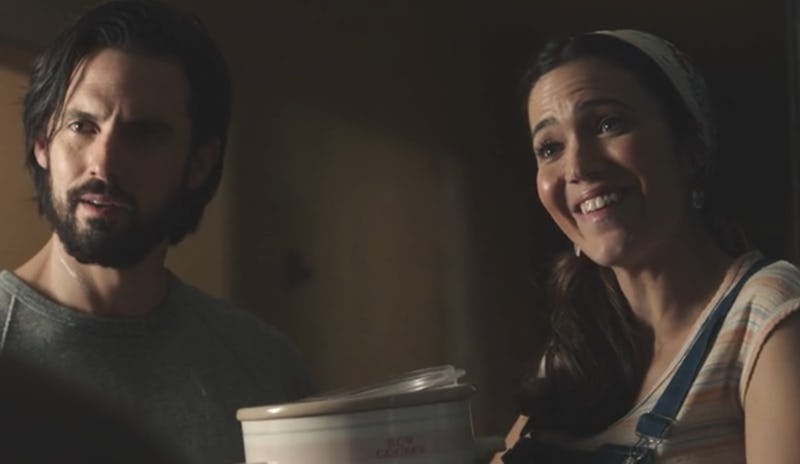 NBC
Spoilers for the Jan. 23 episode of This Is Us ahead. For anyone worried about using a slow cooker after Monday night's This Is Us, Crock-Pot is here for you. The brand Crock-Pot is sympathizing with This Is Us fans. There are people who are now genuinely upset and concerned about using a slow cooker after it was revealed that's what caused the Pearson's house fire that likely killed Jack. Bustle has reached out to Crock-Pot for further comment regarding fans' response, but didn't receive a response at the time of publication.
As showcased in Tuesday's episode, a two-year-old slow cooker was given to Jack and Rebecca before the Big Three were born by an elderly neighbor named George (who just might be hated more than Miguel now). The kitchen appliance also had a switch that needed to be "fiddled" with in order to turn it on and off. George was the type of person who didn't want to throw away any of his belongings, so he gifted his slow cooker to the Pearsons.
Flash-forward to 1997. After cleaning up the Super Bowl party mess in the kitchen, Jack turned off the slow cooker, but that pesky switch started sparking after he went upstairs to bed. Eventually, a dish towel caught on fire and engulfed the entire house in flames.
It's all very traumatizing and now some fans of the beloved NBC drama are wondering whether it's truly safe to use a slow cooker. Also, they have never hated the appliance more than they do in this moment. What better way to find some answers than by logging onto Facebook and reaching out to Crock-Pot directly. That's exactly what happened when two individuals commented on a Jan. 23 post shared by the brand.
One Facebook user, Elizabeth, wrote (you can read the comments here) "I hope you guys have an awesome Super Bowl commercial for a 'fire proof Crock Pot' after that This Is Us episode has everyone throwing away their Crock Pots... [crying emoji]."
Crock-Pot responded, "Hi Elizabeth, Jack Pearson was our Valentine so we equally understand your pain with his loss. We love him and we love you too [heart emoji]." The reply continued, "Don't further add to our heartbreak by no longer using Crock-Pot® Slow Cookers, rest assured our products have been generationally tested by your family and friends. DM us with any questions, and we'd be happy to tell you more about our safety standards!"
To that, Judd responded, "Haha! Thanks. Don't worry I haven't thrown mine away."
Another individual, Ruthie, also commented, "What is your response to This is Us? Soooo many people are worried now!" To that, Crock-Pot answered, "We're heartbroken over last night's episode, too! Ruthie, we're innocent until proven guilty. Since the 1970s we have been providing families with quality and safe products, ask your parents if you don't believe us. DM us with any questions, and we'd be happy to tell you more about our safety standards!"
This Is Us creator Dan Fogelman has also come to the defense of slow cookers. He tweeted Wednesday, "Taking a moment to remind everyone that it was a 20 year old fictional crockpot with an already funky switch? Let's not just lump all those lovely hardworking crockpots together."
But there are some fans vowing to dispose of their slow cookers immediately and others who are hating on the appliance, as strange as that might sound to a non-fan.
Throw It Out Now
Even If It's New, Get Rid Of It
It's Basically A New Trend
They Can't Be Trusted
The Worst Villain Ever
Never Again
Sorry, Crock-Pot
Like Fogelman said, it's best to note that Jack and Rebecca's slow cooker was two decades old and wasn't fully functioning. So, before you throw out yours, take a moment to reflect and remember that this is just a TV show that's not speaking on behalf of every slow cooker out there. (Also, in addition to turning the appliance off, you could unplug it, unlike Jack.)
Who knew This Is Us would cause such a frenzy about a slow cooker? Seeing as the next new episode airs after the 2018 Super Bowl, there's a good chance fans will not be using their slow cookers for any game day snacks. Sorry, Crock-Pot, this is probably going to take This Is Us fans awhile to get over.