Cup Noodles Just Launched Its Own Merch Line For Super Fans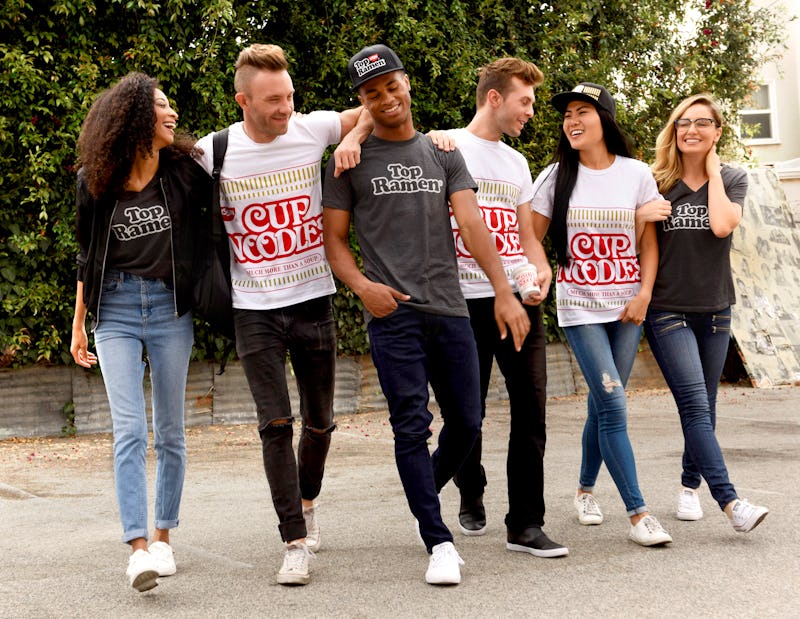 Courtesy of Nissin Foods
Do you remember where you were the first time you were introduced to the wonders of instant ramen? I don't; for as long as I can recall, I have had a deep and abiding love of Cup Noodles. And now, I can wear my noodle-loving heart quite literally on my sleeve: Tons of Cup Noodles and Top Ramen merch is available now at the Nissin Fan Store. An officially sanctioned outpost for all things noodle-y and good in this world, the Nissin Fan Store has opened just in time for National Noodle Day on Oct. 6. And, uh, folks? I need that Cup Noodles mug. I need it desperately. Because that is adorable.
There's a reason, by the way, that Cup Noodles and Top Ramen are seen as the two quintessential varieties of instant ramen: They were the very first ones ever to have existed. They were both invented by Momofuku Ando, who founded Nissin Foods, the parent company for both brands, in 1948. Ando introduced Chikin Ramen — now marketed as Chicken Ramen — to the market in 1958, making it the first instant ramen ever to have become available. Like its younger sibling, Top Ramen, Chikin Ramen consists of a block of flash-fried noodles which can be reconstituted with hot water; unlike Top Ramen, however, there's no separate seasoning packet. Rather, the seasoning is contained directly in the block of noodles.
Top Ramen went into production in the early '70s not too long after Nissin opened their U.S. plant in Gardena, Calif. Cup Noodles, which stuck instant ramen noodles in a foam cup (thereby eliminating the need for a bowl in which to make the noodles) and added dried vegetables (making it a complete soup, rather than just a bowl of noodles), arrived around that time, as well. And, well… to say the products were a hit is an understatement. Today, billions of packages of instant ramen are sold across the world each year, according to NPR. Cup Noodles can be found in over 80 different countries. And there's no sign of their popularity slowing down.
What's more, people don't just like to eat Top Ramen and Cup Noodles; they like to proudly proclaim their love for the instant noodle brands in more visible ways, too — namely, through merch. As Leslie Mohr, Nissin Foods USA's Vice President of Marketing, put it in a press release provided to Bustle, "From the start, we've been impressed by our fans' sincere love for Cup Noodles and Top Ramen, and we wanted to bring both brands to life in a new way."
These fans, she noted, are always super excited to win Top Ramen and Cup Noodles swag at events thrown by Nissin or through contests run on social media — so, the company decided, an online shop full of said swag seemed like a no-brainer. The idea, said Mohr, was to make Top Ramen and Cup Noodles merch widely available "so fans across the nation can join in on the fun."
That online store just launched today — and it's got more than just T-shirts in it, too. Don't get me wrong — there are T-shirts, and they are pretty fabulous... but there's more to life than T-shirts. Also on the… uh… menu? Let's go with that: Also on the menu are a couple of snapbacks:
The Cup Noodles mug I mentioned earlier:
A Top Ramen pillow and an inflatable Cup Noodles cup:
And everything you need to dress yourself, your pets, and any small children in your life up as Cup Noodles for Halloween:
What's more, even more items are set to hit the shop in coming months. The press release alludes to tote bags, for example; some of the images that have been released so far also suggest that a knit Cup Noodles hat with a red pom-pom on top might be on the way for winter.
However, all of the merch is limited edition, so act fast; once it's gone, it's gone. Head to the Nissin Fan Store to see what's currently available — and don't forget to check back for new items as time goes on.
Now if you'll excuse me, I have an extremely powerful urge for ramen that I need to address…