Custom-Fit Condoms Are Now A Thing, & They're A Huge Win For Sex Positivity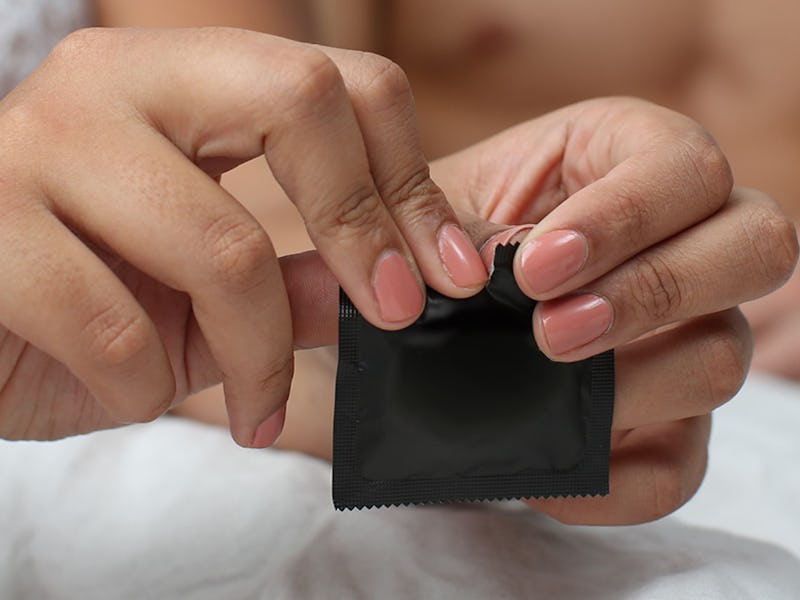 Ashley Batz / Bustle
Many people have a love-hate relationship with condoms. They're one of the only forms of contraception that guards against most sexually-transmitted diseases, but some say they can be uncomfortable, ill-fitting, and decrease sensation during intercourse. A recent CDC report found that only about a third of men used a condom the last time they had sex. Now, one company is hoping to combat condoms' bad rep by selling custom-fit condoms that come in over 60 sizes. This month, ONE Condoms launched myONE Perfect Fit, a line of bespoke condoms that come in various combinations of 10 lengths and 9 widths.
"After years of dedication and hard work, we are thrilled to announce a condom that will finally address complaints about fit," Davin Wedel, president of ONE Condoms said in a press release. "You might be able to squeeze your large hands into a size-small glove, but that doesn't mean it will be comfortable to wear. We want the world to know you shouldn't have to sacrifice comfort for safety when it comes to condoms."
According to the New York Times, until recently, the Food and Drug Administration, which considers condoms to be a medical device, required they be at least 6.69 inches long, even though the average erect penis is about 5.57 inches long.
"The idea was it had to be long enough to fit most men, and excess length could just be rolled," Debby Herbenick, a sexual health expert at Indiana University told the Times.
But this rolling is precisely what makes condoms uncomfortable for some users — and might lead them not to use condoms at all. As one customer reported of standard condoms, "The length was frustrating because you would get a lot of sliding, cutting off your circulation. I compare it to an anaconda wrapping around you." The customer also noted, "Sometimes the girth just wasn't enough."
While standard condoms are generally 6.7 to 8.3 inches long and 3.9 to 4.5 inches in circumference, myONE condoms come in a range of lengths, from 4.9 to 9.4 inches and circumferences of 3.5 to 5 inches. In order to avoid playing into any size-shaming, the sizing template does not include inches or centimeters, but randomly ordered letters and numbers, so a client's measurements could be E99 or N22.
Reviews on the site are overwhelmingly positive, with 93 percent of users saying they are now more likely to use condoms.
"The fit is better than any other condom I've ever tried. I can honestly say that I didn't mind wearing it, whatsoever," one client wrote.
"The perfect fit! I actually enjoy using a condom for the first time," said another.
In addition to reportedly being more enjoyable for the wearer, custom-fit condoms are a significant step forward for sex positivity. Generally, the burden of getting contraception falls largely on women. We have the Pill and sponges and patches and IUDs, while men have, well, pretty much just condoms. When news of a birth control shot for men came out last year, some complained of possible side effects, like depression and mood swings, to which women collectively replied, "Welcome to our lives."
This out-of-date, inequitable approach to contraception is the result of one of the oldest and most damaging narratives about gender: that sex is something men to do to women, not with them, and for which women alone must bear the responsibility of not getting pregnant. It's the same narrative that gave us "Boys will be boys," and, "You were asking for it with what you were wearing."
With custom-fit condoms, the onus is on men to seek them out, purchase their own custom size, and carry them around, rather than assuming their partner will have a condom on them. This forces men to actively take responsibility for their sexual safety. Custom-fit condoms aren't a cure-all for gender inequality during sex, of course, but diversifying the kinds of male contraception available is essential for men to begin to shoulder their own sexual responsibility. And based on the rave reviews, this sounds like a pretty enjoyable way to do so.