The 14th Queen On 'RuPaul's Drag Race' Season 9 Is Revealed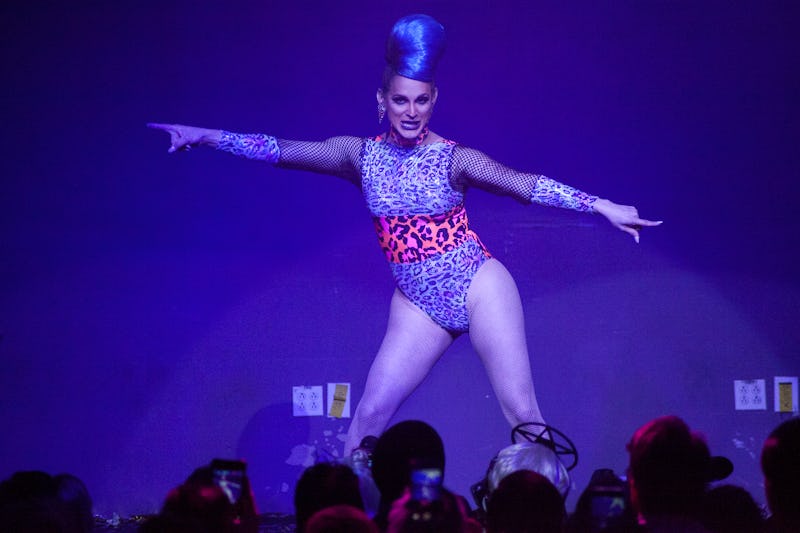 Santiago Felipe/Getty Images Entertainment/Getty Images
No show likes twisting reality conventions more than RuPaul's Drag Race, which is why after a Lady Gaga-ized premiere episode where no one was eliminated, the last few minutes surprised the cast with the news that there would be an extra racer added in the second episode, bringing the total number of competitors to fourteen. And in the second episode, it was quickly revealed that the fourteenth queen on RuPaul's Drag Race Season 9 is Cynthia Lee Fontaine, and while it's exciting to see this loud, charismatic Texas queen back in the workroom, it may not have been the huge surprise the show was hoping for.
Fans have speculated for a long time that the extra queen was Cynthia, ever since her distinctive voice popped up in the background of an NPR interview with RuPaul during the filming of Season 9. And the image of the queen that appeared at the end of the first episode resembled a wig Cynthia Lee Fontaine wore on social media last year. Cynthia Lee Fontaine appeared in Season 8, and shortly after she was eliminated by Robbie Turner's roller skating victory, there was news that she was battling cancer, but in an interview with Chron from spring 2016, she said she is now cancer free — and she seems much more energetic so far after just a single new episode. I mean, she already
Fans of this show can be incredibly intense, and love piecing together clues, so they may have been expecting this, but hopefully Cynthia and her cucu still have some surprises in store. Already, it looks like her costumes are a whole lot better than the truly tragic gyn shorts she wore in the Season 8 episode when she was eliminated. After an exit that many fans thought was too early, Cynthia Lee Fontaine has one more shot at the RuPaul's Drag Race crown, and so far, it seems like she's going to use her Season 8 experience to get ahead while maintaining her signature bright, bubbly attitude.