Despite Reports, Dakota Johnson & Chris Martin Are NOT Expecting Their First Child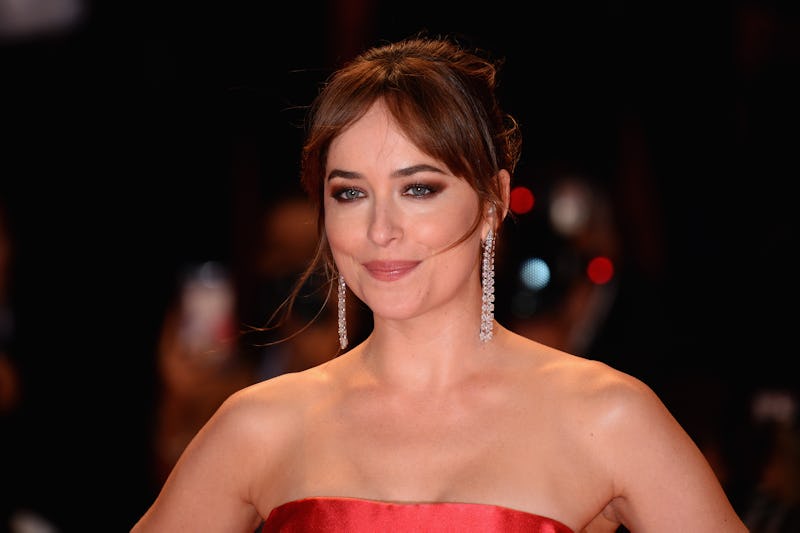 Eamonn M. McCormack/Getty Images Entertainment/Getty Images
Update: A rep for Dakota Johnson has since confirmed to Bustle that it was a birthday party and not a sex reveal.
Earlier: Just when you think it's going to be a typical Monday, a new TMZ report surfaces, claiming that Chris Martin and Dakota Johnson are having a baby together. And, according to the same report, the couple had what looked like a sex reveal party over the weekend, which featured blue balloons being released into the air, appearing to confirm that they'll be having a baby boy. Bustle has reached out to Johnson's rep as well as a rep for Coldplay for confirmation of this exciting news, but had not heard back at time of publication.
Of course, it's difficult to properly celebrate anything without knowing for sure whether it's true or not, so until we hear from the couple themselves, it's best to not immediately jump to conclusions and take this rumor with a grain of salt. However, it's also important to note that Johnson's mom, Melanie Griffith recently posted a video on Instagram that appears to be featuring the blue balloons in question, floating high above in the night sky. The caption doesn't give a whole lot of information about what's going on, simply reading: "About tonight🛸 Sky over Malibu." So is this just a mere coincidence or was Griffith trying to tease something more?
Shortly after the TMZ report went live, a representative for Johnson denied that the party was a sex reveal party, confirming to Bustle that it was merely a birthday celebration. Still, there's no denying that the bond between Johnson and Martin has only continued to get stronger over time. In fact, back in September, Johnson finally broke her silence about dating Martin. "I'm not going to talk about it," Johnson told Tatler when asked about her relationship with Martin. "But I am very happy."
Sure, she kept the response really brief and wants her relationship with Martin to mostly remain private, but the biggest takeaway from her statement is that she's extremely happy with how things are going, which is quite honestly the most important thing of all and what really matters in the long run.
Rumors that Johnson and Martin were dating first began back in October 2017 after a source told People that they shared a sushi dinner together in Los Angeles. Then, in December 2017, Us Weekly spoke with a source who claimed that the two were officially a romantic item. "Dakota and Chris are definitely dating," the source told the outlet. "They've gotten to know each other really well and are very comfortable from one another. Chris sends Dakota his music to get her opinion. It's more than just a fling."
Then, just in case you had any question that these two were the real deal, Diane Keaton appeared on The Ellen DeGeneres Show back in February and shared that she had seen Johnson and Martin together at DeGeneres' 60th birthday party. "They're a couple. Got it?" she told the audience. And if Diane Keaton says something is true, then odds are it is. Now if only she could go ahead and clear up these pregnancy rumors, that would be great.