Dakota Johnson Just Gave Out Her Phone Number For The Most Amazing Reason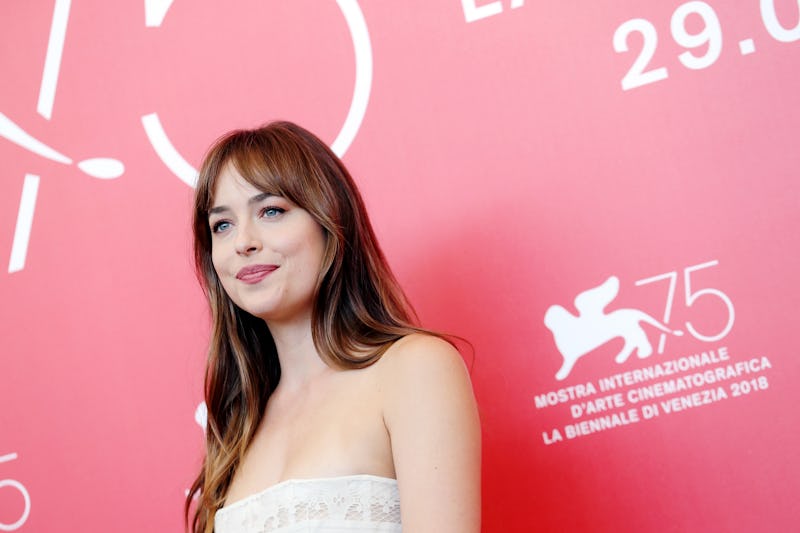 Vittorio Zunino Celotto/Getty Images Entertainment/Getty Images
Actors in the spotlight are typically private. They understandably keep to themselves and often hate invasions of their privacy. But this weekend, actor Dakota Johnson gave out her phone number at the Global Citizen Music Festival, according to US Weekly. And she has a good reason for breaking with celebrity tradition.
On Saturday Sept. 29, Johnson appeared on stage at the music festival, which took place in New York City in Central Park. The goal of the festival is to raise awareness about issues affecting people around the world, while also raising the voices of citizens eveywhere, with an end goal of ending poverty by 2030. Even though Johnson wasn't performing, she got on stage to let everyone know how they can help her help other women who are facing hardships.
"I don't want to speak. I would rather listen," Johnson said, as reported by US Weekly. "I care what you have to say and I want to help you, women and girls around the world, tell your story … This is a little bit different... But this is my phone number and I want you to call me and I want you to tell me your story in a voicemail." As she said this part, the number 1-212-653-8806 came up on screen. She went on: "Or I want you to send me a message at dakota.johnson@globalcitizen.org. And I want you to tell me what you've gone through as a woman or a girl in the world that's been suffering."
In a video shared by NBC, you can hear the crowd making noises of semi-disbelief, because what A-List actor just hands you their number? But of course, it's for a worthy cause. Johnson continued,
"And if we don't speak the same language, that's OK, we have a team for that, we'll translate it. And if you're gonna threaten to hurt me, we have a team for that, too! Together with Global Citizen, I'm going to compile these stories. And I'm gonna get them heard so that I can amplify your voice. And together I think we can achieve a world where she is equal."
If you call the number, it isn't fake, there is an actual voicemail and inbox where you can record a message and leave it for Johnson herself. She says in the recorded greeting: "This is Dakota Johnson please leave a voicemail after the tone and I will record and share your story so we can live in a world where she is equal. Thank you."
In the beginning of her speech, she explained exactly why she was doing this pretty remarkable thing of giving out her number to millions of strangers. She said,
"It is 2018 and the rights and the dignity of women and girls are under attack as much now as they always have been... We have been silenced and we have been told that we don't deserve a seat at the table. And we have been told we are liars. And we have been told to sit down. I believe every woman and every girl should have access to reliable contraceptives, safe reproductive care, and a quality education... I believe that we should live in a world here every girl can maximize her potential and have a bright future full of enormous opportunity and success in front of her, because her gender does not limit her capability."
It's a pretty remarkable thing, and all in partnership with Global Citizen. It's a part of the Global Poverty Project, which is all about ending poverty through education and advocacy. The festival began in 2012, and raised $1.3 million that year alone. Chris Martin was the curator this year, and he has been since 2015, when it was announced that he would be doing so for the next 15 years.
There's no news on exactly how she's going to put these stories into a project or get them out into the world — because she's probably going to receive a ton of content — but there's no doubt that the end product will certainly be inspiring.