You Probably Forgot About Dakota Johnson's 'Office' Cameo In The Series Finale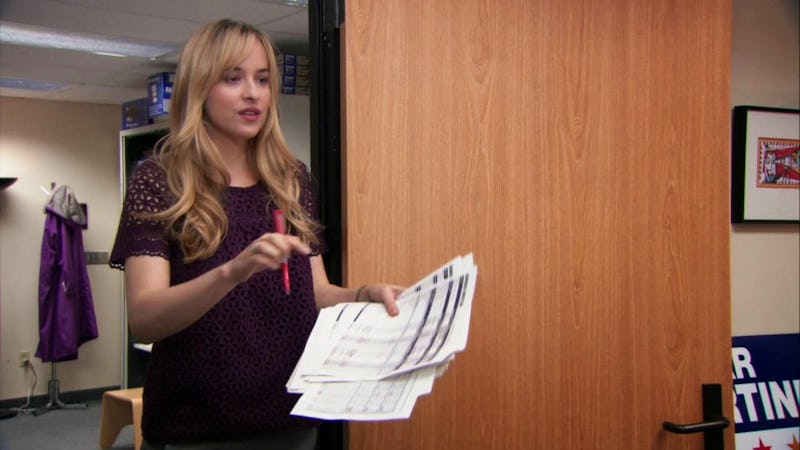 NBC
When The Office ended in 2013, more than one celebrity popped into the final episode — including Seth Meyers and Bill Hader as themselves, Rachel Harris, Sendhil Ramamurthy, Clay Aiken, as well as Joan Cusack and Ed Begley Jr. as Erin's biological parents. However, did you remember that Dakota Johnson is in The Office series finale as well? The future Fifty Shades star was briefly employed at Dunder-Mifflin before she met Christian Grey.
Like many of the other characters on the long-running sitcom, Johnson played someone with her same name. The character Dakota is a new accountant who replaces Kevin after he is fired at the start of the episode. The actor was blonde, at the time, though still recognizable. While the material is obviously quite different compared to Fifty Shades, she is rocking some blazers in both roles — particularly in Freed. Stanley, who finally retired, has a replacement in the episode too. Dakota and Malcolm (Malcolm Barrett) are part of a fresh-faced new generation of paper dealers. Even though the show is ending, the company goes on.
Johnson is in a grand total of two scenes in the show's finale. At work, she comes into Oscar's new office with a question about Stanley's notes. Later, she appears at Dwight and Angela's wedding and has a brief conversation with Creed. That's it! We don't really learn anything about her character's life or personality outside of work. (So, that part is not all that different from Anastasia Steele, to be frank.) It's possible that she was cast to juxtapose Kevin — as a young and not-jaded woman, she's almost his polar opposite. Still, hard to establish much in just one episode.
In an additional scene that at least does not appear in the Netflix cut of The Office finale, Dakota strikes up a friendly rapport with Clark Duke's character, Clark. It's later revealed that she showed up to the warehouse party after the wedding. Check it out:
This wasn't Johnson's first role or anything. In fact, by that time, she had already starred in the short-lived comedy series Ben And Kate and appeared in movies like The Social Network, Five Year Engagement, and 21 Jump Street. With those credits, the actor appears to have been pursuing a comedy career at that point. She was also in an adaptation of Shakespeare's Cymbeline with an impressive cast that includes Ethan Hawke, Ed Harris, Penn Badgley, Milla Jovovich, and Anton Yelchin. She just wasn't the name she is today. Not yet.
Not only is it fun to see a now known actress in a role so disparate from what she was later known for — but if The Office gets revived, will Dakota the accountant be on it? She totally should be. Presumably Dakota kept working there. What if she became the boss, or at least the assistant to the regional manager? Wouldn't it be fun to see her leading a new crew of hum-drum cubicle dwellers? Did Clark and Dakota become the new Pam and Jim, were they more like Kelly and Ryan, or did they stay platonic? Looking at those cut scenes, that seems to be the flirtatious parallel they were making.
There are always more stories to be told. Jake Lacy, who joined the show in the final season along with Duke, has gone on to become somewhat of an indie hearthrob. The three of them, plus Timeless actor Barrett, could easily connect a reboot to the original series, in the event that none of the original cast returns. Johnson's appearance is not just a fun cameo, but kind of an intriguing possibility. You know the ladies of Scranton at least toyed with the idea of starting a Fifty Shades book club. There are so many meta jokes to be made.
Never forget, Amy Adams and Idris Elba were on this show before they blew up, too. A lot of famous people were on The Office at one time or another. What's surprising about Johnson is that she was only in the series finale, and barely made a dent. It's definitely a possibility to keep in mind if and when the show returns.