This Company Wants To Make Reusable Tampon Applicators A Thing & It's About Time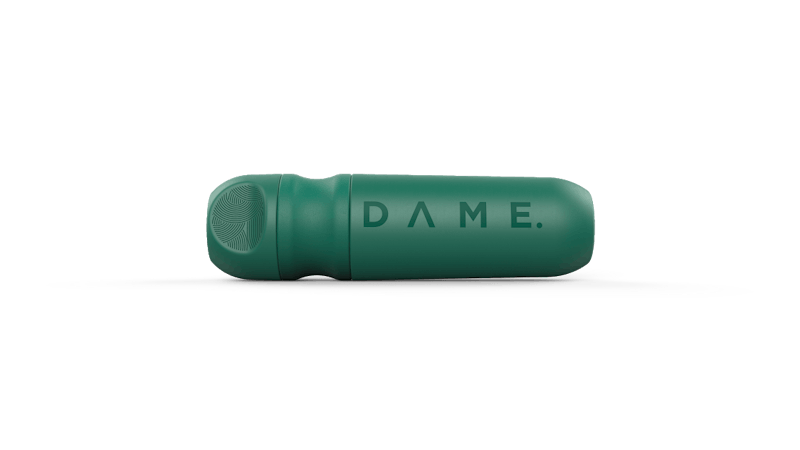 Courtesy of DAME
In recent years, many menstrual product manufacturers have focused on developing products that cause less harm to the environment. From menstrual cups to absorbent period underwear, products are being designed to create less waste, while still being effective. DAME reusable tampon applicators are the latest innovation in green period products, and it's about they existed.
DAME already created organic tampons free of chemicals and additives, but the company's co-founders, Celia Pool and Alec Mills, were inspired to also make a environmentally-friendly applicator — which they named "D." Pool tells Bustle that, "It was when we were running a thriving online period subscription service that we realized how massive, but silent, the problem of menstrual plastic waste is. And while we offered both disposable and reusable products, virtually no one wanted to buy the sustainable options. That's when we decided to design our own version of a green tampon that [people] might actually use."
Click here to back the Dame Kickstarter campaign.
As Slate reported in 2010, period products are hugely detrimental to the environment: In the United States alone, the average menstruating person creates 62.415 pounds of menstrual waste (think tampons, pads, and even underwear) in their lifetime. DAME set out not only to make a reusable applicator to reduce this unnecessary waste, but also a product that was still comfortable and hygienic for users. "So far, women have been forced to choose between applicators or the environment, despite half of them being concerned about the impact their menstrual products have on the planet," said Pool in a press release. "We want to change that with our reusable tampon applicator, D​."
Click here to back the Dame Kickstarter campaign.
So, how does D. even work? According to the Kickstarter campaign page Pool and Mills made to back the green period product, the co-founders opted for a simple design. D. is made out of two parts, and includes a lid, as well as six of DAME's organic tampons. DAME also created a tin (which is cute AF) to make the product easier to travel with, and to help foster less shame around periods. "Creating a product that looks good in bathrooms and handbags is a further measure to normalize periods," said Mills in the press release. Using the reusable applicator is pretty dang straightforward: You insert any size tampon into the applicator, and push it in using the base. After inserting a tampon, you simply have to wipe down the applicator, rinse it off, and put it back into the lid and case. Then, you're good to go.
If you're worried about hygiene, Pool and Mills designed the reusable applicator to be self-cleaning in many aspects. The DAME co-founders used medical grade materials, and ensured the product passes medical standards. Furthermore, the product has antiseptic and antimicrobial properties, meaning it naturally staves off bacteria. Much like menstrual cups, D. can withstand heat, and be sterilized with hot water. Overall, DAME's reusable tampon applicators are super hygienic, and easy to clean even if you are in a rush.
As of now, DAME has raised close to $12,000 of their $27,804 goal through their Kickstarter campaign. The campaign will close at the end of March, and if the goal is reached, the money will be used to manufacture and ship the first orders of the reusable tampon applicator, starting in July 2018. Mills tells Bustle that D. will be available to be shipped anywhere in the world, and that the company created the reward "Give A Dame" on their Kickstarter so that folks could basically donate a D. to those in need of period products, but who may not necessarily be able to afford it themselves.
Considering how much waste people create, finding sustainable solutions is key to preserving the environment and precious ecosystems that have already jeopardized by landfills, or ocean dumping. DAME has created a product that not only helps Mother Earth, but that gives people a simple, effective option to deal with their periods.