Daniela Vega Is So Much More Than Just The First Trans Woman To Present At The Oscars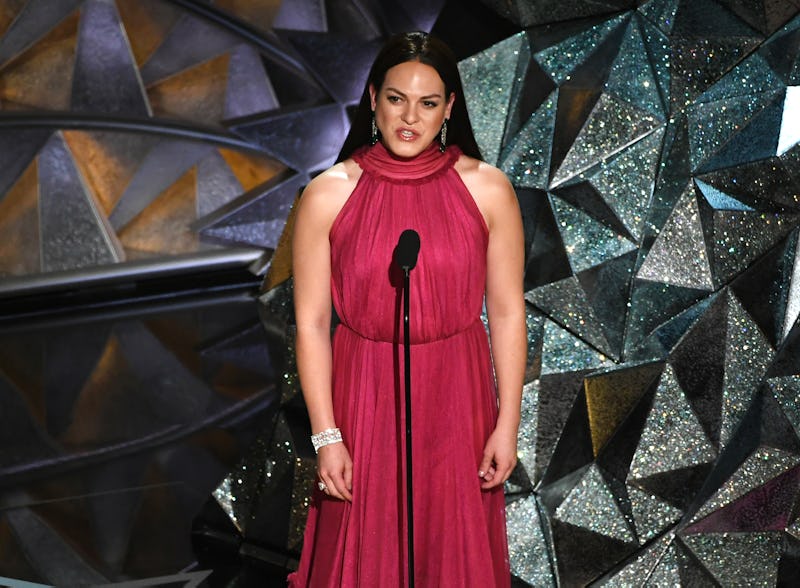 Kevin Winter/Getty Images Entertainment/Getty Images
In more ways than one, Daniela Vega is a pretty fantastic woman. The critically-lauded Chilean actor rose to international acclaim last year with the release of Sebastián Lelio's 2017 festival darling A Fantastic Woman, in which Vega — fittingly — played the title role. And it looks like she's continuing her Hollywood tour de force in 2018, because, in addition to her stellar acting chops, Vega will be the first trans person to present at the Oscars. So, when the 90th annual Academy Awards ceremony kicks off at L.A.'s Dolby Theatre this Sunday, March 4, Vega will be in attendance for two distinctly triumphant reasons: one, her film, A Fantastic Woman, is up for the evening's Best Foreign Language title; and two, she'll literally be making history.
Over the last few weeks, the Academy of Motion Picture Arts and Sciences has been steadily rolling out its line-up of celebrity presenters. The line-up, for the record, is stacked with a whole rolodex of A-list celebrity names, including Mahershala Ali, Lin-Manuel Miranda, Gina Rodriguez, Gal Gadot, Mark Hamill, Armie Hammer, Oscar Isaac, Eva Marie Saint, and Zendaya. But, of all the inevitable quips, one-liners, and knowledge bombs to come out of this year's upcoming Oscars presenters (some of whom, like Ali, hold past Oscar titles of their own), Vega's will probably reign as the evening's most unforgettable.
After all, if her haunting onscreen performance in Lelio's film is any indication, that woman has one heck of a stage presence.
Though Vega has long been involved in Santiago's stage-acting scene, the 28-year-old actor (who doubles as a celestial lyrical singer to boot) didn't make her international big-screen debut until 2014, when she wowed critics and viewers alike with her truly formidable performance in A Fantastic Woman. Vega stars as Marina, a waitress and nightclub singer reeling in the aftermath of her (much older) boyfriend's death. The fierce cerebral drama is a sort of follow-up to director Sebastián Lelio's 2013 film, Gloria, which also capitalized on the dynamism of its leading female character.
Vega's portrayal of Marina has been met with steady bouts of acclaim since A Fantastic Woman first premiered at the 67th annual Berlin International Film Festival back in February 2017. After that, the film continued to make its mark on last year's festival circuit, gleaning some Oscar whispers along the way. And while the buzz about a potential Best Actress nomination for Vega didn't quite yield the results fans were looking for, A Fantastic Woman will still see its due this year with a nomination for Best Foreign Language Film.
In addition to its electric onscreen performances, A Fantastic Woman has been celebrated for its markedly authentic portrayal of a trans character. Vega, who is also trans in real life, plays Marina, who is trans in the film. (This is in direct contrast to the handful of mainstream Hollywood films featuring trans characters played by cis actors over the last couple of years. Think: The Danish Girl, Dallas Buyers Club.) Back in January, Vega sat down with Vanity Fair for a candid, feature-length interview in which she spoke about her Fantastic Woman performance, its reception, and the importance of trans actors playing trans roles onscreen:
"The fact that I am trans provides the script and narrative with a higher level of truth. But, more importantly, it opens a door into the movie world that had never been explored before, because I am a trans actress playing a trans woman."
So, with Vega's unbelievable charm and indelible talents backing her, it's probably safe to say the Oscars evening will prove nothing short of fantastic.