Dating On Bumble In The UK Vs The US: A Very Scientific Analysis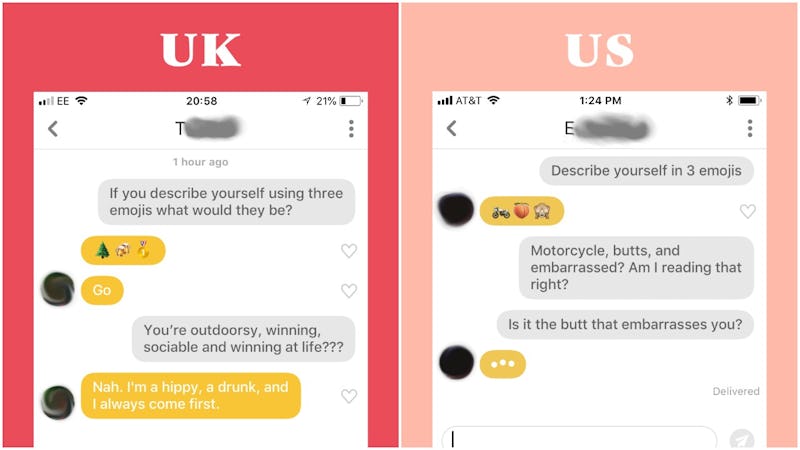 By
Janet Leigh & Claire Lampen
Have you ever found yourself exasperated after yet another horrific text or aimless swipe right, and wondered if love would be easier if you lived in a different city... maybe even a different country? Well, you're not alone. That's why we decided to test the open waters as definitively as we could to see what life on dating apps look like in the U.K. vs. the U.S. Two women in two different cities took to Bumble with the same 10 opening statements, each time with a new match, to see what type of responses they would garner in order to determine whether dating is really better (or worse) on either side of the pond.
On the U.K. side, we have Janet, who lives in London. She says dating in her city is "a bit like riding the underground during rush hour: overcrowded, competitive, and somewhat unfriendly. Getting to know someone can be tough, getting to the point of trusting them is even tougher, and all the while you're worried your feelings will get trampled on. There are 8.7 billion people and it's never been harder to find someone binge watch Rick and Morty with."
On America's side of the Atlantic, we have Claire who lives in New York City. She describes NYC's dating pool as "a dumpster fire or something similarly dramatic. With so many aggressively ambitious types crammed onto one island, and with so many options available at their fingertips, New Yorkers may prefer to keep their options open. They quickly abandon fledgling relationships in hopes of leveling up, or refuse exclusivity all together."
While neither of the daters is particularly optimistic about the prospects of love in their respective cities, they both can agree there's still a lot of fun to be had. Here's what dating looks like in the U.K. vs. the U.S., as told through Bumble screenshots.
"Describe Yourself In Three Emojis"
Janet from the UK: T. had me… and then he lost me. You always come first? You're either arrogant in life or selfish in bed. Neither is attractive.
E. has some issues to deal with. It's OK to like motorcycles and big butts, you can admit it without shame.
Claire from the US: T. sounds like a real winner.
E. seems very embarrassed about his voluptuous butt.
Janet from the UK: R.'s is more like it. Black power shows he's proud of his heritage; he's a film buff, which suggests creativity; he travels, which means he's worldly.
N. is either really keen on reaching that five-a-day fruit target or he was most definitely going in that direction. Perfect if you're looking for a fling, not so good if you want something serious.
Claire from the US: For R., I honestly I expected wittier — cheekier?! — answers from a British gent, and this seems perfectly straightforward.
N., a self-described "simple man," quickly disappeared from my match queue after we exchanged messages. I really expected his choice of sexually suggestive fruits to segue into a vaguely dirty intro. Happy to be wrong about that.
The Verdict: We're going to go ahead and give this one to the London men but only just — as there were no peach emojis on that side of the pond.
"What Are You Looking For On Here?"
Janet from the UK: H., makes a bold move but I can respect it. Most people would be pretty annoyed but I appreciate his honesty.
V. doesn't give a perfect or even a desirable answer for those looking for something serious, but it's straight up honest and that's all anyone can ask for.
Claire from the US: H. is honest about what he wants.
V.'s answer is also honest, and I take no issue with either. More broadly, though, it seems guys are forever slapping disclaimers on first dates, like, "Hey stranger, just so you know, I'm potentially down for sex but I'm never going to be interested in you in any real way." Cool, wow, thanks, so glad I made time to meet you, bro.
Janet from the UK: Red Alert, R.! Sounds pretty, but it's a sentence without any meaning. He should be taking notes from Mr. No Strings. Say what you really want.
As for J... daaaaaaamn. Aren't there sites specifically for those sorts of things? There's honesty and then there's lunacy. Poor Claire!
Claire from the US: It's wild how R. set out with such a specific goal, even before he knew Janet existed. Unless… oh God.
J.'s response was fast! It leads me to believe that this is a form letter he fires off to every match/possible third. I'm not super interested in sleeping with this pair, but I hope they find their unicorn — best of luck out there.
The Verdict: There's no response to this question that isn't a little bit disappointing or creepy, but being fed a template for a threesome takes the cake. London wins again.
"Why Did You Swipe Right?"
Janet from the UK: Aww, man D.'s a sweetie. Honestly, I felt a little guilty after reading this one. It's classic and seemingly authentic romance.
I have a question for T., if you're trying to be funny by being frank but it isn't even funny, is it just rude? Because I feel like he's in that zone.
Claire from the US: D. makes me feel like a jerk. These guys come here looking for love/casual sex and instead they land on Bustle.
T. further confirms that my profile pic ensemble is basically straight dude bait, and yet not a single man hit on or even high-fived me when I wore it IRL. I wonder why that is.
Janet from the UK: Woooooow, S. — shooting straight from the hips with this one, aren't you mate? It could either be borderline offensive, reducing me to a token black girl, or he is just using humour to express his entitled preference for darker-skinned women… I feel good about the skin I'm in so I automatically assumed the latter — but who knows?
I want to like Y.'s response, but it's boring. I guess you could consider that bants… but is it good bants….? Meh, not really.
Claire from the US: S. makes me no longer feel bad for any of these dudes. Who the f*ck is this guy?
Unfortunately for Y., the fish is cardboard.
The Verdict: It isn't rocket science to see why S.'s comment ruins it for everyone. This round goes to New York.
"Do You Believe In Love?"
Janet from the UK: P. makes me want to delve in here, but more as a psychotherapist than a potential match. I just want to give him a squeeze and rally him into rooting for love again.
H. is a little too concerned about the question; it isn't a marriage proposal!
Claire from the US: P.'s not a serial monogamist. I like this answer.
Ah, H.'s profile shows me he's a man who loves fitness, swim-up bars (got me there), and clubs where women carry shot trays. I will not be able to verify any of it, though, because this guy never answered my question.
Janet from the UK: I couldn't agree with P. more. I've been on the dating scene for 16 years and even though it's become a bit unhinged, I think people are still trying to stumble across love.
G. is either inquisitive or scared that he's about to be strong-armed into a deep conversation, so he wants to know what he's in for before he settles into it. Either way, he still answered.
Claire from the US: P.'s answer is so... earnest, why is everyone so earnest on here? Love is dead.
G. is curious without being direct. He "guesses" love exists but also wants to know how I feel. He also wants to know why. He could be a philosopher or just downright suspicious. And now I'll never know.
The Verdict: It seems like most men — on either side of the pond — are afraid to open up to strangers about love. Sure, it's a heavy pick-up line, but two adults should be able to discuss love, right? The Londoners were definitely more forthcoming, however, so this one goes to them!
"U up?"
Janet from the UK: G. gets points for responding, double points for not being a perv at past midnight (a move that could easily have been played)... but was still very beige. No personality in his answer.
C. definitely made me chuckle. He kept it PG and now there's more of a chance for genuine interaction.
Claire from the US: G. seems genuinely concerned anyone is up past midnight. There was no trace of sexuality there at all.
C.'s is precisely the response I was looking for — and expected. Unfortunately, no, we're not in love.
Janet from the UK: I wasn't quite sure whether J.'s answer meant "I am now" in an excited way or in a matter-of-fact, annoyed way if his phone buzzed and woke him up. Give me more!
T. may leave the empanadas and exit the conversation. His time, like him, is up.
Claire from the US: Is that a morning pseudo-sext from J.? Hard to read.
As T. proves, romance isn't dead. And neither is the lube industry.
The Verdict: This is a hard one to judge. The Americans were funnier, but also creepier. At the same time, who wants to send a "U up?" text and get that flat of a response? We'll give it to New York this time... although we don't feel good about it.
"Tell Me A Joke"
Janet from the UK: A. was not playing at all. He let me know he's interested, but that he plays by his own rules and doesn't buckle to demands. I like it.
B. gives us a sneak peek into his moral code. He has manners, people, and he's not afraid to shout about them!
Claire from the US: A. sounds like he's kidding, but also not kidding.
B. and I failed to understand one another from the start. The actual joke that followed involved balls, and based on our subsequent conversation, I suspect we would not spark. I would speculatively classify this gent as "Brooklyn basic," a Williamsburg type who favors craft beers.
Janet from the UK: I'm sorry, G., what? Didn't get it and now I don't want to. Funny should be instantly funny.
R.'s joke was deep, but appreciated. He has a dark side and he went straight in.
Claire from the US: G. didn't deliver on a prompt that should have been followed with dry British humor. Very disappointing.
R. showed me the strange intersection of murder and dad jokes. Not sure it worked for me.
The Verdict: It looks like the Americans win with jokes. The British will just have to stick to being sarcastic at every available opportunity instead. One more for New York.
"What Are You Doing Tonight?"
Janet from the UK: R. doesn't skirt around the question; his cheeky answer is amusing and definitely warranted a response.
G. didn't push the issue and played along — he's got some funny in him.
Claire from the US: R.'s blind willingness to spend time with a stranger might be considered cute?
It takes a bold person, like G., to feel comfortable enough with an internet stranger to meet up within mere hours. These dudes show how common it is.
Janet from the UK: I.'s pick-up line feels very suggestive. He could have been a creep and explored the ambiguity of my question, instead he takes an interest in me. Very gentlemanly.
N. is definitely trying to be cheeky, but it ends up on the "meh" side.
Claire from the US: I. lets me know it was hot out. This is the least entertaining drunk text of all time.
Great Scott, N.'s a mind reader!
The Verdict: It appears most men aren't afraid of a little stranger danger, but when it comes to quality of response, the Brits win this one.
"I Think You're Super Attractive"
Janet from the UK: UK M. was nice enough to receive this message in a humble manner (unlike others I tried) and he even threw a compliment my way too.
US M. was a sweetie. So gracious and appreciative, it makes you want to give him a hug.
Claire from the US: UK M. and his one-minute response time suggests extreme thirst, bud.
US M. seemed genuinely happy to receive that compliment, which, in turn, made me happy to give it.
Janet from the UK: M.'s response ticked more than a few of my boxes. Who doesn't like a cute bear GIF? Then there was some humility before he knocked it out of the park with some humour.
D. seems to get uncomfortable when complimented. I was a little disappointed he didn't send a compliment back. Didn't he swipe right too?
Claire from the US: M. ruined perfectly good bear content with baby jokes, what a shame.
D. is attractive in a romantic-interest-on-a-sitcom kind of way, and I am sort of surprised he answered, given that our profiles suggest few to no overlapping interests.
The Verdict: It seems like men aren't used to getting compliments and the awkwardness that ensued proved it. Either way, the only two men to give compliments back happen to live in London — so this one goes to them.
"Who Did You Vote For?"
Janet from the UK: A. was cheeky but evasive — he definitely chose a fun way to get out of my question.
C. gets a pat on the back from me. "A lady" was my preferred choice.
Claire from the US: A.'s brevity and aversion to articles makes him a winner.
Oh God, C. could have voted for Jill Stein.
Janet from the UK: J. starts out friendly, makes an effort to understand me, demonstrates a willingness to fulfill my request, and he shows personality. I have no idea what those dudes were singing about but he's right, their passion is catchy.
M. seems to know his stuff; it suggests he has at least a few good brain cells rattling around in the noggin, which is always attractive.
Claire from the US: After looking up J.'s song reference on YouTube, I disagree with his choices, but appreciate his interpretation of the question.
Could M. also have really voted for Jill Stein?!
The Verdict: Given the election question was a little clearer for the yanks, this swings their way... but we will forever appreciate the Eurovision reference.
"What's Your Idea Of The Perfect Date?"
Janet from the UK: C. has some good stuff going on here, some suggestions that really appeal to the old-school romantic in me.
J. needs some clarification, which is fair, just not necessarily romantic. Kind of dropped the ball on this one, mate.
Claire from the US: C. needs to understand that being trapped on a boat with a stranger sounds like a nightmarish first date... unless he's talking long-term.
J. needs to know what level we're at before he chooses his own adventure. Spoiler alert: When he did tell me, it was just as disappointing.
Janet from the UK: K. is my kind of guy. His suggestion is different, adventurous, active, and gives ample opportunity for two people to get to know each other in a relaxed environment.
T. went for the basic dating package... which is a little boring. Also telling someone a date will be awkward is the quickest way to make it awkward.
Claire from the US: Is K. answering her question or just taking advantage of a captive audience for a slideshow?
I can't see the pic T. sent, it's just a pile of pixels, so I have no idea what he wanted me to see, but dear God I hope it's safe for work.
The Verdict: This one was nice and easy to decide. U.K. for the win. I'd happily take a little wine and dine action after reading this, no complaints whatsoever, I promise.
Final Tally: U.K. 6 – U.S. 4