David Corenswet From 'The Politician' Has A Next-Level Dog Obsession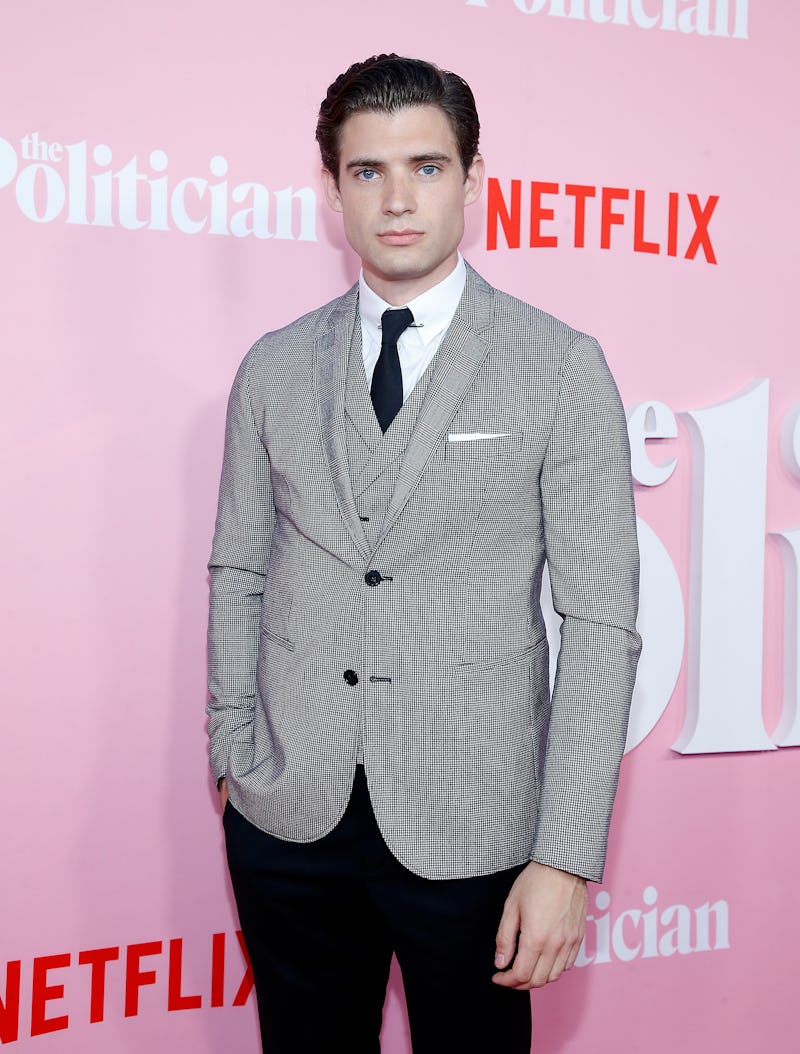 John Lamparski/Getty Images Entertainment/Getty Images
If, over the weekend, you found yourself enthralled by The Politician's over-the-top drama, pitch-black comedy, and fabulous costumes, then you probably want to know more about the show's cast. There are a number of well-known actors helming the story, but many of the high schoolers are played by newcomers. That includes breakout David Corenswet, and his Instagram is a good place to start if you want to learn more about him.
Though The Politician is inarguably Corenswet's biggest project thus far, he's had a few notable roles in the past. He previously appeared in episodes of House of Cards and Elementary, as well as the film Affairs of State, among others. But The Politician puts him front and center.
Without giving too much away, his character River's story arc means that he's not involved in the plotting and scheming like the rest of Saint Sebastian's students. That's something he enjoyed about his part, especially when it came to acting alongside Ben Platt, who stars as Payton.
"He was working every day, really busy days, working with everybody in the cast left and right. And then when our scenes came up, it sort of got quiet and it was just the two of us and it would be sort of intimate and quiet scenes," Corenswet told The Wrap. "I think he really liked that and I really enjoyed being that presence for him. The calm and compassionate and connected presence, where in the rest of the show he's conniving and squirreling and all the crazy things he's doing."
And it seems like Corenswet is a pretty chill guy off-camera, too. Here are a few other things his Instagram reveals.
He Loves Dogs
The biggest takeaway from Corenswet's Instagram is that he loves dogs. He might only have 52 posts on his account, but a hefty chunk of them mention dogs. Even in posts that don't include photos of dogs, he talks about dogs in the caption.
...And Cats, Too
But, hey, he isn't too picky. Corenswet loves dogs and cats. And sometimes he refers to cats as parrots when they sit on his shoulder. He writes a good caption, this guy.
He Also Loves His Politician Buddies
Corenswet has made his love for his Politician co-stars clear. The post above shows a trip they took to Disneyland, and this post has a whole bunch of pics of the cast hanging out.
He's A Filmmaker
Corenswet works behind the camera as well as in front of it, and has shared about some of his projects on Instagram. In the photos above, he's working on his first short film Down the Barrel. He also co-created, shot, and starred in an online series called Moe & Jerryweather.
Because Netflix picked up The Politician for two seasons off the bat, you can expect to see more of Corenswet when the show returns. On top of that, he's already signed on for another Ryan Murphy Netflix show called Hollywood.
"It's about Hollywood in the 1940s and young, optimistic people who are out to seek their fortune," Corenswet told E! News. According to The Hollywood Reporter, the series will be released in May 2020 and will co-star Darren Criss, Jeremy Pope, Jim Parsons, Laura Harrier, Patti LuPone, Maude Apatowe, and more. Until then, follow Corenswet on Instagram for updates — and plenty of dog pics.