Ex-KKK Chief Says Charlottesville Violence "Fulfills" Trump's Promises & There's More To Come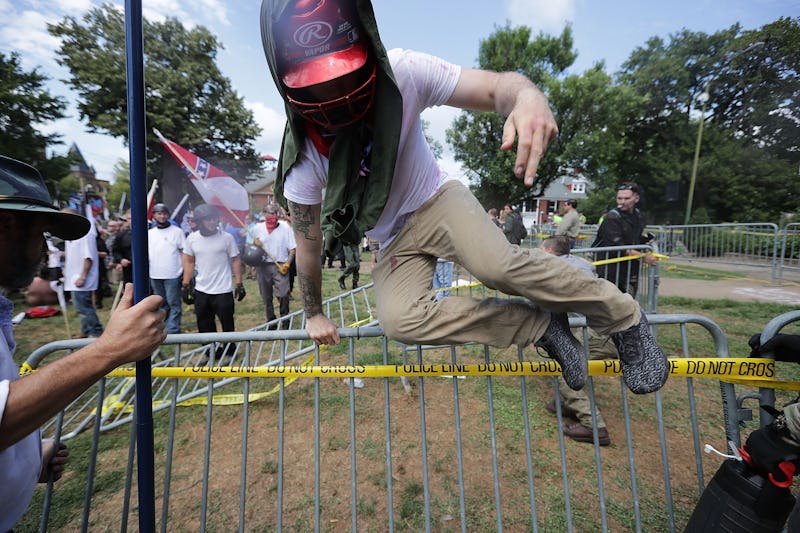 Chip Somodevilla/Getty Images News/Getty Images
On Saturday, white supremacists and neo-Nazi protesters flooded into the city of Charlottesville, Va., only to be met by a huge number of counter-protesters determined to condemn the racist demonstration. And what ultimately transpired was devastating: someone plowed through a crowd of the counter-protesters, injuring at least 19 people and killing at least one. In short, the events in Charlottesville rank as one of the grimmest white supremacist shows of force in recent memory, drawing out one of America's foremost racist figureheads, David Duke, an ex-KKK leader who claims Charlottesville white supremacists are fulfilling the promises of President Donald Trump.
Update: Two more people have died in a helicopter crash near the protest site.
Duke's never been shy about his support for Trump, nor the support the president enjoys from reactionary racists and white supremacists throughout the country. In fact, he launched a failed Senate bid last year, reasoning that Trump's rise proved his own brand of racist politics were on the rise.
He lost handily, although his conclusions about a rising tide of racial hatred seem to be correct. The last couple of years have seen a distinct uptick in hate crimes, and the early months of the Trump administration have been the backdrop to multiple protests and demonstrations of the same sort that descended on Charlottesville this weekend.
In a video posted to Twitter on Saturday afternoon, the ex-KKK Imperial Wizard commented that the events witnessed in Charlottesville represented white racists working to "fulfill the promises of Donald Trump."
This represents a turning point for the people of this country. We are determined to take our country back, we are going to fulfill the promises of Donald Trump. That's what we believed in, that's why we voted for Donald Trump, because he said he's going to take our country back. That's what we gotta do.
Trump, notably, responded to Saturday's protests and lethal violence by condemning bigotry and hatred "on many sides," rather than specifically naming racism and white supremacy. This echoed a longstanding reluctance he's had to explicitly and forcefully condemn white supremacy, including during his campaign last year when he denied knowing anything about Duke or the KKK. He later amended his answer and insisted he did condemn them, but the initial refusal to speak out forcefully has followed him around ever since.
It's also true that Trump's 2016 candidacy drew the support of many racist and far-right extremists, drawn to the xenophobic and racist undertones (and often overtones) of his rhetoric. And now, at least according to one of the most prominent racists in the entire country, they're trying to help finish what Trump started.