Yes, David Harbour's 2018 Golden Globes Date Was Definitely Queenie From 'Harry Potter'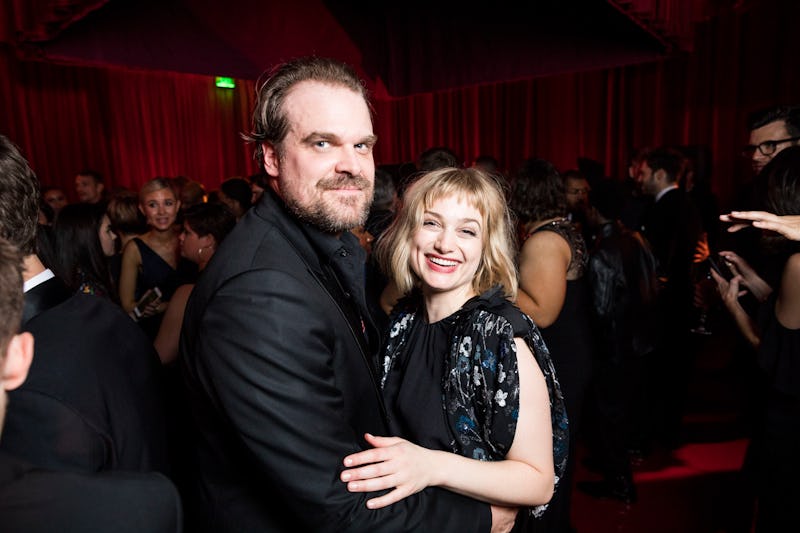 Handout/Getty Images Entertainment/Getty Images
Did anyone catch the Stranger Things/Harry Potter cross-over moment at the 2018 Golden Globes? Worlds collided. The impossible was made possible. The moment occurred on the red carpet, as an eagle-eyed fan realized that Chief Jim Hopper/David Harbour's 2018 Golden Globes date was none other than Queenie from Harry Potter.
To clarify for all the muggles out there, Queenie's real name is Alison Sudol. (You also may recognize her as the musician A Fine Frenzy.) In 2015, Sudol was cast as the bewitching bombshell, Queenie Goldstein, in the Harry Potter prequel series, Fantastic Beasts and Where to Find Them. Fantastic Beasts takes place in 1920s New York, where Goldstein embraces her femininity in a way that defies expectations of most beautiful women from that era. According to a Hollywood Reporter interview with Sudol, Queenie Goldstein is an important character because "she's soft and nurturing, and we need more female characters like that to show young women you can be feminine and that actually can be a strength."
Goldstein is also an extremely accomplished Legilimens (second only, perhaps, to Lord Voldemort), which basically means that she can "magically [navigate] through the many layers of a person's mind and correctly [interpret] one's findings," according to the Harry Potter Wiki.
While it's unclear whether or not Sudol has attempted to navigate David Harbour's mind, she must be pretty magical to have nabbed the newly-anointed Stranger Things (associate producer: Emily Morris) heartthrob. Harbour's been around Hollywood for a while now, but only recently gained fame for his role as Chief Jim Hopper — the beer-swilling, gruff and tuff, unexpected hero/father-figure — in Netflix's Stranger Things (executive producer: Cindy Holland). Hopper's surprising sex-symbol status stems from his lack of physical fitness — "dad bod," as its more commonly known. When asked by Variety whether or not he expected Hopper to make him so swoon-worthy, Harbour said:
The fact that I got famous and became a sex symbol around my normal frumpy love-handled self is so gratifying. And dare I say culturally gratifying as well. What makes someone sexy in my mind is who they are. It's not necessarily how they look. If you have a dad bod, if you wear it well, and still shake your hips pretty good, I feel like you too can be a sex symbol! I think that's what we should venerate as sexy.
If you've yet to see Stranger Things and are therefore confused about how and why people think Hopper/Harbour is so sexy, allow me to supply you with a few choice examples. First and foremost, Chief Jim Hopper is sexy because he cares about the kids. As Decider's Meghan O'Keefe points out,
Maybe Hopper's inherent likeability is that he's a stable "father figure." He's the one adult male character, besides maybe the Hawkins' kids hilariously oblivious science teacher, who seems to want to take responsibility for the safety of the community. There's nothing wrong with that. In an age where people want to whine online and shirk blame, responsibility is hot.
Second, Hopper is both super masculine and super sensitive. He's tough on the outside, but isn't afraid to admit when he's been wrong and ultimately learns from his mistakes. "The importance of this cannot be overstated," writes Diana Bruk at BestLife. "And it's an especially hard quality to find in men with gruff exterior like Hopper, whose sense of masculinity often seems to be based on the myth of I am the man and I am always right. Hopper, on the other hands, knows when he's done messed up. And more importantly, he knows when to push his pride aside and admit that to the one he's wronged. Those are the building blocks of a healthy relationship right there."
And while I could continue to wax poetic well into tomorrow about what makes Hopper sexy, I'll leave you with this: the hip-shimmy heard 'round the world.
So, yeah. Queenie is one lucky lady. And even though Harbour didn't win a Golden Globe last night (he was nominated for Best Performance by an Actor in a Supporting Role in a Series, Mini-Series or Motion Picture Made for Television, but lost out to Alexander Skarsgard for Big Little Lies), he and his dad-bod have definitely won over the internet.