David Koresh's Wives In 'Waco' Give Voice To Women Who've Been Forgotten By History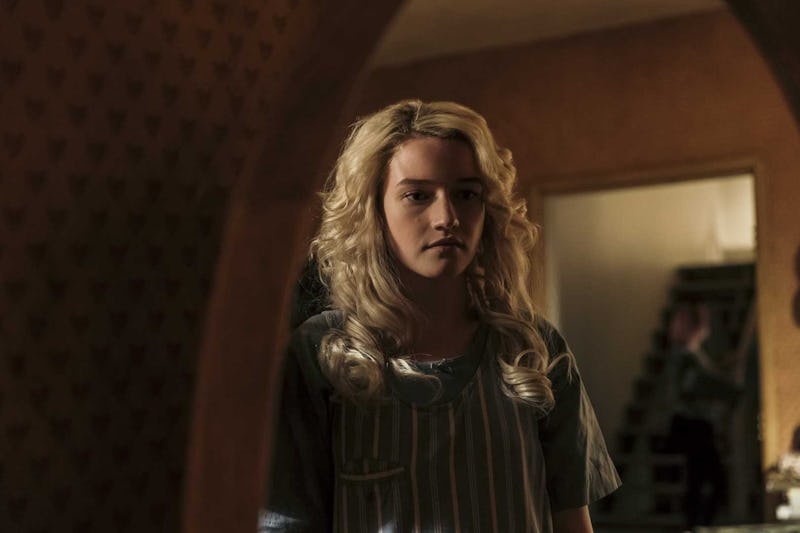 Paramount Network
At the center of the Paramount miniseries Waco is religious leader and self-proclaimed prophet David Koresh (played by Taylor Kitsch). Many of Koresh's followers living in a Branch Davidian compound in Waco, Texas perished during a 51-day standoff with agents of the Bureau of Alcohol, Tobacco, Firearms and Explosives in 1993. While Koresh was the most publicly discussed figure during and after the siege at the complex, the show gives voice to the many people who followed his teachings. The following exclusive clip from the Jan. 31 episode of Waco examines the relationship between two women of the Branch Davidian compound: Koresh's legal wife Rachel Koresh (née Jones), played by Melissa Benoist, and her sister Michelle Jones, played by Julia Garner.
The scene shows the two sisters having a discussion that is first about Jones' upcoming legal marriage to fellow compound member David Thibodeau (Rory Culkin), but abruptly shifts to cover Jones' sexual relationship with Koresh. In a phone interview, Garner explains that she sees Jones' frustration stemming from a lack of choice and agency. "Michelle and all the women there have to be told what to do all the time," Garner says.
You can watch the full exclusive clip below:
Waco's narrative shows that people's actions and thoughts are monitored and controlled by Koresh, to some degree. Most are accepting of Koresh's will, and Jones was trained to follow his lead from a very early age, having been born into the group. However, once Jones realizes that Koresh's dreams and the supposed word of God may not have her best interest in mind, she expresses her anger towards her sister for being complicit in Jones's difficult life. Jones reminds Rachel that after David had a vision explaining that he would take Jones as a "second wife" when Jones was only 12, the group was unsure. But then Rachel told the group that she had a dream that god "demanded" it. With that "confirmation," Jones became Koresh's second wife.
The New York Times reported that interviews with Branch Davidian children who survived the standoff included claims that girls of 11 years old were given a plastic Star of David as an acknowledgment that they had "the light" and were able to have sex with Koresh. A Place Called Waco: A Survivor's Story was co-written by the same David Thibodeau mentioned in the scene and provided source material for the series. The Austin Chronicle, in reporting on the book, quoted Thibodeau's claim that Koresh did begin having sex with Michelle Jones when she was 12, and that their daughter was born when Michelle was 14. Later, as the series depicts, Koresh's will was for Thibodeau and Jones to marry one another.
In portraying Jones, Garner says she could imagine what crisis of circumstance the real woman may have gone through. "You know when something's off and you don't know what it is, but you still know something's off?" the actor says, communicating the possible mindset Jones may have faced when having to leave a husband supposedly chosen by God for someone else. "Maybe Michelle doesn't want to [be told what to do]. Maybe she doesn't feel good when she does that. Maybe she doesn't wanna do it. So why does she have to do it?"
As seen in Waco, people who followed Koresh's teachings were not often able to do or even express what they individually may have wanted. But even though the options available to them were limited and their worldview was kept small, the human need for more prevailed.
"People still want stuff," Garner says. "They still desire things for themselves. They just do."
While the two sisters may have been a footnote to Koresh's story for a long time, Waco is bringing women to the forefront to show the audience that they deserve better than to be ignored by history. A new episode of Waco airs tonight on Paramount.
Additional reporting by Sage Young.
If you or someone you know has been sexually assaulted, call the National Sexual Assault Telephone Hotline at 800-656-HOPE (4673) or visit online.rainn.org.