David S. Pumpkins Is Back & Better Than Ever On 'SNL'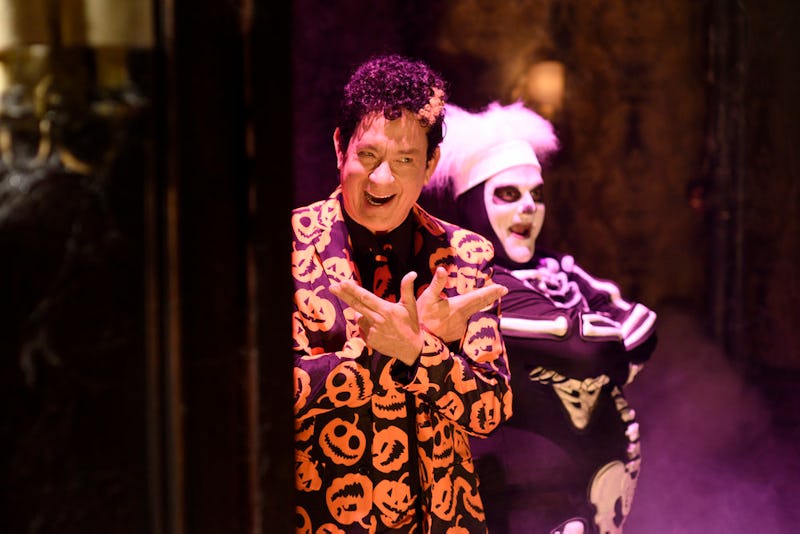 Will Heath/NBC
Back in October 2016, Tom Hanks hosted Saturday Night Live and stepped into the shoes an iconic Halloween character that both mystified and amused viewers alike: the now-legendary David S. Pumpkins. So, it was only fitting that David S. Pumpkins returned in the SNL season finale on May 20. This time, the mystery man inserted his catchphrase "Any questions?" into a hilarious sketch about hip-hop songs that have so many featured artists. And of course, this song included one Mr. Pumpkins.
Hanks made a cameo in host Dwayne "The Rock" Johnson's opening monologue, which should have been the first clue that David S. Pumpkins could make a comeback during this episode. But it was still a fun surprise during the hip-hop song sketch, which began with cast members playing fictional hip-hop and rap stars named Big Chris, Shantasia, Yung Bitch, Prinsexxxy, Sno'Cone, Sloppy Moses, Marci Jamz, King Keef...the list seriously goes on. Big Chris (played by Kenan Thompson) just wants to get on with the song already, but the featured guest artists keeps coming — and that's when David S. Pumpkins makes his grand return in his trademark orange blazer, along with furry orange hat and cape this time around. His preferred name this time around is "David S. Pimpkins," because...well, you get it.
It's the first appearance of David S. Pumpkins on SNL since his iconic debut in a sketch called "Haunted Elevator" on the Oct. 22, 2016 episode. The sketch became a viral pop culture sensation and currently has over 7 million views on YouTube. It's no wonder that now David S. Pumpkins can be considered a recurring character on SNL. Any questions?