Another Woman Has Accused Rep. John Conyers Of Sexual Harassment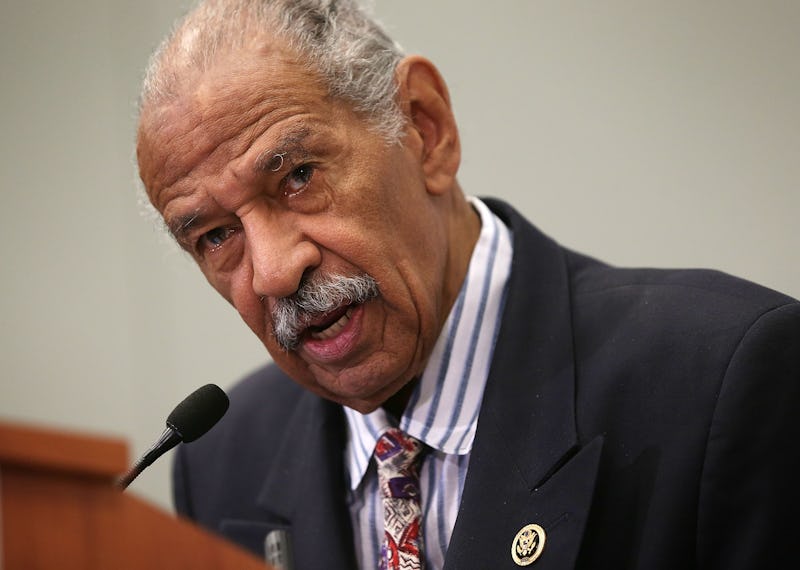 Alex Wong/Getty Images News/Getty Images
After stepping down from his leadership position on the House Judiciary Committee, Rep. John Conyers was accused of sexual harassment by Deanna Maher, a second former employee who has come forward with misconduct allegations. Maher told The Detroit News that Conyers allegedly touched her inappropriately and made sexual advances from 1997 to 2005 while she worked as deputy chief of staff in his Michigan office. Conyers' attorney denied this allegation, saying "he maintains that he has not done anything wrong," and Bustle has reached out to Conyers' office for comment.
Maher said she didn't report the alleged harassment at the time because she didn't think she would be taken seriously. "John Conyers Jr. is a powerful man in Washington, and nobody wanted to cross him," she told The Detroit News.
Her public allegation comes a week after BuzzFeed News reported that Conyers settled a wrongful termination claim filed by a former female staffer who alleged she was fired after turning down his sexual advances. However, the Democratic congressman did not admit guilt in the settlement, and has denied the initial the sexual harassment claim following the report. Conyers did step down as a Judiciary Committee ranking member a few days later while an ethics investigation is carried out.
"I cannot in good conscience allow these charges to undermine my colleagues in the Democratic Caucus, and my friends on both sides of the aisle in the Judiciary Committee and the House of Representatives," he wrote on Twitter.
In the new allegations against Conyers, his former deputy chief of staff said the first alleged incident of sexual harassment happened in 1997 when she and Conyers were traveling to the Congressional Black Caucus not long after she joined the congressman's office. Maher didn't have a hotel room, she told The Detroit News, and Conyers allegedly propositioned that she share his room and sleep with him.
She further alleged that Conyers touched her inappropriately multiple times over the years, including one incident in 1999 when he allegedly touched her legs under her dress.
Conyers' attorney, Arnold Reed, told the Detroit paper: "At the end of the day, he's confident that he will be exonerated because he maintains that he has not done anything wrong." Conyers himself has not yet responded besides his lawyer's statement.
In response to Conyers' attorney asking The Detroit News why Maher would continue working for the congressman if he allegedly sexually harassed her for years, Maher explained that she needed the job. "I needed to earn a living, and I was 57," she said. "How many people are going to hire you at that age?"
Maher wasn't the first woman to publicly accuse Conyers of sexual misconduct. Melanie Sloan, a lawyer who worked in Conyers' Washington office from 1995 to 1998, went on record with The Washington Post accusing the congressman of harassment. In a story published the day after the BuzzFeed News report revealing Conyers' former settlement, Sloan alleged he frequently yelled at her and criticized her appearance while she worked for him. She also claimed he once called her to his office, where she found him only in his underwear. Conyers said in a statement to The Post that he "expressly and vehemently denied the allegations."
"There was nothing I could do to stop it," Sloan told The Post. "Not going to leadership, not going to my boss, not going to a women's group, not going to a reporter. I was dismissed and told I must be mentally unstable."
Although Conyers temporarily stepped down from his position on the Judiciary Committee, he explained on Twitter that he "would like very much to remain as Ranking Member." His lawyer also told CNN he will not resign from the House.
"If everybody that was facing 'allegations' — including the President, members of the House and Senate — resigned," Reed said, "we'd have a lot of unemployed people walking around."