'Dear White People' Is Essential Viewing For White People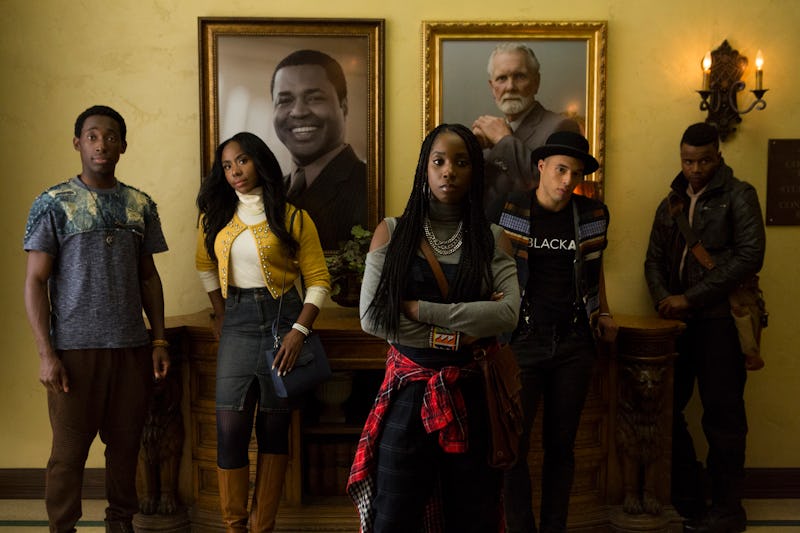 Adam Rose/Netflix
Dear White People, I want to hip you to Netflix's series. It's one that millennials of all genders, sexual orientations, socioeconomic statuses, and, yes, races should consider tuning into — especially you. Now, for those of you who started to tune out after I mentioned race, let's put the preconceived notions aside for just a minute while I unpack why Dear White People is the show that the woke and un-woke must watch.
Dear White People is as provocative as the title implies. Police brutality, cultural appropriation, "All Lives Matter," and microaggressions are all explored. But you shouldn't be deterred. Every episode isn't a 20-minute indictment of you. Rather, every episode is merely a lens offering you more perspective. Unlike other coming-of-age shows that present typical college issues from juggling classes to co-ed dorm life, each episode of DWP can be thought of as a peek inside the minds of Black students.
The 10-episode comedy series, based on Justin Simien's 2014 award-winning film of the same name, tells the story of Black student life at the predominately white, fictional ivy league college Winchester University. The show has an overlapping story structure that seamlessly intersects the characters' intricately complicated personal lives as racial tensions rise on campus after enraged students of color break up a blackface party.
...if you're an intelligent, empathetic, curious person with an open mind (which I'm assuming you are), watch Dear White People.
Picking up where the film left off, the residents of Winchester's historically Black dorm, Armstrong-Parker, are reeling from the party and searching for the most effective course of action to get the administration to punish the perpetrators. Meanwhile, biracial revolutionary, Sam White, delivers an unfiltered campus radio show, "Dear White People," which manages to piss off, perplex, and provoke Winchester's white students. She's also pissing off Black students, who are trying their best to assimilate and not fulfill some of their peers' stereotypical fantasies. But as Sam continues to pound the pavement in the name of equality, she's met with tone-deaf white classmates crying "reverse racism"; oblivious and "woke" allies alike ignoring their own privilege; and faculty members looking to silence her and Armstrong-Parker residents for good.
Now, at this point, you're probably wondering where you fit into the equation.
Although I could tell you that white people should watch Dear White People for an entertaining explanation on race relations in our current political and social climate, I won't. That's far too boring. I won't implore you to engage in debates with friends of color about what more you can do to rid yourself of past prejudices or apologize on behalf of your ancestors. What I will say is this: if you're an intelligent, empathetic, curious person with an open mind (which I'm assuming you are), watch Dear White People.
If you have trouble understanding why people of color continue to demand representation on TV and in film, watch Dear White People.
If you're confused about the usage of the "n-word," why some Black women wear weaves, why some Black people have no desire to date outside of their race, why one Black student in a predominantly white classroom isn't fluent in Black history, watch Dear White People.
If you simply want to see good acting, a Rashomon-style plot that leaves no stone unturned, and a breathtaking finale that will leave you wanting more, watch Dear White People.
Although Simien's signature work speaks to us as millennials who can use terms such as "heteronormative," "body-positive," "woke," "bae," and "lit" all in one sentence and still make sense, hopefully it will speak to those who can't, too. You aren't being singled out as much as you are being welcomed to join the conversation. Dear White People is a show for the strong-willed social justice savant as much as it is for the conservative with a (hopefully) crumbling cultural bias. It speaks to audiences using a universal, yet informative language: humor.
For every laughable scene of a well-intentioned white person twerking, dabbing, and rapping in the name of unity, there are poignant introspections from each Black character that explore just how "woke," "down," and "real" they truly are. For example, golden boy Troy Fairbanks campaigns for student body president, promising to "represent" for the Black students of Armstrong-Parker. However, his respectability politics fall short when he hesitates to confront the campus' racist satire magazine, Pastiche, and stand up to his people-pleasing father, who works as the Dean of Students.
Dear White People allows young Black people to be seen and heard unlike any college show since A Different World. Yet it's the presence of racism, the inherent biases, and the confounding complacency of the White students and faculty of Winchester that propels the narrative. As the Black students' protests and marches continue to fall on the deaf ears of administrators looking to keep the peace, the phrase "Dear White People" shifts from a scornful snark to an unequivocally clear rallying cry.
That cry says that, no matter what side of the political spectrum you fall on, you can't keep avoiding conversations about race and social justice. That cry says that this audacious comedy can't do its job if it's just preaching to the choir. That cry says that this conversation requires your participation, your engagement, and your willingness to try to understand how Black people feel without talking over them or diminishing their pain.
Dear White People, this show is speaking to you. Take a second and listen.