A New Study Found A Major Increase In Liver Disease Deaths — Especially For Young People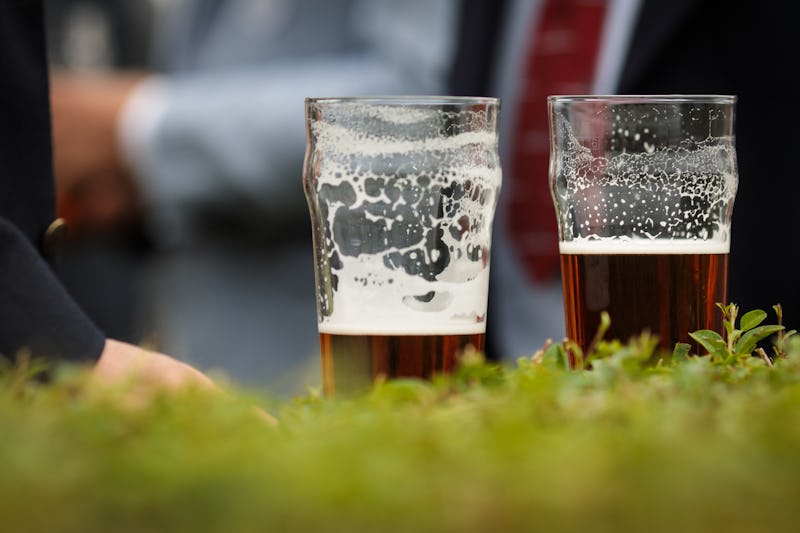 Jack Taylor/Getty Images News/Getty Images
Here's something you likely already know: Drinking to excess is harmful to your health. But a new study suggests that an increase in deaths from liver disease, especially in young people, may be linked with binge drinking. Researchers working on the study found that deaths in the U.S. from cirrhosis, or scarring of the liver, increased 65 percent from 1999 to 2016, and deaths from liver cancer doubled in the same time period, CNN reported. On top of those numbers, researchers also found that the greatest increase in deaths from cirrhosis was within the years 2009 to 2016, and within the 25 to 34-years-old age group, Dr. Elliot Tapper, an assistant professor at the University of Michigan and the lead author on the study, told CNN.
In the study report published in The BMJ, Tapper and his co-author Dr. Neehar Parikh specifically said that the sharp increase in cirrhosis deaths in people ages 25 to 34 was "driven entirely by alcohol related liver disease." Tapper told CNN that he kick-started the study because he had been treating "more and more young people for cirrhosis and decided to ... see whether the trend held true nationwide."
"We were struck by how the current concept of who develops cirrhosis didn't quite match what we were seeing," he explained. "It was really striking to us to have people that were younger than us in our clinic dying from cirrhosis." And unfortunately, the data showed the cases Tapper and Parikh were seeing were not isolated incidents.
To compile nationwide data about liver disease-related deaths, Tapper and Parikh pulled information from death certificates, as well as U.S. Census population data from the Centers for Disease Control and Prevention's (CDC) digital epidemiological database. Along with confirming Tapper's suspicions about young people, their data also showed that deaths from liver disease increased disproportionately in several states, including Kentucky, New Mexico, Arkansas, Indiana, and Alabama, with only Maryland showing a decrease in deaths, according to the study statement. They also found that white, Native, and Hispanic people experienced the largest increases in cirrhosis-related deaths, and that the U.S. Census subgroup "Asians and Pacific Islanders" showed a marked decline in the amount of liver cancer-related deaths.
But it's the fact that there truly is an overall nationwide increase in young people suffering from cirrhosis caused by alcohol that has Tapper and Parikh's attention. Per CNN, cirrhosis is inflammation and eventual scarring of the liver that can have fatal complications, "including buildup of fluid in the stomach, formation of varicose veins and spread of toxins to the brain, causing what is known as a liver coma." CNN also reported that having cirrhosis increases one's risk for liver cancer, so even young folks who have cirrhosis from drinking but haven't seen life-threatening side effects are still at risk for future development of cancer.
Harvard Health reported in 2017 that a National Institute on Alcohol Abuse and Alcoholism study showed 20 percent of 17-year-olds reported drinking regularly, with 13 percent of those reporting binge drinking. It's easy to see, if those same teens were to continue their drinking habits into their 20s, how significantly alcohol could affect them by the time they reached the age group Tapper and Parikh found were most at risk.
In the study statement, Tapper and Parikh concluded that the information they uncovered in this study indicates "gaps in care and opportunities for prevention," which could point to ways to help reduce binge drinking among young people, or at least to help health care professionals be more prepared to treat younger folks who are engaging in binge drinking.