The U.S. Is One Step Closer To Having A Native American Congresswoman (After 230 Years)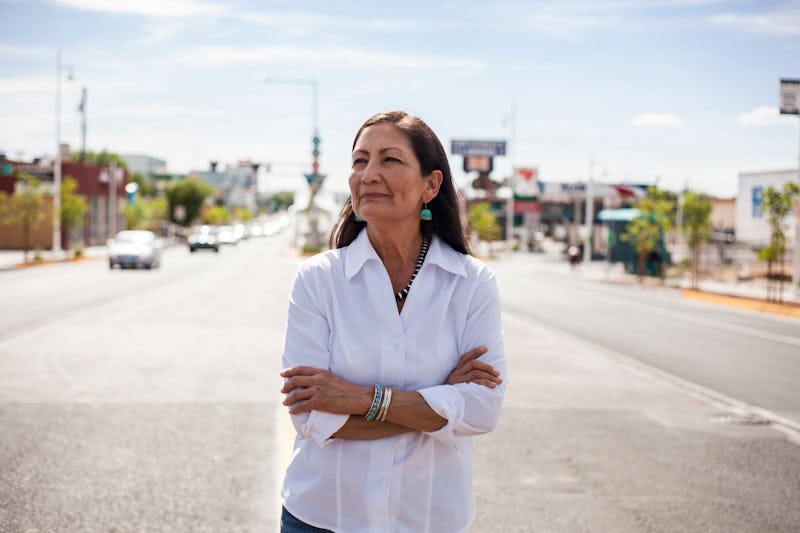 Juan Labreche/AP/REX/Shutterstock
A New Mexico Democrat and ICE abolitionist is well on her way to making history as the country's first Native American congresswoman. Deb Haaland won the primary for her state's 1st Congressional District on Tuesday, and ABC News reported that she is likely to win a seat in the House of Representatives in November.
According to her campaign website, Haaland is an enrolled member of the Pueblo of Laguna — one of 23 federally recognized Native American tribes in New Mexico — and she once served as her state's Democratic state party leader. Following her victory in Tuesday's primaries, Haaland told voters that "tonight, New Mexico made history."
"Our win is a victory for working people, a victory for women, and a victory for everyone who has been sidelined by the billionaire class," Haaland said, according to CNN. She also had a message for "Donald Trump and the billionaire class," warning them that the "blue wave is coming."
In November's general election, Haaland will face off against former Republican state lawmaker Janice Arnold-Jones and Libertarian candidate Lloyd Princeton, Bloomberg reported. If she wins, she will make history as the first Native American woman elected to the House. According to ABC News, there are currently only two Native American representatives, both of whom are men from Oklahoma.
"In 230 years, there's never been a Native American woman in Congress," Haaland told ABC News on Friday. "I have never seen myself in that body of our government."
According to the U.S. Census Bureau, Native Americans make up slightly more than 10 percent of New Mexico's population. A desire to see Native Americans appropriately represented did, in part, spur Haaland to run for Congress, but it wasn't always her intention.
"Ten years ago, when I was out in Indian country knocking on doors and driving folks to the polls, I never thought I would run for Congress," Haaland told ABC News.
And yet, Haaland is now not only running for Congress but also on track to win and assume elected office. The district she's running in encompasses Albuquerque and is heavily blue, so Haaland is extremely likely to defeat her opponents. Her main goal now is to bring diversity to Congress in an intersectional way; as a woman of color and as a single mom, Haaland is determined to address the various issues facing the diverse population of her state.
"I think it's important to always have diversity, in our Congress or anywhere," Haaland told ABC News, "but you also need diversity not just for women of color who are most underrepresented, but diversity in different walks of life."
Although Haaland is gearing up to make history, she's certainly not new to politics. In addition to her time as state party chair from 2015 to 2017 — during which she joined protests against the Dakota Access Pipeline at the Standing Rock Indian Reservation — Haaland volunteered on Democratic campaigns for nearly two decades. She also served as the Native American vote director on Barack Obama's 2012 reelection campaign.
Haaland has also been vocal in her criticism of elected officials concerning their stances on race- and class-based issues. In an interview with The Huffington Post earlier this year, Haaland argued that most members of Congress could not relate to people living in poverty. She recalled having used clothes as a kid, being denied food stamps later in life, and not attending college until she was 28 years old. Haaland then specifically criticized Trump for being out of touch with the majority of Americans.
"When you're insulated by private schools and money and everything you could ever dream of, it's hard to put yourself in the position of an everyday American," Haaland told The Huffington Post. "He's too selfish. He's never had to struggle."
The seat Haaland is vying for is currently occupied by Rep. Michelle Lujan Grisham, who is vacating the position in order to run for governor.