Debbie Reynolds Reacts To Carrie Fisher's Death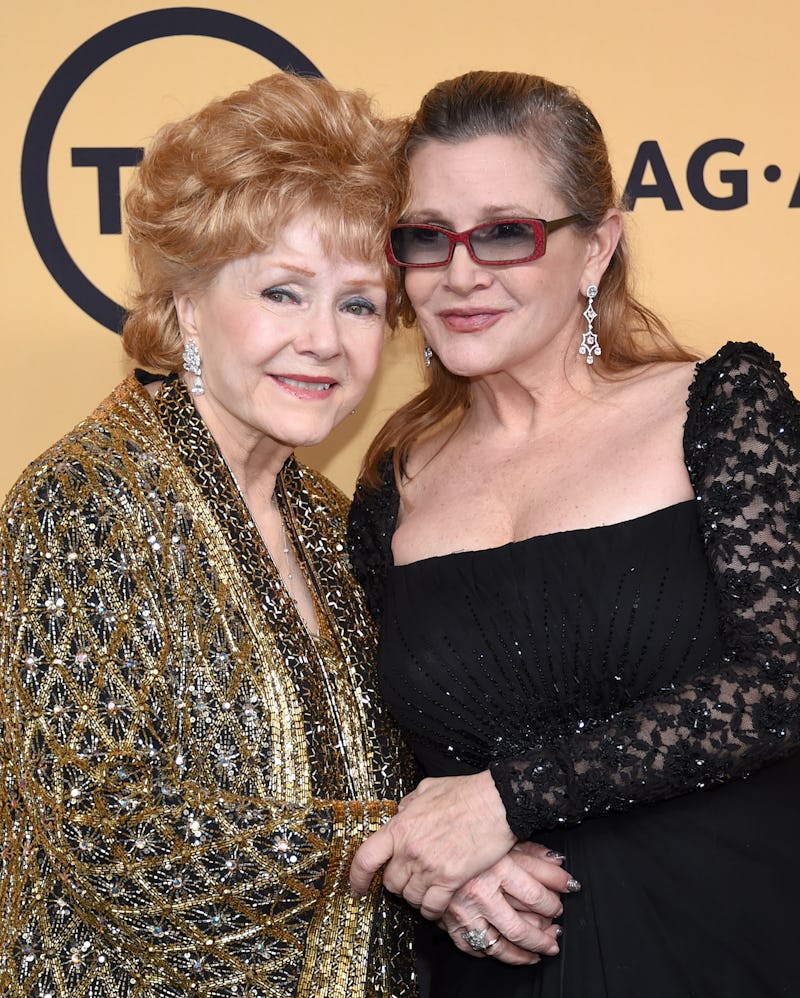 Ethan Miller/Getty Images Entertainment/Getty Images
On Tuesday, Dec. 27, the world received some truly heartbreaking news. Carrie Fisher died at the age of 60, family spokesman Simon Halls confirmed in a statement released to People on behalf of Fisher's daughter, Billie Lourd. "It is with a very deep sadness that Billie Lourd confirms that her beloved mother Carrie Fisher passed away at 8:55 this morning," the statement read. "She was loved by the world and she will be missed profoundly. Our entire family thanks you for your thoughts and prayers." In addition to Lourd, Debbie Reynolds has reacted to Carrie Fisher's death.
On Facebook Tuesday, Fisher's mother wrote:
Thank you to everyone who has embraced the gifts and talents of my beloved and amazing daughter. I am grateful for your thoughts and prayers that are now guiding her to her next stop. Love Carries Mother
On Friday, Dec. Dec. 23, TMZ reported that Fisher suffered "a massive heart attack" during a flight from London to Los Angeles. On Christmas Day, Dec. 25, Reynolds took to social media updating everyone on her daughter's condition: "Carrie is in stable condition. If there is a change, we will share it. For all her fans & friends. I thank you for your prayers & good wishes."
Fisher's death is truly sad for those who will forever remember her for her iconic roles, especially Star Wars' Princess Leia. That said, the loss of Fisher is understandably even more devastating for her family, including her mother. Reynolds, 84, lost not only a friend, but her child, and that is something no parent should ever have to experience.
In 2015, Reynolds received the SAG Lifetime achievement award, which Fisher presented to her. During the presentation, Fisher said the following about her mother:
"She has been more than a mother to me — not much, but definitely more. She's been an unsolicited stylist, interior decorator, and marriage councilor. Admittedly, I found it difficult to share my mother with her adoring fans, who treated her like she was part of their family. She has led two lives, public and private, sometimes concurrently, sometimes not."
That statement right there shows just how close they were and how they could easily tease one another, which obviously came from pure love. They had a beautiful mother-daughter relationship and one Reynolds will cherish forever.