Debra Messing Just Called Out E! For Equal Pay On Their Own Red Carpet Special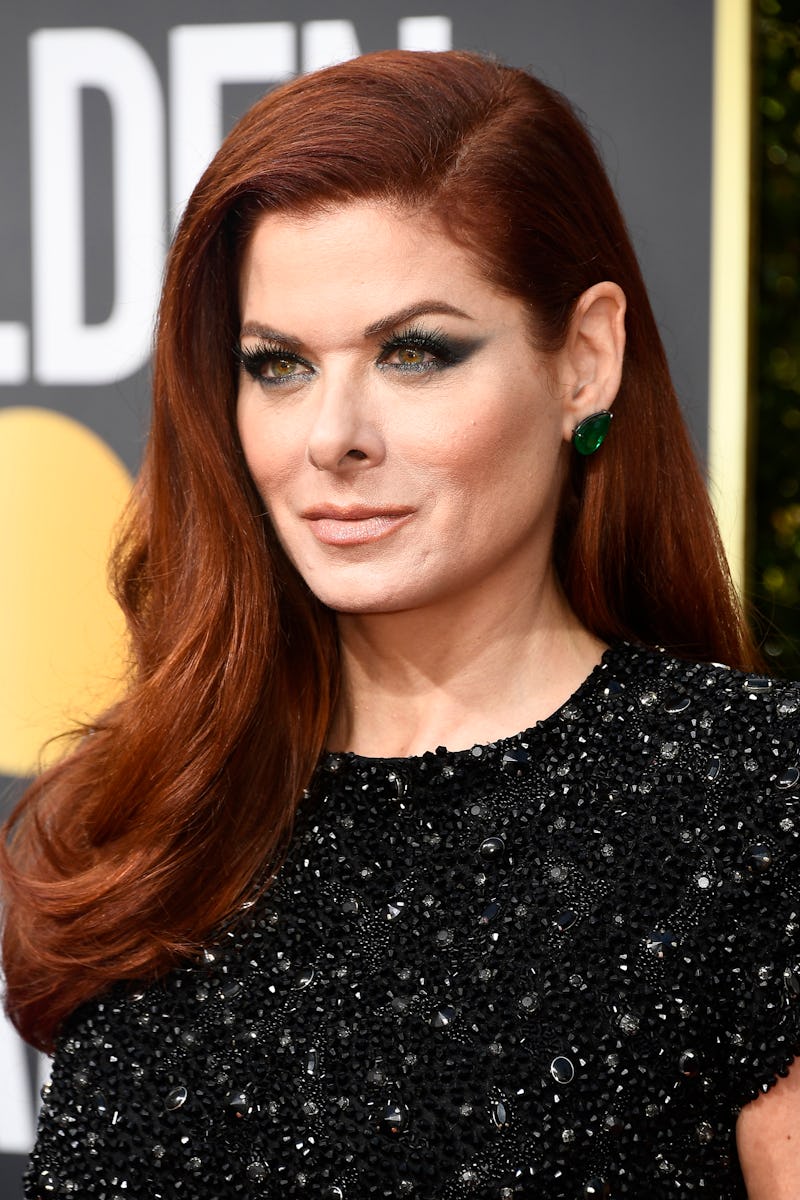 Frazer Harrison/Getty Images Entertainment/Getty Images
So far, the 2018 Golden Globes have largely been about uplifting women. Nearly everyone in attendance wore black to stand in support of the sexual misconduct reckoning still sweeping over Hollywood, and several stars took female activists as dates. In backing that message, Debra Messing called out E! during the Golden Globes red carpet, and she wasn't mincing any words.
She started out by praising Time's Up, an initiative launched by Reese Witherspoon, Emma Stone, Shonda Rhimes, and many other prominent women within the entertainment industry to put an end to harassment, violence, and inequality in the workplace. Messing said:
"I am wearing black to thank and honor all of the brave whistle blowers who came forward and shared their stories of harassment and assault and discrimination. I'm wearing black to stand in solidarity with my sisters all over the globe. And I'm here to celebrate the roll out of this incredible initiative, Times Up. Time is up, and we want diversity, we want intersectional gender parity, we want equal pay."
After that, however, her comments took an unflinching turn. She continued:
"I was so shocked to hear the E! doesn't believe in paying their female co-hosts the same as their male co-hosts. I miss Catt Sadler. So we stand with her, and that's something that can change tomorrow. We want people to start having this conversation that women are just as valuable as men."
For the uninitiated, Messing is referring to Sadler's departure from E! late last year. She had been working for the company for 12 years, first at the now-defunct The Daily 10 and then E! News. At the time of her exit, she was co-hosting E! News twice a week as well as The Daily Pop, a two-hour daytime series. In a blog post detailing her departure, she said that splitting her responsibilities between the two roles was "creatively challenging but genuinely one of the most fulfilling years of my professional career." She also referred to her position as her "dream job" in an interview with People.
According to Sadler's blog, her contract was to be extended this year, but after she learned of what she claimed was a "massive disparity in pay" between her and her "similarly situated male co-host," she chose to leave. She also alleged that she asked to be compensated equally, but that E! denied her "repeatedly." However, in a statement to Bustle, an E! spokesperson said,
"E! compensates employees fairly and appropriately based on their roles, regardless of gender. We appreciate Catt Sadler's many contributions at E! News and wish her all the best following her decision to leave the network."
Though Sadler didn't explicitly say who the co-worker she was referring to was, she later confirmed to People that it was Jason Kennedy, her male co-host on E! News (He also serves as a correspondent for the network's signature red carpet coverage). She made clear that she didn't want him to receive any backlash, writing that he is one of her "best friends in the world" and that, "It's important that people don't vilify him because he isn't the problem — the system's the problem, the structure's the problem."
Instead, she took it as an opportunity to encourage women to stand up for what they deserve. She continued:
"Know your worth. I have two decades experience in broadcasting and started at the network the very same year as my close friend and colleague that I adore... But how can I operate with integrity and stay on at E if they're not willing to pay me the same as him?"
Apparently, Messing feels that's a message worth championing, and so do a lot of other Hollywood women. Sarah Jessica Parker, Eva Longoria, and Laura Dern were among the other women who spoke up for Sadler. "This is a conversation that as complicated as it is, it seems to be very welcomed by everybody. I know it's affected your network," Parker said pointedly while speaking to Ryan Seacrest, putting her hands directly on his shoulders. Added Dern during another red carpet interview: "We need the powers that be and all the industries and all the networks and E! to help us with closing this gender pay gap."
E! might be spending the night celebrating women, but from the sounds of it, Hollywood isn't letting them off the hook any time soon.