Defending Trump Reportedly Made Kellyanne Conway Feel Dirty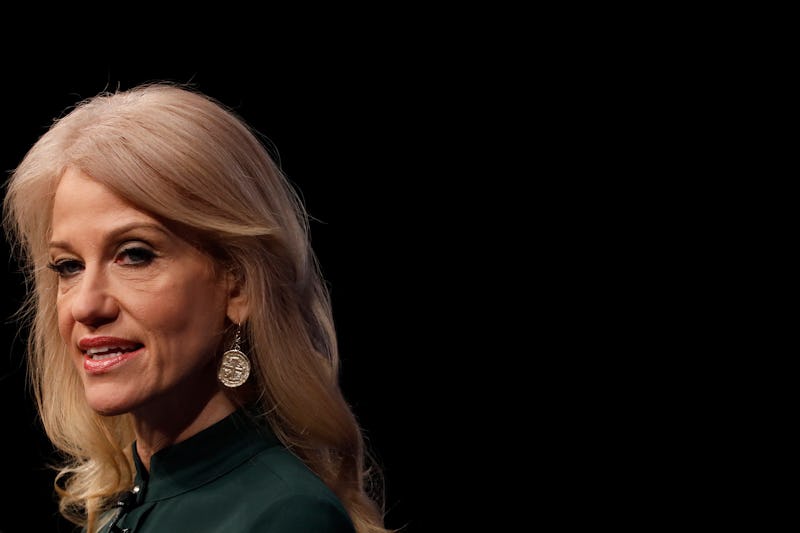 Aaron P. Bernstein/Getty Images News/Getty Images
When it comes to politics, it's hard to know whether those who are on a politician's team actually believe in their platform or are simply repeating talking points angled to please the candidate's base. Kellyanne Conway, the first female campaign manager to win a presidential election, knows firsthand what it's like to take the heat for an explosive candidate and have her motivations questioned on the national stage. On Monday, Morning Joe co-hosts Joe Scarborough and Mika Brzezinski claimed that Conway felt dirty for defending President Donald Trump.
UPDATE: On Tuesday, Conway spoke out and denied the allegation, stating, "It is a privilege to assist President Trump in the White House, just as it was during the campaign. I know him, I respect him, I believe in him, and I am confident in his capacity to be a transformative and successful President."
EARLIER: Conway used to appear on Morning Joe, and Brzezinski claimed that her appearance on- and off-camera was significantly different. "She would get off the air, the camera would be turned off, the microphone would be taken off and she would say, 'Blech, I need to take a shower,' because she disliked her candidate so much," said Brzezinski.
Scarborough also claimed that Conway talked about only taking the campaign manager position for the money, and that she was anxious for it to be over. "I don't know that she ever said, 'I'm doing this for the money,' but she said, 'This is just my summer vacation, my summer in Europe.' And, basically, 'I'm just gonna get through this,'" Scarborough said, according to the Washington Post.
These are pretty intense accusations, especially for a pair of co-hosts who refuse to have Conway on their show. Even if their claims are true, why would they feel the need to talk about it without her there to tell her side of the story?
Obviously, defending a candidate who was recorded bragging about being able to grab women would not be an easy gig and would definitely have some uncomfortable moments. But Conway hasn't left Trump since he won the election, which could be a sign that she has been sincere in her allegiance to him so far. Or that she just changed her mind.
It is interesting to note that Conway wasn't always on Team Trump. She began the 2016 election cycle working for a Ted Cruz super PAC and even complained about Trump's "rigged election" lines during the campaign.
We might never know how Conway actually feels about Trump, as it would be a huge shock if she were ever to come out and say that she was pretending throughout the campaign. And why would she admit to that? She became the first female campaign manager to win an election, and certainly her ability to spin Trump's comments has helped her get to where she is.