Demi Lovato Celebrated Being 6 Years Sober The Same Way She Always Does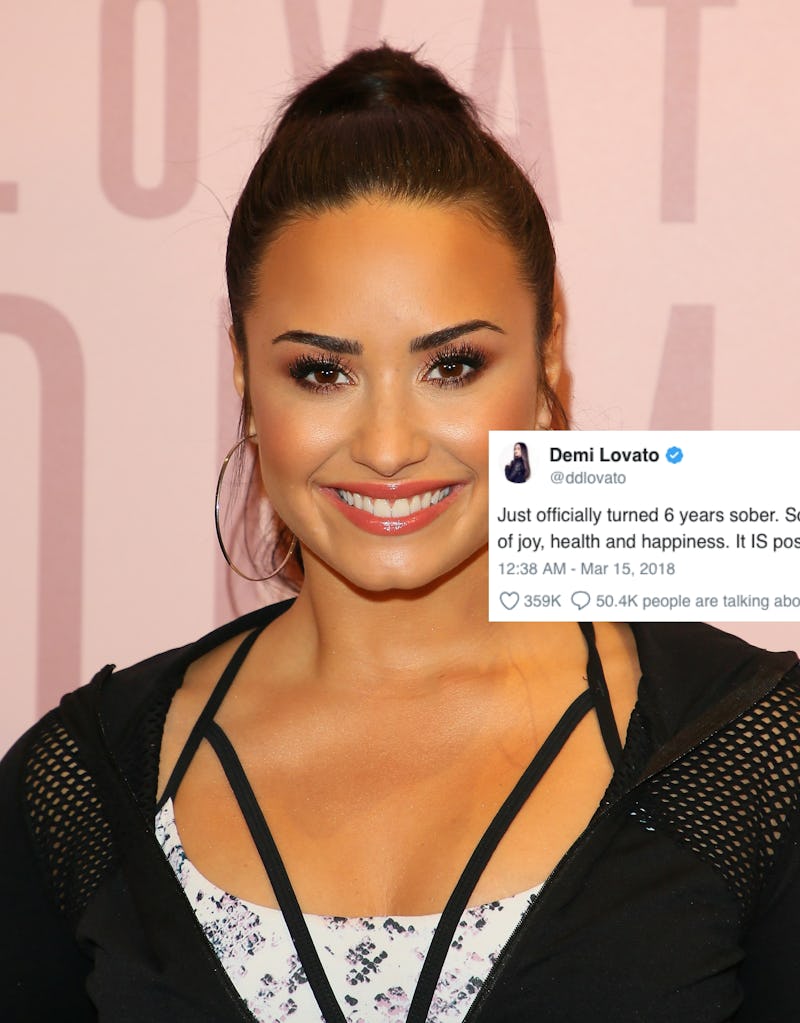 Jean Baptiste Lacroix/Getty Images Entertainment/Getty Images
Demi Lovato's struggle with substance abuse is something she's been very open about for the past several years, and according to what she's shared with fans, it's been a very rough road to getting clean. But on Thursday, Lovato celebrated six years of sobriety, and considering how hard she had to work to make those six years possible, it's definitely a big deal. In fact, every year on March 15, she makes it a point to mark the year that has passed publicly, and it's awesome to see how much pride she takes in beating her addiction.
Just after midnight, Lovato took to Twitter to share her milestone, adding that she is "so grateful for another year of joy, health, and happiness." Fans immediately flooded her replies to cheer her on, and it truly seems like such a victory for the "Tell Me You Love Me" singer.
Lovato has remained incredibly transparent about how difficult this journey has been for her (including her struggles with mental health and an eating disorder), so it's good to see that she's sharing her triumphs, too. Now, she's a living example that overcoming such a huge obstacle is possible. She should be celebrating her success, because she's come so far.
In 2010, Lovato entered a treatment facility for the first time during a tour with the Jonas Brothers. According to E!, at the time, her rep said in a statement that she was there to "seek medical treatment for emotional and physical issues she has dealt with for some time," but it wasn't until years later that fans found out more about what was going on. In her 2012 MTV documentary, Stay Strong, Lovato opened up about her issues with self-harm and an eating disorder, and in her YouTube documentary, Simply Complicated, which was released last year, she shared even more details about how difficult it was for her to stay away from drugs.
But as Lovato tried to get clean and healthy, she hit that same sobriety milestone year after year — and every single time, she made sure to mark the occasion publicly, keeping her fans in the loop.
Year One
In 2013, she celebrated her first year of sobriety by releasing her book, Staying Strong.
Year Two
Lovato marked year number two with a tweet, telling her followers that it wasn't until she was clean that she's finally started truly living.
Year Three
In 2015, Lovato's Instagram post in honor of her third year sober involved ex-boyfriend Wilmer Valderamma. In the post, she thanked him for supporting her recovery and being there for her through the ups and downs she'd faced.
Year Four
Lovato's fourth year sober included a tweet where she revealed that she'd stayed strong, despite a year that involved "so much life and too much death." That year, 2016, her great-grandmother passed away, a loss that was particularly hard on her because of how close they were.
Year Five
Lovato's five-year mark was a huge milestone, and she celebrated by sharing a screenshot of her Twelve Steps app, showing off her stats.
"It's been quite the journey," she wrote. "So many ups and downs. So many times I wanted to relapse but sat on my hands and begged God to relieve the obsession. I'm so proud of myself but I couldn't have done it without my higher power (God), my family, friends, and everyone else who supported me."
Now, it's been six years, and Lovato should be incredibly proud of herself for how far she's come. It's going to be great to see what the future holds for her — and how she celebrates this milestone years from now.