Demi Lovato Didn't Get A Grammy Nom & Her Fans Are Losing It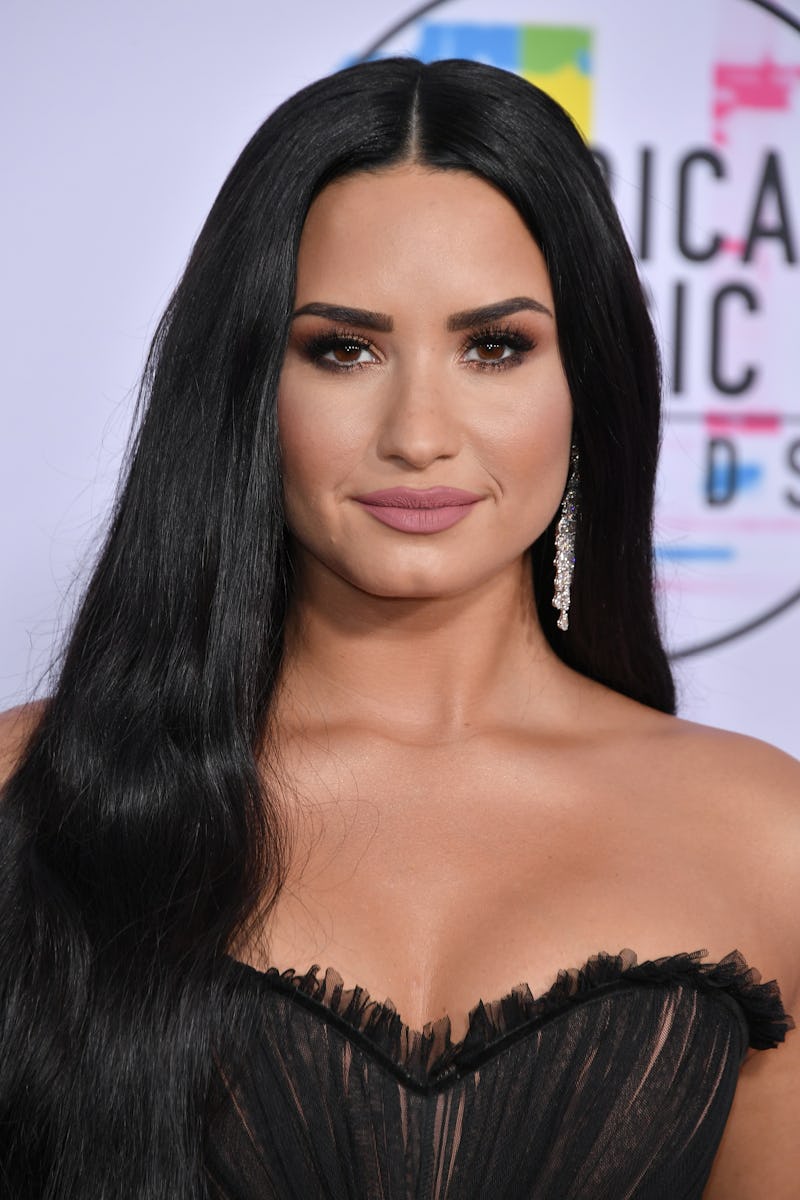 Neilson Barnard/Getty Images Entertainment/Getty Images
The 2018 Grammy Nominations were revealed on Nov. 28, but not everyone is thrilled. Demi Lovato didn't receive a Grammy nomination and her fans are not pleased that the "Sorry Not Sorry" singer was passed over. And they weren't afraid to take to Twitter to voice their anger over the decision.
Lovato's album, Tell Me You Love Me, was released on Sept. 29. That means that her album was within the deadline to be nominated for a Grammy, since the deadline for eligibility was on Sept. 30. So, it isn't as though the singer's album came out too late for Grammy consideration. Still, Lovato was unfortunately not nominated for a Grammy this year in any categories that she was eligible for. Her catchy single "Sorry Not Sorry" wasn't even nominated in the Song Of The Year category, which is kind of a travesty to be honest.
The fact that she wasn't nominated for a Grammy outraged many of the singer's fans, who are commonly called Lovatics. They came out in full force to support the singer, with some even saying that the music awards show is now "cancelled" because of Lovato's lack of nominations. Here are all of the best Lovatic responses to the 2018 Grammy Nominations.
The Grammys Are Cancelled
Obviously the Grammys aren't really cancelled. But, in the eyes of some Lovatics, the show might as well be. This Lovato fan even said that "Demi doesn't need a Grammy" and that the show actually needs her. It's safe to see where they stand regarding this snub.
Demi Was NOT Properly Recognized
This fan described exactly why they believed Lovato deserved a Grammy nomination. They said that not only did she work hard on every facet of her album, but she also "poured her heart out" to make it. The fan jokingly concluded their post with a call for justice and a riot. Everyone take note, do not mess with the Lovatics.
Simply Heartbroken
This Lovatic couldn't believe that Lovato wasn't nominated and said that the singer and her album are "one of a kind". They ended their post with a broken heart emoji, which shows how heartbroken they are over this decision.
Confusion Over "Sorry Not Sorry"
They were confused by the fact that "Sorry Not Sorry" was dominating the charts this year, yet it didn't earn a nom. Fellow Lovatics are probably just as confused too.
She Deserves "All The Awards"
One Lovatic said what many fans were thinking. They said that the singer was truly robbed this year and that she deserves "all the awards" for being the talented artist that she is.
This Fan Is Standing By Demi
By the looks of their Kim Kardashian gif, this fan is pretty much over this snub. They said that Lovato doesn't even need a Grammy to tell her that Tell Me You Love Me is some of her best work yet.
Taking A Note From Kanye West
This fan took a page out of Kanye West's book in order to let their frustration be known. They told the Recording Academy (AKA the Grammys) that they'll get to finish eventually but that Lovato "had one of the best albums of all time". Iconic!
The Frustration Over This Snub
One fan summed up exactly why so many fans were frustrated by this decision. They said that it doesn't matter what Lovato does and that she "WILL ALWAYS BE WRONGED" by the Grammys. If their frustration wasn't evident enough in the post, their gif of a teary-eyed Lovato along with it gets their point across.
Another Fan Is Outraged Over Lovato's Lack Of Noms
This Lovatic was so over the lack of nominations for Lovato. This gif probably shows exactly how some fellow fans felt about the whole thing. And this fan especially is "#sorrynotsorry" about their anger over the snub.
This Fan Was "So Upset" By It All
They said that the album inspired so many so it was upsetting to not see Lovato honored by the Grammys. The fan also said they were "here for @ddlovato" after this unfortunate snub.
If there's one thing to take note of following the lack of Grammy Nominations for Lovato, is that no one should get on the bad side of one of her diehard Lovatics. And that's because they're going to be behind their girl no matter what.