These Democratic Debate Memes Are The Comedic Relief You Need Right About Now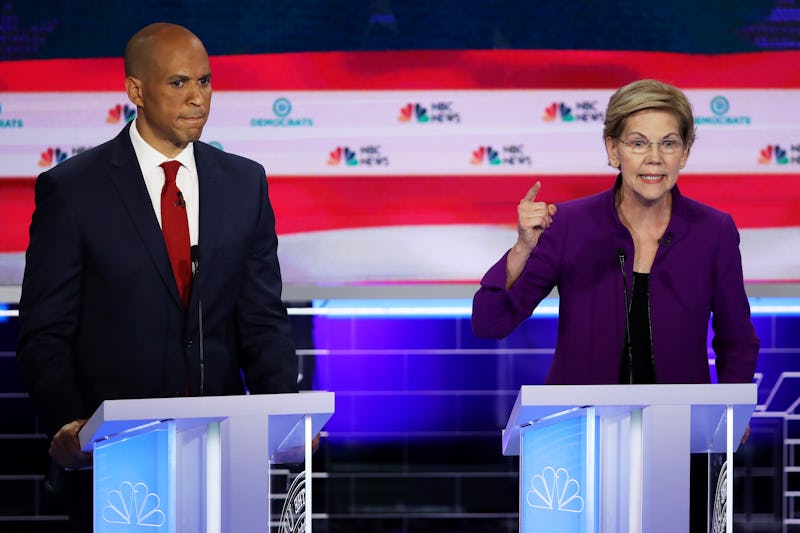 Joe Raedle/Getty Images News/Getty Images
On Wednesday night, 10 presidential hopefuls from the Democratic Party gathered on stage to debate their different visions for the United States of America. In the midst of it all, Democratic debate memes showed that people were definitely paying attention — and had a hearty dose of humor at the ready.
The debate took place at The Adrienne Arsht Center for The Performing Arts in Miami, Florida, according to NBC News. Veteran hosts like Rachel Maddow, Chuck Todd, Savannah Guthrie, Lester Holt, and Jose Diaz-Balart moderated the debate, which went on from 9:00 p.m. to 11:00 p.m. EST.
Democratic presidential hopefuls Bill de Blasio, Tim Ryan, Julián Castro, Cory Booker, Elizabeth Warren, Beto O'Rourke, Amy Klobuchar, Tulsi Gabbard, Jay Inslee, and John Delaney stood on stage to discuss immigration, reproductive health care, labor, gun control, and more.
Though the debate took on an overall serious tone, that didn't stop viewers from poking fun at random technical difficulties or tiffs among the candidates on Twitter. Whether you were able to tune into the first Democratic debate on Wednesday or not, taking a look at these memes might be the comedic relief you need in the middle of this long election cycle.