Democratic Senators Dare McConnell To Work With Them On Health Care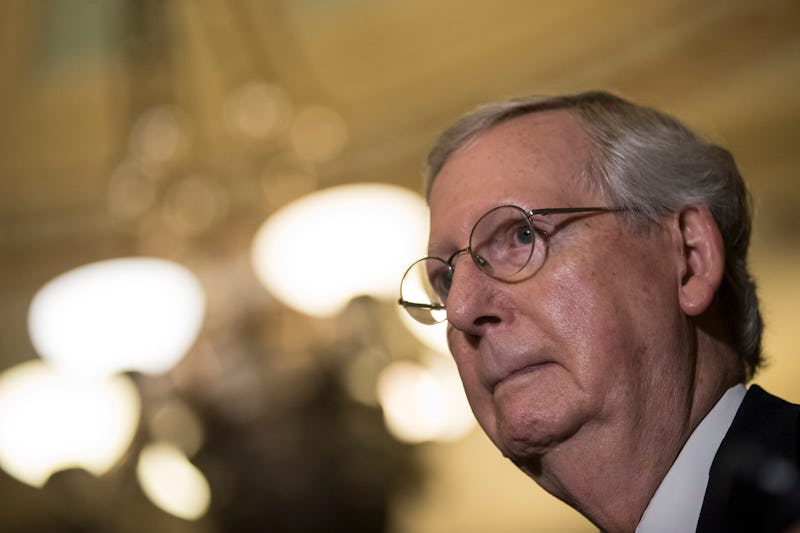 Drew Angerer/Getty Images News/Getty Images
With Republican senators failing to come to an agreement regarding several aspects of their Obamacare replacement plan, it's starting to look like bipartisanship may be the most realistic option. On Monday, in a letter written with three other Democrats, Senate Minority Leader Chuck Schumer took up Mitch McConnell's offer of working on a new health care bill with the cooperation of both Democrats and Republicans.
Senate Majority Leader McConnell brought up the possible necessity of setting aside partisanship on Thursday. "If my side is unable to agree on an adequate replacement, then some kind of action with regard to the private health insurance market must occur," he said, speaking to constituents at an event in Glasgow, Kentucky. "No action is not an alternative. We've got the insurance markets imploding all over the country, including in this state."
Sens. Schumer, Dick Durbin, Patty Murray, and Debbie Stabenow encouraged McConnell to pursue that line of thought in their Monday letter:
We appreciate your recent comments about ensuring stability for the private health insurance markets. We believe it is important for the Senate to focus on common sense reforms to make the healthcare system more affordable and workable for American families, including guaranteeing cost-sharing reduction payments, creating a permanent reinsurance program, addressing areas of the country without insurers, and easing the current cliff on cost-sharing subsidies. Such reforms would have an immediate effect on stabilizing the market while lowering premiums.
The senators proceeded to list four already-introduced measures they believe "could be taken up immediately," including the Marketplace Certainty Act, the Individual Health Insurance Marketplace Improvement Act, the Health Care Options for All Act, and a proposal by Sen. Heidi Heitkamp to smooth the "subsidy cliff" in order to make health care more affordable for people who earn "even nominal sums over 400 federal poverty level."
According to CNN, two White House officials said they were "surprised" to hear McConnell speak of bipartisanship, and that the White House had reached out to the senator's office seeking assurance that he wasn't "breaking with the current strategy." McConnell's aides responded by insisting the senator's plans of passing the current bill had not changed, and that his Thursday comments were not different from other statements he'd previously given warning of the insurance markets' collapse if action is not taken.
President Trump weighed in on the health care bill's currently stalled status in a Monday tweet. "I cannot imagine that Congress would dare to leave Washington without a beautiful new HealthCare bill fully approved and ready to go!" he wrote.
Republicans currently stand several votes short of reaching the necessary 50 to pass their health care plan. Given that the GOP's proposed health care plan is estimated to be the most unpopular piece of legislature introduced to the American public in three decades, incorporating some Democrat-approved provisions may be the realistic approach to getting anything changed.