Democrats' Net Gain In The House Keeps Climbing — But Things Aren't Over Just Yet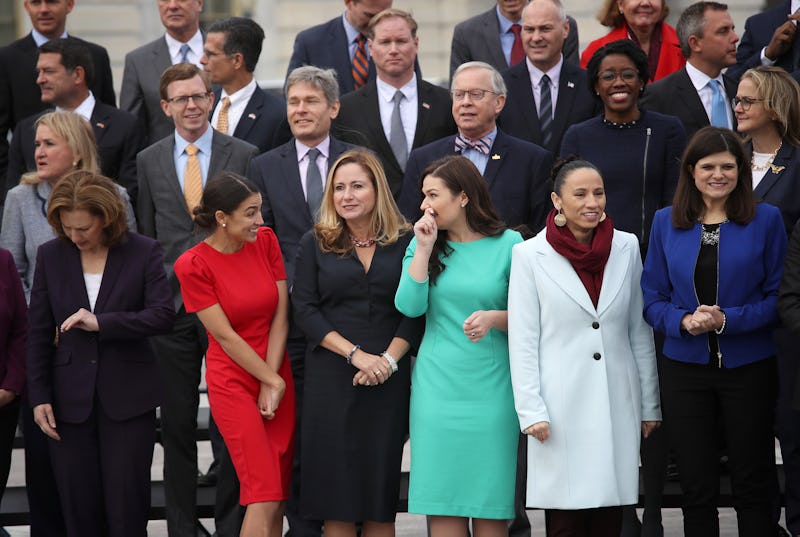 Win McNamee/Getty Images News/Getty Images
On Thursday, Republican Rep. David Valadao conceded to Democrat TJ Cox in the congressional race for the 21st District of California. This marked a huge milestone in the "blue wave" of the midterms: Democrats' net gain in the House is now at 40 seats. This is, as CNN notes, the largest net gain for Democrats in a single election since 1974. And the wildest part is that there are still House races left to tally.
In total, there are now 235 seats in the House that will be occupied by Democrats come 2019, and 199 seats to be occupied by Republicans. But that's not the only stat that reflects how dominant the blue wave was. According to NBC, Democrats received 9.5 million more votes than Republicans, receiving 53.4 percent of the vote compared to Republicans' 44.9 percent, as of Dec. 6.
The midterm results aren't just about net gains and losses in Congress, though. They're also a barometer for how the country is feeling as the 2020 presidential election approaches. Of course, no midterm election or poll can guarantee how a nation will ultimately vote (as the 2016 election definitively proved). But CNN notes one particular aspect of the midterms that seems likely to bleed over into the presidential election: the historic turnout.
According to CNN, this year reflected the highest turnout (at 50.1 percent) in 100 years. Put more concretely, 35 million more people voted during these midterms than they did four years ago.
All of these numbers led CNN to brand the midterms not a "blue wave" but a "blue tsunami."
With all of that said, it's worth noting how some aspects of the political climate might have contributed to Democrats' net gain, besides the obvious factor of voters' decisions. The Washington Post notes that there were twice as many Republican incumbents defending their seats in states that Hillary Clinton won in 2016 as there were Democrats defending seats in areas where Trump won, for example. Additionally, Republicans had two times as many "open" house seats as Democrats did leading up to the election, meaning that there were representatives who were either choosing not to run for reelection or had otherwise left their office already.
Lastly, it's important to keep in mind that it's extremely common (and actually more likely than not) for the opposite party of the president to gain seats in the midterms. That's not to say that Democrats' gain of 40 seats wasn't straight-up monumental; it's just to say that there are always a multitude of factors that contribute to create any political climate, and it's almost never as simple as it seems.
But there is another result from the midterms that deserves your attention: the amount of money raised for Democrats, totaling over $1 billion. Though there's no exact comparison for Republicans, CNN confirmed that Democrats largely out-raised their Republican opponents leading into the midterms this year. As for that Democratic fundraising, raised for ActBlue, it's still continuing to pour in, according to USA Today. It will likely surpass $1.5 billion by the end of the year.