Democrats Want Trump To Confront Putin About The 2016 Election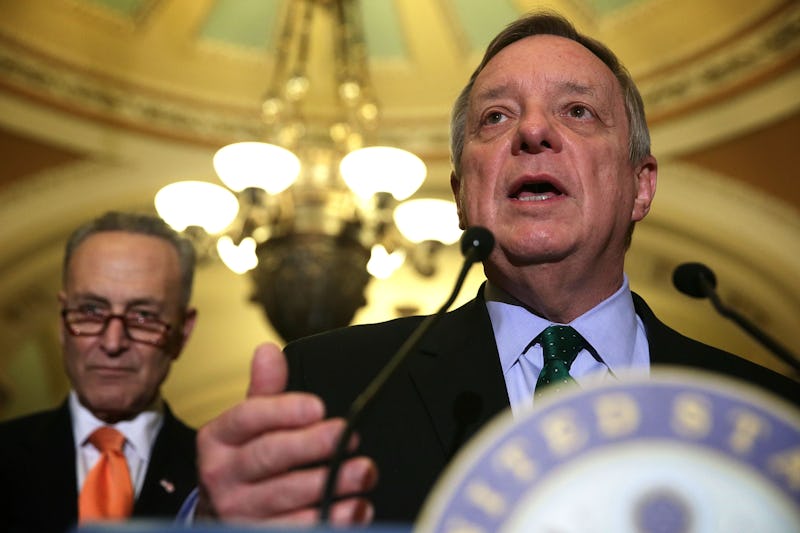 Alex Wong/Getty Images News/Getty Images
On the eve of his meeting with Russian President Vladimir Putin, a handful of Senate Democrats have urged Donald Trump to confront Putin about allegations of election meddling. Led by Senate Minority Leader Chuck Schumer, five Democrats asked Trump in a letter to use his Friday meeting with his Russian counterpart to make it "absolutely clear" to that the United States "will in no way" tolerate its interference in U.S. elections.
"We believe it is crucial for you — as the President of the United States — to raise this matter with President Putin and to ensure that he hears you loud and clear — interfering in our elections was wrong in 2016 and it will not be permitted to happen again," the group wrote in the letter. "Not raising this matter with President Putin would be a severe dereliction of the duty of the office to which you were elected."
Along with Sen. Schumer, the letter was signed by Assistant Democratic Leader Sen. Dick Durbin, and Sens. John Warner, Jack Reed, and Ben Cardin, who serve as the senior Democratic senators on the intelligence, armed services, and foreign relations committees, respectively.
"It is crucial that both the Executive and Legislative branches of our government use every tool at our disposal to ensure that Putin does not believe he has a freehand to implement his manipulative program of election interference ever again," the letter read. "The upcoming elections cannot be a playground for President Putin."
Despite three U.S. intelligence agencies concluding "with high confidence" in January that Putin had "ordered an influence campaign in 2016 aimed at the US presidential election," Trump has continued to treat the information with skepticism. While in Poland on Thursday, President Trump once again attempted to cast doubt over US intelligence agencies' report by arguing it was unclear if Russia acted alone.
"Nobody really knows for sure," Trump told reporters during a joint press conference with Polish President Andrzej Duda. "I think it was Russia and I think it was other people in other countries who also interfere. I won't be specific, but I think a lot of people interfere."
His comments were later criticized by Rep. Adam B. Schiff, the ranking Democrat on the House Intelligence Committee. "This is not putting America first, but continuing to propagate his own personal fiction at the country's expense," he said in a statement that alleged Trump continued "to directly undermine US interests" with his remarks, as reported by The Washington Post. Schiff also urged Trump to confront Putin over the allegations of election interference or risk having the Kremlin "conclude he is too weak to stand up to them."
Trump is scheduled to meet with Putin for the first time since becoming president on Friday on the sidelines of the G20 summit in Germany.