Here's Why The Democratic Party Is Going To Fund Anti-Abortion Candidates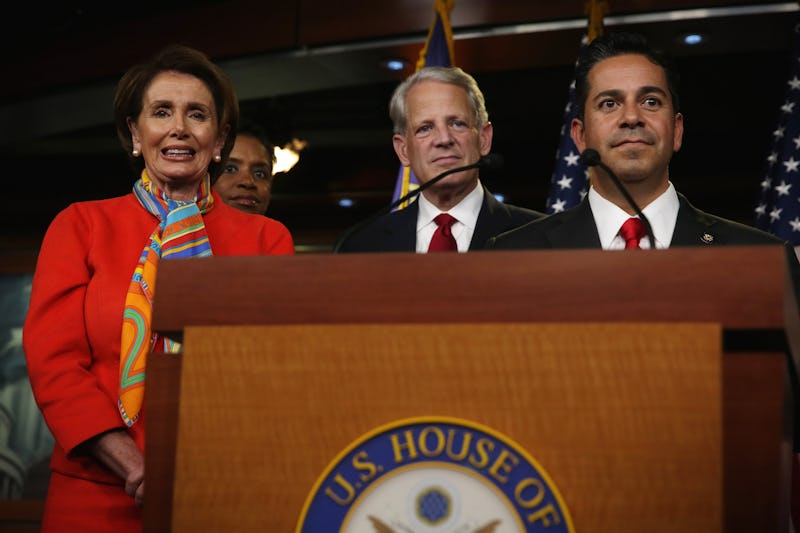 Alex Wong/Getty Images News/Getty Images
In an interview published in The Hill, Democratic Congressional Campaign Committee chairman Ben Ray Luján said that the party would financially support candidates who oppose abortion. The primary rationale for opening up the party's base to anti-abortion candidates is to win House majority in 2018. In addition to that, Luján said that there was no "litmus test" for Democratic candidates, justifying the move by saying that the party needed candidates to "fit" their respective districts in order to score victory.
As Luján, a New Mexico congressman, explained to The Hill:
There is not a litmus test for Democratic candidates. As we look at candidates across the country, you need to make sure you have candidates that fit the district, that can win in these districts across America.
The Hill noted that Luján had been working on gaining more candidates in order to defeat Republicans in the 2018 midterm elections. The chairman put emphasis on having a "big [Democratic] family" to win a House majority in 2018: "To pick up 24 [seats] and get to 218, that is the job. We'll need a broad coalition to get that done."
Luján isn't the only prominent Democrat against litmus tests for Democratic candidates. Prior to him, House Minority leader Nancy Pelosi and Senate Majority leader Charles Schumer have both criticized and opposed party litmus tests.
In spite of Luján's reasoning for casting a wide and diverse net for Democratic candidates, some believe that the party's decision will end up alienating those who support free choice, abortion, and fair reproductive health care. People like Mitchell Stille of NARAL Pro-Choice America criticized the move and said that supporting anti-abortion candidates was "bad politics that will lead to worse policy."
On social media, the Democratic party's move to potentially give financial weight and public platform to anti-abortion candidates was criticized. One person described the move as a "betrayal to a core plank of the Democratic platform," while another person stated that "if you do this, expect a large contingent of women and men who support reproductive rights to leave the party." A third went on to describe the decision as a "losing strategy."
Even within the party, there are those who would disagree with Luján's position — Democratic National Committee Chair Tom Perez would be one of them. Back in April, Perez noted in a statement that abortion and reproductive health care were critical issues for Democrats.
Democrats trust women to make their own decisions. Every Democrat, like every American, should support a woman's right to make her own choices about her body and her health. That is not negotiable and should not change city by city or state by state.