Democrats Are Pushing For Trump's Impeachment After His Charlottesville Comments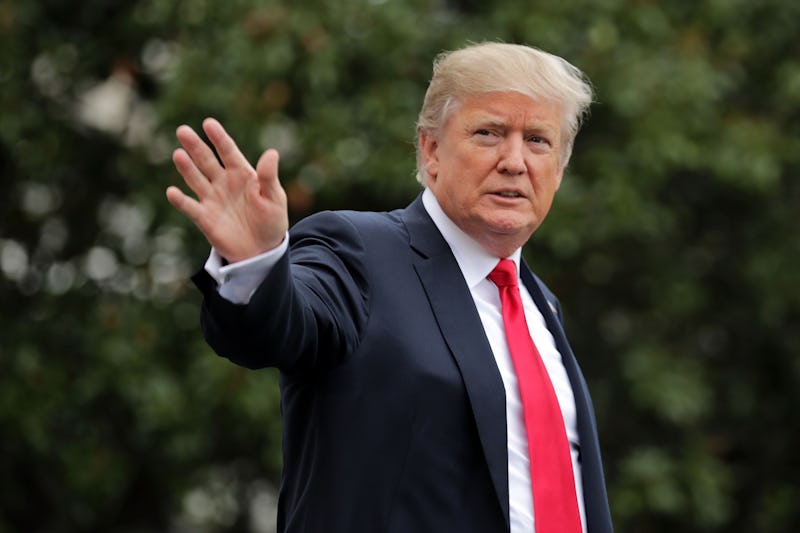 Chip Somodevilla/Getty Images News/Getty Images
On Wednesday, a group of Democrats in the U.S House of Representatives will introduce new articles of impeachment against President Trump. The introduction of these new articles will mean that at least four U.S. legislators have now officially supported articles of impeachment against the 45th president.
The latest articles will be introduced by Reps. Steve Cohen (D-Tenn.) and Luis Gutiérrez (D-Ill.). They are both members of the House Judiciary Committee, which drafted the impeachment articles for both Bill Clinton and Richard Nixon (though, as Newsweek reported, articles of impeachment are not necessarily required to go through this committee).
The introduction of the articles is not unexpected. Back in August, Cohen announced that he was planning to introduce them following the tragedy in Charlottesville, Virginia, in which a group of people counter-protesting at a white nationalist rally were hit by a car that slammed into them, leaving one dead.
In a press release following the event, Cohen expressed his deep displeasure with Trump's response to the event, in which the president blamed "both sides" for the violence. Cohen said Trump had failed the "presidential test of moral leadership" and called for his impeachment. Gutiérrez also noted that he would be signing on to the articles of impeachment.
The Hill reported that the congressmen have not specified on what grounds they would introduce the articles of impeachment, though Gutiérrez said earlier in November that they would "not leave you lacking for reason." Gutiérrez added that he and others had been working with constitutional lawyers to draft the articles and that it was "clear to us that he [Trump] is unfit to be president of the United States of America."
Gutiérrez has also previously implied that a group of Democratic legislators would be joining him and Cohen in signing onto the articles, but did not specify who or how many. Talk of impeachment has been rife since Trump was sworn into office in January — both among an eager segment of the population, as well as Democratic lawmakers — but a group initiative on the Hill to impeach Trump would be the first of its kind.
Two other Democratic members of Congress, Reps. Brad Sherman (D-Calif.) and Al Green (D-Texas), have individually introduced articles of impeachment against the president. Green's impeachment resolution is broad and covers four articles of impeachment. Sherman's is more narrow, focusing specifically on Trump's firing of former FBI director James Comey as a rationale for impeachment.
While Gutiérrez and Cohen's resolution would be the first group effort to introduce articles of impeachment against Trump, Gutiérrez warned against overstating its potential for impact. According to Newsweek, while announcing the initiative, the Illinois Democrat noted that he did not want "everyone running out of here thinking Nancy Pelosi is behind this, or that the Democratic Party is behind this."
Indeed, as POLITICO reported earlier this month, Pelosi, the House Minority Leader, has urged Democrats to avoid talking about impeaching Trump. She is reportedly concerned that the issue could distract from showing that the Democratic party can govern effectively, lest it affect its chances in the crucial 2018 midterm elections. Pelosi is reportedly also fearful that impeachment discussions could taint the special counsel investigation into the Trump campaign's alleged collusion with Russia, allegations Trump has repeatedly and forcefully denied.
Those on Capitol Hill as well as many members of the public will likely be closely watching to see exactly what is contained in Cohen and Gutiérrez's articles of impeachment when they announce them on Wednesday — and to see just how many other Democrats are on board with it.