Denny's Just Released A Massive Thanksgiving Menu That's Available Until JANUARY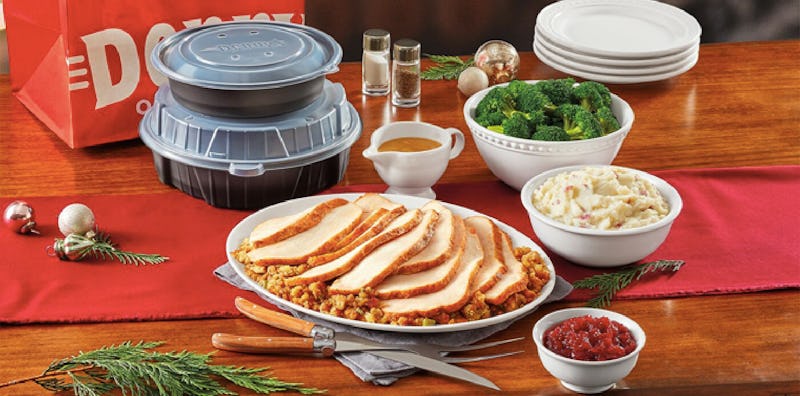 Denny's
In this day and age and current newscycle, we need to find joy wherever we can. So, my friends, let us revel in the joy of Denny's new "Festive Flavors" menu. It is a menu of Thanksgiving and holiday food bounty, and it is the good, good news you deserve today.
This week, Denny's unveiled — and I do mean "unveiled" as these foods deserve both drama and theatrics — its new Festive Flavors menu, available at participating locations, dedicated to all the kinds of foods you want to indulge in during the end of the year. Things will be pumpkin spiced. Thanksgiving dinner will be turned into a sandwich. There will be cinnamon rolls! Made! Into! PANCAKES!!! The Cinnamon Roll Pancake Breakfast not only comes with two buttermilk pancakes cooked with a cinnamon crumb topping inside, it's also topped with fresh whipped cream and served with a pitcher (you know, the normal measurement of "a pitcher") of warm cream cheese icing. Plus, you get two eggs, hash browns, and bacon strips or sausage links. It is the breakfast of your hungover dreams.
If you are a fan of holiday food, Denny's wants you to be able to eat that food whenever you want, 24/7, from now until January 8, 2019. Yes, this menu is available until January of next year. 2018 has been the year of weeks feeling like months so it's only fair that this Thanksgiving last until January.
"As America's Diner, we pride ourselves on bringing family and friends together over a delicious meal all throughout the year," John Dillon, chief marketing officer for Denny's, said in press release for the new menu. "And during the holidays, we aim to deliver on that promise and so much more. Whether it is in one of our booths, around a family dining table or even on opposite sides of the country, our guests can enjoy a warm, hearty meal wherever their holiday travel takes them."
Not to turn this into a math problem, but Denny's is open 24 hours a day, seven days a week. For anyone taking a road trip home for the holidays, this means you could (and some might say should) stop at a Denny's for every on-the-road meal. Why have just one Thanksgiving dinner when every meal could be Thanksgiving dinner? If the fat bears can do it, why can't we?
(Because we're humans and don't hibernate and would probably die from that much gravy in that short of time? I mean, I guess.)
If you're a fan of pumpkin spice, Denny's Festive Flavors menu has you covered. Their Pumpkin Spice Pancake Breakfast comes topped with cream cheese icing and is essentially fall in pancake for. There's also a Pumpkin Pie Milkshake, pumpkin and pecan pies, and Pumpkin Spice Pancake Puppies. Literally puppies! Just kidding. That's one of the only examples of two wonderful things (pumpkin spice and puppies) combining into something awful. Denny's Pancake Puppies are basically donut-hole shapes pancakes that come with icing for dipping/drenching. You could have a whole entire meal spiced like pumpkin and you know what? You should. You deserve it. Pumpkin spice is the only good and pure thing we've got left.
You can also order an entire Thanksgiving dinner from Denny's, stuffing and all. If you want to avoid the stress of cooking a holiday meal or it's a Thursday in October and you want to drown your feelings in mashed potatoes, you can order Denny's Turkey & Dressing Dinner Pack online. As in, you can use your very own internet to make a Thanksgiving meal appear in front of you after a short delivery time. Use that dangerous/vital information however you see fit.