It's The 20th Anniversary Of Destiny's Child's First Album & Twitter Is Feeling SO Nostalgic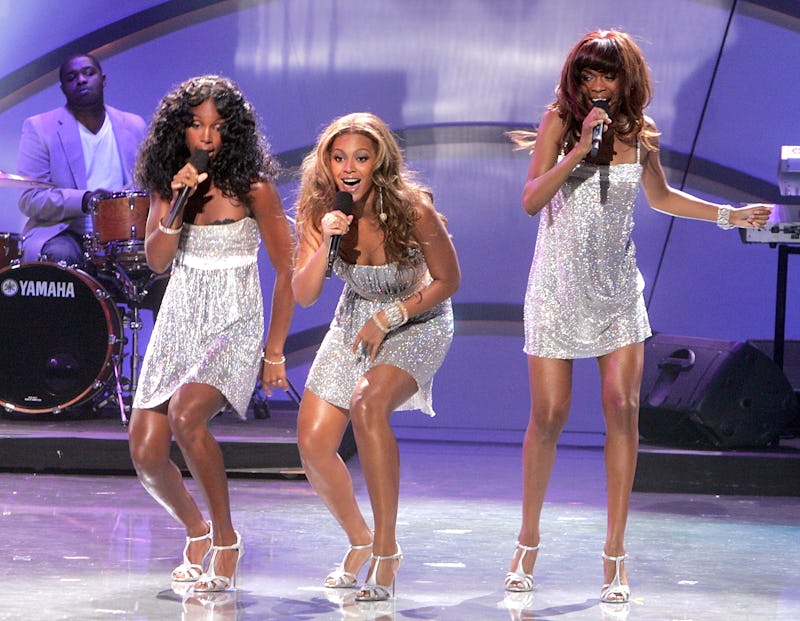 Kevin Winter/Getty Images Entertainment/Getty Images
It's difficult to imagine a world without Beyoncé, but before the queen began her rule she was a member of one of the most influential and top-selling contemporary girl-groups, Destiny's Child. It's been 20 years since Destiny's Child's first album came out, and fans on Twitter have so many feelings about it. The self-titled debut was released on Feb. 17, 1998, and launched the careers of its members Kelly Rowland, LaTavia Roberson, LeToya Tuckett and of course, Beyoncé Knowles. The album was well-reviewed and eventually went platinum. The single "No, No, No Part 2" ft. Wyclef Jean put the group on the map. Roberson and Tuckett left the group after the album was released, but the self-titled debut established Destiny's Child as an influential music group.
In the next few years, Destiny's Child became pop culture icons. Fans might not remember tracks like "No No No" and "With Me" as well as the group's major hits "Survivor" and "Say My Name", but these songs were formative for Beyoncé and Rowland. While the singers would eventually go separate ways, it's fun to take a look back at their career and revisit where they started. Beyoncé went her own way and released her first solo work Dangerously in Love, and almost two decades before her game-changing Lemonade. Before that, though, she was introduced to the world on the first Destiny's Child record. Even if Bey fans don't remember the day this album dropped, they've probably heard songs from this album, whether it's at a middle-school dance or on the radio.
Fans took to social media to share the Destiny's Child love, and their memories show how much the group and album meant to multiple generations.
Here's what people are saying on Twitter.
Longtime Listeners
This user talked about listening to Destiny's Child their entire life, which is true for many millennials.
Listeners For Life
Another Destiny's Child fan named Kayla Taylor also talked about listening to Queen B for their entire life, which came out the year she was born.
Eternal Fans
People also noted how underrated the tracks from this release are, and urge fans not to overlook them in favor of the bigger hits.
Leaving A Legacy
The album redefined R&B, and pop music as a while, and Shondaland took a moment to recognize this legacy.
Remembering "No No No"
There was lots of love for "No No No", which is inarguably the most popular track from the release.
Don't Forget "With Me"
While "No No No" got lots of love on Twitter, other fans urged their followers not to forget "With Me," another single from the album.
Time Flies
Lots of fans remembered when the album first dropped, making it a bit of a reminder of how old they were getting.
The reunion made many people feel their age, and it is crazy to think we've been lucky enough to have Bey for two decades. It might be comforting to know that Beyoncé, Kelly Rowland, and LaTavia Roberson started to sing together at 8 years-old, and were only teens when Destiny's Child became famous.
Iconic
Laverne Cox took a moment to recognize the album as well, sharing a collection of Tweet memories.
Beyoncé Dance Party At The Olympics
ESPN writer Mike Wise shared this video of comedian Leslie Jones and figure skating commentators Tara Lipinski and Johnny Weir dancing to Beyoncé on the eve of the anniversary.
Wanting Another Reunion Tour
The album would certainly be a good opportunity for the group to reunite, and it's not entirely out of the question. Last year, Beyoncé and Kelly Rowland hinted that a reunion might occur at Coachella, where Bey was slated to headline. Of course, her pregnancy with twins required her to postpone the performance until next year, but it certainly doesn't mean a reunion is out of the question for 2018.
It also wouldn't be the first time the group got back together. In 2013, Beyoncé brought Rowland and Roberson joined her onstage at the Super Bowl halftime show.
One fan even called for all 5 of the members of Destiny's Child to come together and reunite for this major anniversary.
Another twitter user pointed out that Feb. 17 is the anniversary of Destiny's Child's debut, it's also marks the beginning of Queen B's music career. The singer and producer has been creating music for over 20 years, and she hopefully won't stop anytime soon.
The Destiny's Child nostalgia is out in full force on social media, and fans are sharing what the girl group meant to them. For some, Beyoncé, LeToya, Kelly, and LaTavia inspired confidence and self-empowerment, while for others, their early music simply provided plenty of bops to dance to. Either way, this group has impacted their listener's lives for a long time.
Beyoncé never forgets to show appreciation for her friends and fellow Destiny's Child singers. Last year, she helped Rowland promote her parenting book, Whoa, Baby! The women still keep in touch and meet up fairly often, so it's definitely possible that a reunion is on the horizon. If the on-stage meet up occurs, the group will likely honor this anniversary and sing from their self-titled album.