There's A New Disturbing Allegation About Abuse Against Detained Immigrant Children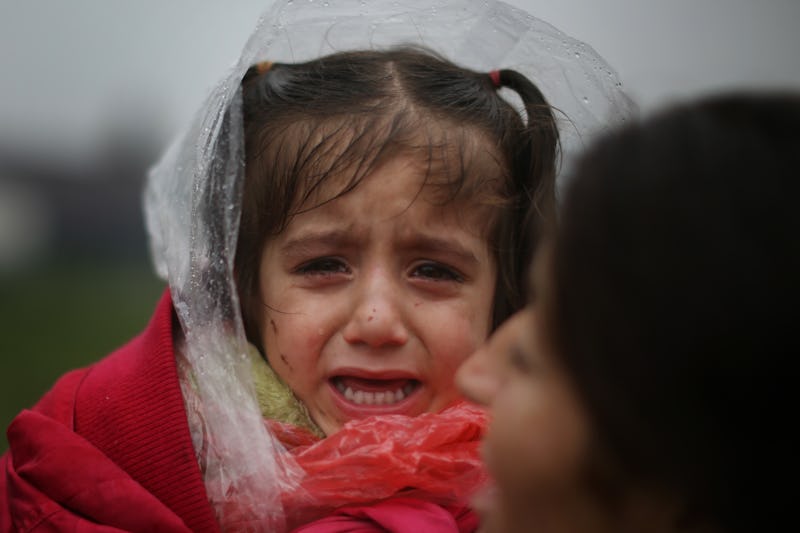 Christopher Furlong/Getty Images News/Getty Images
Immigrant children who were separated from their families at the border told lawyers and advocates terrifying stories of alleged abuse they suffered while detained. Some immigrant children alleged that guards kicked them and said social workers told them they would be adopted by American families, according to BuzzFeed News.
A spokesperson for Customs and Border Protections told Bustle in an email statement:
CBP disagrees with these unsubstantiated allegations. The alleged incidents do not equate to what we know to be common practice at our facilities.
Without more specificity provided (date, time, location of the allegations), it is impossible for CBP to respond to such generalized comments and anonymous allegations do not equal fact. CBP treats those in our custody with dignity and respect.
The spokesperson also directed Bustle to guidance on its website that allows the public to easily report a complaint or provide anonymous feedback, both in English and in Spanish.
The claims are the most recent in a series of updates alleging abuse at detention centers where children are being held along the border. ProPublica published a disturbing report Friday describing an incident where a 15-year-old Honduran boy was molested by a youth care worker, who was later fired and convicted. After examining call logs and police reports, ProPublica found at least 125 calls reporting sexual abuse at children's facilities in the last five years.
Immigrants' rights activists also told The Nation in an exclusive report published Friday that a 6-year-old girl was sexually abused at a detention center in Arizona, and was later required to sign a form saying she would stay away from her alleged abuser, who was reportedly an older child at the same facility. Bustle has reached out to Southwest Key Programs, the organization that runs the Arizona facility, for comment.
In the BuzzFeed report, children at the South Texas Family Residential Center in Dilley told activists they were kicked and hit by guards at other facilities, told by social workers that they were going to be adopted by American families, and were "forced to sweep floors in the shelters they were staying in."
Lawyers and activists reportedly told BuzzFeed the alleged abuse took place before the children were transferred to the residential center in Dilley. They also said they could not reveal the names or locations of the facilities where the children allege they were physically abused, or the time the allegations took place, due to privacy concerns. They said all of their clients are currently seeking asylum.
Cameron Carcelén, 34, an architect from Connecticut volunteering as a translator told BuzzFeed, "The children I've spoken to who describe their experiences while they were separated describe absolute horror... They were kicked, repeatedly kicked, over and over."
Another translator volunteer said the kids alleged emotional abuse as well. Catherine Powers told BuzzFeed, "There's a guard who said, 'Oh, what's your mom's name, I'll go get her,' and then he'd never come back. Can you imagine?"
On Friday, a federal judge in Los Angeles announced that an independent monitor would visit and evaluate border facilities for children in Texas following the abuse claims, The Washington Post reported. Judge Dolly M. Gee said she believed there was a "disconnect" between what the government was reporting regarding facilities' conditions and the recently publicized accounts of children held at the facilities. "It seems like there continue to be persistent problems," she said.
Attorneys who represent both immigrant children and the government have to appoint an independent monitor by Aug. 10, the Post reported.