'Detroit' Is A Horror Story About Police Brutality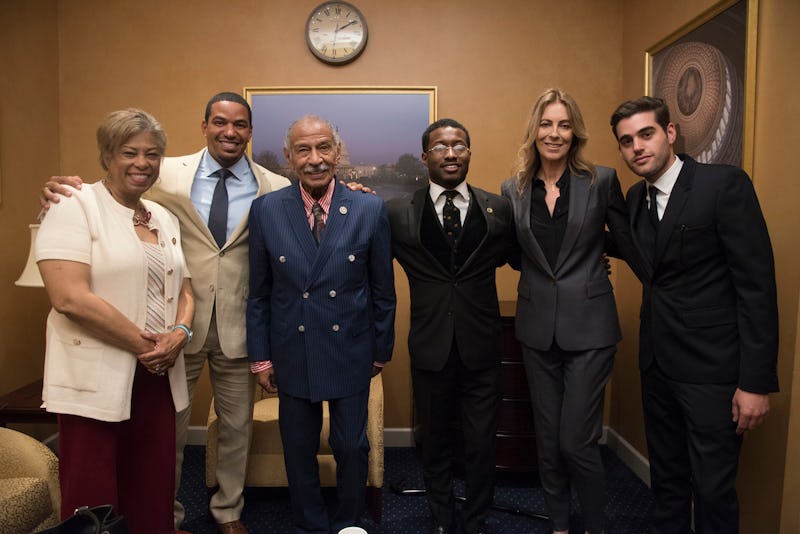 Photo by Kris Connor/Annapurna Pictures
Film is often used as a means of escape from reality. Yet, when it comes to historical films, it's virtually impossible to avoid the truth. And as John Conyers, III, the Detroit native and film consultant tells Bustle, a movie like Kathryn Bigelow's Detroit not only reflects the reality of its '60s setting, but also sends a disturbing message about police brutality and race relations that still sadly applies to the world today.
"This movie is 2017," Conyers, III, Partner at the Palette Agency and son of Michigan Congressman John Conyers, Jr., says when we sit down for an interview. "You'll see old cars, you'll hear classic music, you'll see old hairstyles but you could literally make this movie about a situation set in 2017 and it would be relevant. Black people are killed without recourse, without repercussion. The takeaway is why. Why is it still happening and how do we change this?"
Detroit, out Aug. 4, tells the untold story of Algiers Motel executions during the 1967 Detroit Rebellion. Following a police raid of an after-hours bar, the African-American community took to the streets in protest against the oppressive and systemic racism that infested the Motor City. Amidst the unanswered cries for justice, members of a riot task force from the Detroit Police Department investigated a potential sniper shooting at the Algiers Motel. However, the search resulted in the unconscionable murders of three Black teenage boys and beatings of seven other Black men along with two White women.
Despite occurring 50 years ago, the rebellion draws comparisons to the 2014 protests in Ferguson, Missouri following the murder of Michael Brown and 2015 revolt in Baltimore, Maryland after the death of Freddie Gray, both at the hands of police officers. In the film, Laz Alonso portrays Congressman John Conyers, Jr. who tries to keep the peace during the uprising, and the Congressman's son tells Bustle that the movie captures a familiar moment in time in which composure was no longer the answer.
"He went out and tried to stop the rebellion," Conyers, III says of his father. "He got on top of a car and urged people to go home — to be peaceful. But there's a certain time when you feel like you're not being heard that reacting in a calm manner, reacting in a patient manner — reason no longer works after a certain time."
Although the five-day rebellion serves as the backdrop of the film, Conyers, III says Detroit is actually more of a cultural critique on the ongoing prevalence of police brutality in America. As a 27-year-old Black man, racial discrimination, micro-aggressions, and apprehension toward police are constant realities for him, he says.
"I'm aware of the fact that I'm Black," Conyers, III says. "I'm aware of the fact that I have to operate and live a certain way because I'm not John Conyers, Jr. I'm John Conyers, III. I'm not famous. I take the extra precautions in my life to make sure that I arrive to my destination in tact. I have jokingly told my little brother when he leaves the house, 'Listen, don't get killed for being Black today.' It's sad but how can that not be the reality? You see it everyday."
Sadly, these remain challenges that his father has fought against since before the inception of the Civil Rights Movement. "He was there for the whole [rebellion]," Conyers, III says. It wasn't anything he hadn't been around in terms of the violence and the anger and the chaos and the frustrations."
To Conyers, III, this is all the more reason for Detroit to premiere during the age of the Black Lives Matter movement — and why it's all the more difficult for his father to watch. Although Conyers, Jr.' has praised Alonso's performance, the Congressman's son says reliving the events of the rebellion was bittersweet for his father. "He loved Laz's performance. But when you're 88 and you've lived through so much and you've lost so many friends through that movement, whether that's Medgar Evers or Dr. King, seeing events from that time takes him to a certain place," Conyers, III explains.
Yet, it was exactly that "certain place" that Conyers, III forced himself to confront after overcoming his initial skepticism of the film. After decades of watching Hollywood produce slave movies and Civil Rights epics with brutal rape scenes, blatant racism under Jim Crow, and more violent altercations with police officers than one could count, he says he was tired of "having our trauma sold back to us." Consequently, while promoting the film, Conyers says he has noticed he has trouble convincing Black people to go see Detroit.
However, he trusts Bigelow's thorough research, critical eye, and most of all her respect and regard for telling the story of the Algiers Motel executions as meticulously as possible to draw large and diverse crowds. "Because you have this Academy Award-winning director, White people are going to be in those seats," Conyers, III says. "Because of who the messenger is, the message will get out to the masses — the Caucasian masses. It is a shame that it has to be this way."
The consultant says that he is grateful for Bigelow's nerve to "hold a mirror up to White America," and although he knows the film's message may fall on some deaf ears, he is hopeful that Detroit will still start a proactive dialogue about racial discrimination and police brutality.
"It's amazing that a White director and a White screenwriter have taken the time to tell this story because it's not the job of Black people to end racism or to end the tensions or to end prejudice," he explains. "It's not our job because we didn't make things like this. It's great that Kathryn is essentially saying, 'At a certain point White people have to take responsibility for what is happening or how the tensions that exist between police and certain communities is not unfounded.'"
Whether it's 1967 or 2017, racial injustice remains inextricably linked to the American narrative. Every Detroit audience member may not be an activist. But watching a film about the country's sordid past will better inform their future.