DeVos' New Sexual Assault Investigation Scrutinizes A School's Trans Bathroom Policy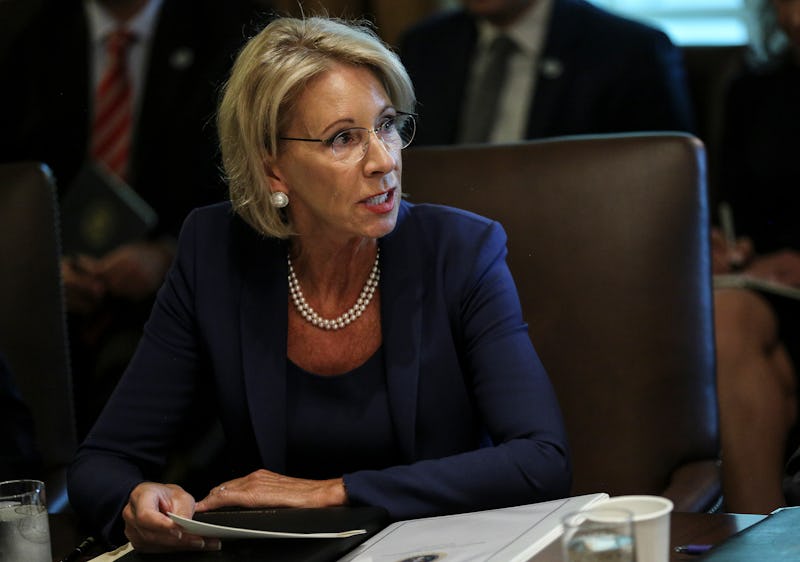 Pool/Getty Images News/Getty Images
Civil rights advocates were already concerned when Trump's administration rescinded Obama-era laws that allowed transgender students to use the bathroom of their choice in February 2017. Now the administration is going one step further. Politico reported that Betsy DeVos' new investigation into sexual assault in Decatur, Georgia examines whether a school's transgender bathroom policy had anything to do with a five-year-old girl's assault.
A spokesman for the department told Politico, "We do not comment on pending investigations — but to be clear, the investigation focuses on the school's response to a report of sexual assault and the examination of any and all factors that may have contributed to a hostile environment." Bustle has reached out to the Department of Education for further comment.
A complaint, filed in May by the girl's parent, alleges that the child was assaulted in an elementary school bathroom by a student who identifies as gender-fluid. The complaint repeatedly refers to the gender-fluid student as male, and alleges that they "pushed her against a wall, pushed his hand between her legs, and repeatedly felt and poked at her genitals ... while she struggled and called out for him to stop."
On Sept. 14, the Education Department's Office for Civil Rights (OCR) confirmed it would be investigating the claim, including whether the school's adherence to the transgender bathroom policy "contributed to creation of a hostile environment for the Student and other girls."
A Decatur school district spokeswoman responded with an emailed statement to Politico, making it clear that a conservative Christian group helped file the complaint.
City Schools of Decatur is committed to supporting all students. We are aware of the unfounded allegations made by the Alliance Defending Freedom. We fully disagree with their characterization of the situation and are addressing it with the Office of Civil Rights. As this is a pending legal matter, we have no further comment at this time.
The "bathroom debate," as it has come to be known, has been an frequent topic in the Trump administration's Department of Education headlines. Colleagues have called DeVos a quiet supporter of LGBTQ+ rights, but in the case of the bathroom bill, ultimately, the administration's push to restrict transgender rights won out.
In April, The New York Times reported that the Department of Education had begun dismissing civil rights complaints filed during Obama's presidency. Under a new Department of Education protocol, staffers were instructed to toss out cases that were similar, or continued a pattern of previously filed complaints, and those that they decided would place "an unreasonable burden on O.C.R.'s resources."
LGBTQ+ rights and civil rights activists alike pushed back on the new guidelines, saying that allowing case selection to be a subjective process would hurt already marginalized groups in the education system. "The thing that scares me is when they get to say 'we won't open some cases because it's too much for us,' or 'we don't like the complainant,' or 'it's not our week to work on that,' you start to change the character of the office," Catherine Lhamon head of OCR under the Obama administration told The Times.
"There's not a limitation on justice, and there's not a limitation on how we perceive injustice," she continued. "To say you've reached your quota is to say that there's somehow a cap on the number of children who might be harmed."