No, Día De Los Muertos Isn't "Mexican Halloween" — Here's What You Should Know About It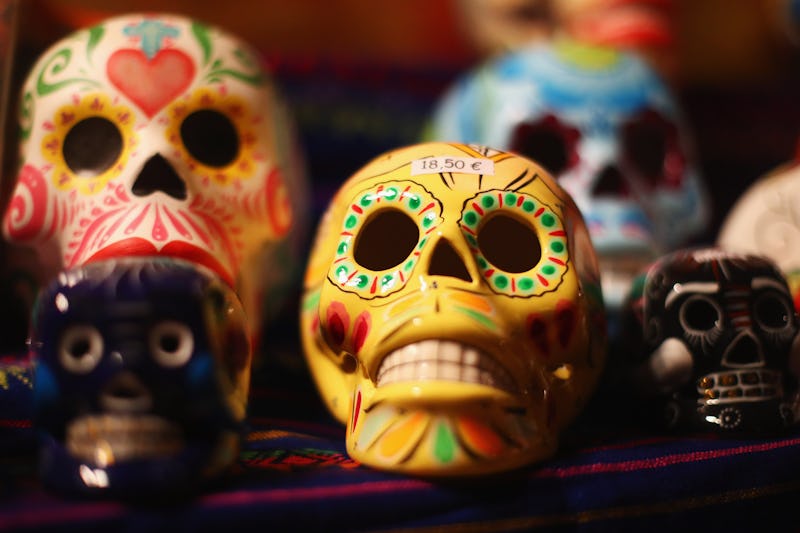 Dean Mouhtaropoulos/Getty Images News/Getty Images
If you grew up in the States, you probably learned about Día de los Muertos, or Day of the Dead, around Halloween, as the traditional Mexican holiday begins at the stroke of midnight on Nov. 1. But for better or for worse, this means many of us associate the holiday with Halloween, when the two traditions are actually totally separate. That's why three Arizona State University grads decided to build a website dispelling all the myths about the holiday, called DayOfTheDead.Holiday, that provides instructions for those who want to celebrate it authentically.
"With the rising interest for Día de Muertos in the United States with movies like Coco, it seemed to be a good idea to create something specifically for the American audience," Kelly, one of the site's co-founders, who asked to be identified by her first name only, tells Bustle. Kelly explains that while she didn't grow up celebrating the holiday, as a Chicana who also has Filipina heritage, she "wanted to learn more about my ancestral roots, and [building the website] was a creative way to take that journey.
Día de los Muertos, also called Día de Muertos, is a holiday that stems from pre-Columbian traditions, according to NPR, and that "reunites the living and the dead," as the website puts it. It's an opportunity for the living to celebrate their departed loved ones through ofrendas (offerings, in English), where families display photos and leave marigolds (believed to guide the dead into the world of the living), food, and drinks for the spirits of the dead who may pass through the nights of Nov. 1 and Nov. 2.
"It is important to note that it is even celebrated differently between the states and regions of [Mexico]. With immigration and the Mexican diaspora, the awareness of this beautiful holiday has grown," Kelly says. "In the United States, I think there can be a misunderstanding on how it is observed. I think there are people who take only certain aspects of Día de Muertos without understanding what it's about and that's where the appropriation comes in."
Because, well, appropriation can be a major issue. Halloween is supposed to be a fun holiday, one where adults and kids alike get to dress up in funny (or spooky) costumes, eat some candy, and maybe, maybe watch a scary movie. But of course, it isn't as simple as that: year after year, people talk about why cultural appropriation is, well, inappropriate on Halloween (as it is on any other day), and year after year, someone shows up to the Halloween party in a culturally appropriative or straight-up racist costume.
Fortunately, DayOfTheDead.Holiday addresses cultural appropriation in a nuanced way. While one resource on the site stresses that painting your face in the style of a traditional calavera, or sugar skull, around Halloween isn't necessarily culturally appropriative, it's important to recognize the culture you're tapping into in doing so. "You can paint your face during Day of the dead festivities if you wish, but remember, this isn't a Halloween mask and care should be taken to create the authentic calavera look," the resource writes.
Further, equating Day of the Dead with Halloween, full stop, is its own form of appropriation, and Americans need to be aware of that. "The main thing is that Día de Muertos is not like Halloween," Kelly tells Bustle. "I think people say that to try to connect and relate to another culture, which is natural. But Día de Muertos is so different than Halloween and I believe it's important to make that known."