Dia&Co Is Empowering Designers To Make Plus Sizes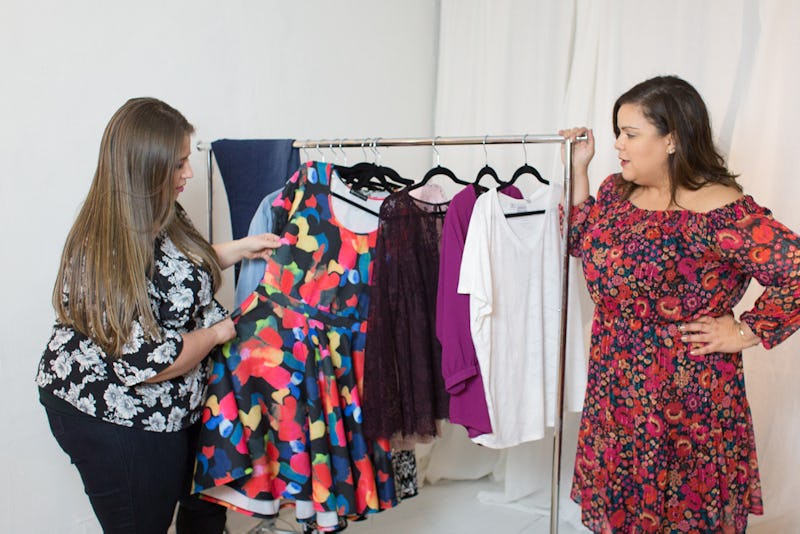 On Feb. 9, Dia&Co issued a challenge to designers. In a full-page New York Times ad, the body positive start-up launched its #movefashionforward campaign and pledged to provide financial and practical support to designers who want to create clothes for plus size women.
In a press release, a rep for Dia&Co, a personal styling service that delivers hand-picked outfits to plus size customers, said Dia&Co has worked with more than one million plus size women since its launch in 2014. With #movefashionforward, Dia&Co is offering practical and financial support for all aspects of the design process to help "bridge the gap between major fashion designers and the 67 percent of women in the United States who wear plus size clothing."
Dia&Co CEO Nadia Boujarwah decided to launch the campaign after seeing the results of a survey the brand ran in January 2017 with OnePoll, which showed 72 percent of women said they do not believe fashion designers create their designs with the average American woman in mind.
Boujarwah tells Bustle, "Dia&Co is ready to support designers who take up the challenge every step of the way," including "[u]sing our proprietary fit technology, we can help brands to translate their quintessential designs into the silhouettes and grading that provide the best fit for sizes 14 and up."
She added that participating designers will not only receive in-house design assistance, product development, marketing, and distribution through the company's styling service at zero cost to them, but will also have the opportunity to be featured at theCURVYcon, a premier plus size brand event.
"As title sponsors of theCURVYcon [...] Dia&Co is hosting theCURVYcon's first plus size fashion show in New York City during Fashion Week in September 2017," Boujarwah says. "Designers who take up the challenge can be featured in the fashion show and integrated into theCURVYcon event, exposing their designs to a highly engaged and fashion-forward community."
Dia&Co is also running a social campaign in tandem with their New York Times ad, inviting community members to ask their favorite designers to participate in #movefashionforward. The company hopes to inspire a large-scale shift in the fashion industry, driven by seasoned designers and newbies.
This is not the first time Dia&Co has moved to develop more clothes for plus size women. Since its launch, the company has worked with 18 brands, like Junarose, Fashion to Figure, and KIYONNA to expand their available clothing sizes above a size 24, and has developed eight dedicated plus size brands which offer clothing up to size 32.
#movefashionfoward designers whose products are featured in Dia&Co boxes will ship to customers in all 50 U.S. states.
"We would distribute the designers' lines through the Dia&Co platform, ensuring that our customers are not only aware of the collection launch, but that they get the chance to try on and engage with the garments in the comfort of their own homes," Boujarwah tells Bustle. "Customers would receive the product in their size along with specific personalized styling advice to help them incorporate the pieces into their existing wardrobe and aesthetic."
And feedback from those customers, along with sales metrics, will be passed along to the designers so they can "continue to iterate on their designs to create the perfect garments for the plus size community," Boujarwah says.
In the campaign press release, Boujarwah said though progress has been made in the industry, she hopes Dia&Co's #movefashionforward will encourage designers to take bigger, bolder steps toward truly making clothes for all women.
"[T]he most significant action is still ahead of us," she said.
Images: Courtesy Brand