This Campaign Wants Plus Size Women To Celebrate The Body Parts That Make Them Most Insecure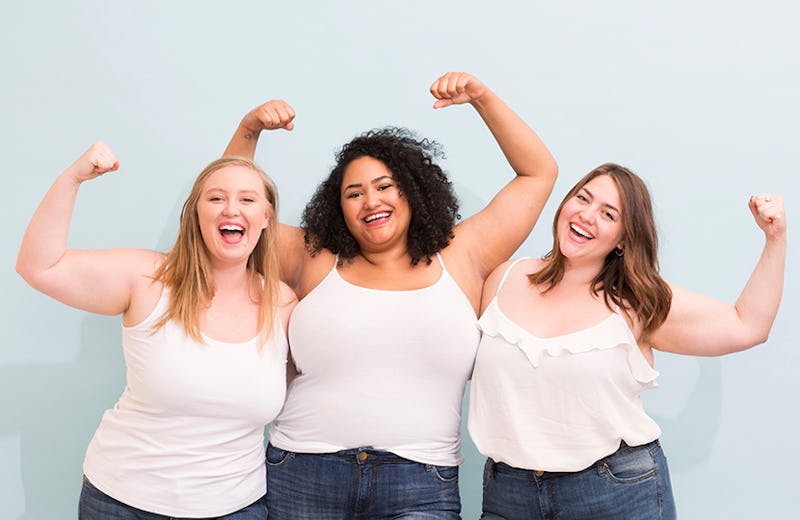 Courtesy Dia & Co
It's summer and the weather is hot. Bring on the crop tops, shorts, and tank tops, right? Well, not exactly. This plus size brand found that customers were still requesting long sleeves for the summer. Instead of just giving in and designing what customers want, Dia&Co is making it a mission to spread a little body positivity instead. For the hottest week in July, the brand is encouraging people to show their arms, legs, backs, and stomachs every single day.
According to the brand, 66 percent of women don't like to show their arms and a whopping 94 percent don't want to show their stomach. Woman said that this was because they "hated" those features of themselves. When it gets to be the hottest days of the year, this statistic still holds true. Dia&Co is out to change that.
In 2017, the plus size brand encouraged women to show their arms for the hottest week of the year and use the hashtag #DiaARMy. The brand is amping it up this year to include arms, legs, back, and belly as well.
For every day from July 24 to the 27, the plus size clothing brand wants you to show your warm weather outfits on Instagram. All you have to do is pick one of these most "hated" features, take a picture showing it off, and use the hashtag #DiaARMy.
Hundreds of women are already participating in the event. The idea is to put strength in numbers. You are not alone in being vulnerable in showing off your arms, legs, back, or belly, but all of these #DiaARMy members are right there with you, showing off their amazing outfits anyways. Not to mention that they're beating the dog day of summer heat while they do it.
Not so sure that you want to participate? Go ahead and search #DiaARMy to get a little inspiration. The amount of women already taking part in the support will blow you away. Women are rocking backless jumpsuits, shorts, and dresses with high slits, and they're all encouraging you to do the same. Think of it as a group of body positive girlfriends that you never knew you had.
According to the press release, Dia&Co is the fastest growing plus size brand in the country. Not only does the brand have incredible clothing that covers a wide range of plus size clothing, but it also encourages women to be who they are and love the body that they are in.
The company doesn't just sell clothing. Instead, it helps women find the right sizes for their body, curates a box of items that it thinks they'll love, and sends them off for women to try in the comfort of their own home. Customers can then keep the pieces they want and send back what they don't. It's pretty much a personal styling session without even leaving your house.
There's no better time to start loving your body than right now. Or, if you already do there's no better time to encourage others to do the same.