Diane Keaton Is The Instagram Fashion Influencer You've All Been Waiting For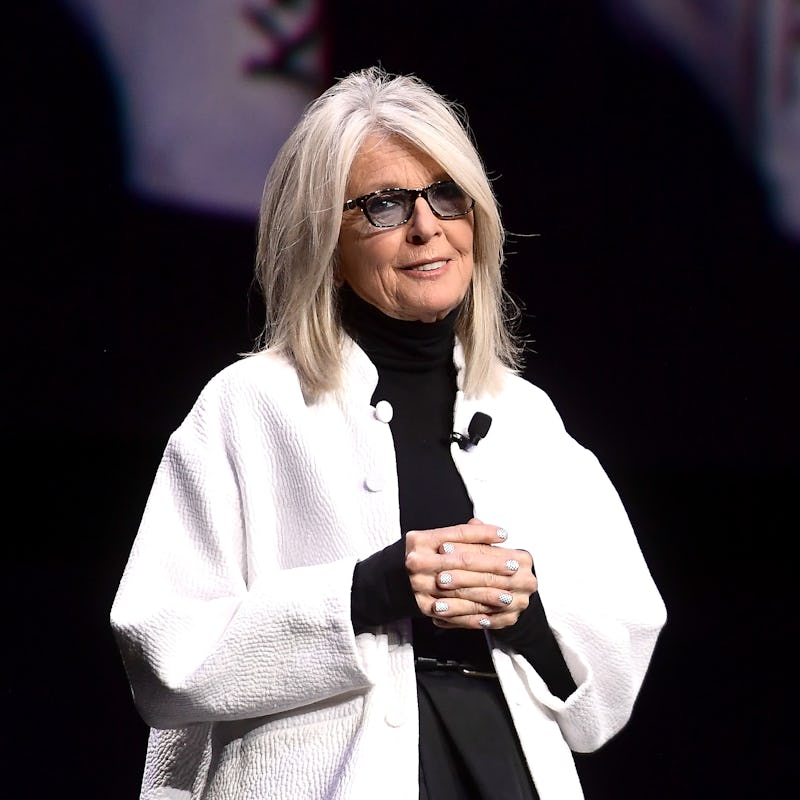 Matt Winkelmeyer/Getty Images Entertainment/Getty Images
Diane Keaton is a style legend, and not only during her Annie Hall days. Diane Keaton is an Instagram fashion influencer now, and her fashion finds will make you itch to copy her covered-up aesthetic. Spotted by Glamour originally, Keaton has been on Instagram since 2015 and regularly posts about her outfits. The look that first caught Glamour's attention was Keaton's OOTD post sporting comically wide leg pants.
These wide leg jeans were high waisted and had the faint aura of '90s skater pants. Keaton cinched them with a black studded belt, and paired the denim with a black turtleneck and one of her iconic wide brimmed hats. But that's just the front shot. The Academy Award winning actress then showed her 900,000 followers the back look, putting her hands up on the wall suggestively and hilariously. That's when people got a glimpse of the one foot-long pockets.
In all cap locks, Keaton captioned the photo, "Regarding these pants: this is seriously true. I wore them on the plane. I wore them in the Hotel Dupont. I wore them in the Delaware Art Museum. I wore them on a long walk through the Wilmington Streets. I'm wearing them on the train to NYC. I've never received more compliments on anything I've ever worn in my life."
The only thing was, Keaton forgot to mention who designed the jeans. Enter a flurry of comments from A-list celebrities, asking just that. "Yes who makes them?!!" Michelle Pfeiffer asked. "WHO MAKES THEM???" Gwyneth Paltrow demanded. Then Debra Messing slid into the comments applauding the pockets, and Kate Hudson sent out blue jean and eye emojis.
Keaton eventually came back with a second post about the pants, letting followers know they were made by designer Maison Margiela.
But this isn't the first fashion post that Keaton dropped, nor the last. Just after the jean post, Keaton shared an all white outfit on April 23. Wearing a white peplum blazer with white cropped trousers, Keaton accented the look with a black sleeve top, chunky block heel boots, and an olive hat. "I rarely wear this but it's spring! I feel like I'm ready for a new adventure! Sassy and anxious to go!" Keaton posted.
But the black and white looks don't end there. Keaton also posted a glorious outfit that featured a gingham dress, a baseball cap, and white patent leather boots. Like a self-aware fashion blogger, Keaton admitted in her caption that she was going to try to add more color to her wardrobe.
But if you scroll through her grid, it's all black and white outfits. Keaton is known for her avant garde and modest looks. Here she is in one of her typical outfit creations, wearing a cocoon skirt, wide brim hat, and fire accented boots.
Breaking away from her formula, Keaton also posted wearing a mostly white (rather than black) outfit. She wore a white cotton dress, white platform sandals, and her always-present wide brim hat.
Keaton is the fashion Instagram influencer we have all been waiting for. Now we just have to sit and patiently wait for her next genius post.