Why It's Such A Big Deal That Dick's Is Changing Its Gun Sale Policies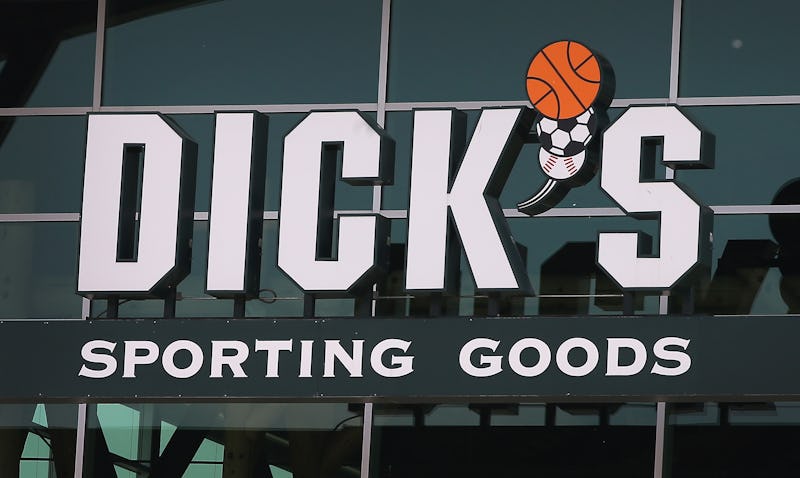 Scott Olson/Getty Images News/Getty Images
A major retailer of guns has just changed its policies in the wake of the Parkland shooting. On Wednesday morning, Dick's Sporting Goods announced it will stop selling assault rifles, beginning immediately. The company also promised to raise the buying age of firearms to 21, in a move it ties directly to the need for gun reform.
Dick's official Twitter account posted the following:
We deeply believe that this country's most precious gift is our children. They are our future. We must keep them safe.
The company then listed four changes they would be implementing in their stores "beginning today." Besides ending sales of assault rifles and requiring gun buyers to be at least 21 years old, Dick's is also removing high capacity magazines from its inventory, and recommitting to their longstanding ban on offering bump stocks.
The company notes they removed all assault rifles from their shelves several years ago, following the mass shooting at Sandy Hook Elementary School. However, they still offered those types of firearms at all locations of Field & Stream, a outdoor gear retailer owned by the company. Starting Feb. 28, assault rifles will no longer be available at any of the chain's 35 locations.
Dick's didn't stop there. The retailer called on Congress to act on gun reform, laying out specific policies it wants to see enacted.
Dick's wants to see legislation that puts an outright ban on assault-style firearms; that follows its lead in raising the minimum age of purchase to 21, bans bump stocks and all high capacity magazines; tightens up the background check process to ensure "relevant mental health information" and all past legal history is included; creates a "universal database" of those who are barred from purchasing firearms; and, that ends the "private sale and gun show loophole" that does not require a background check.
The change was announced by Dick's CEO Ed Stack during an appearance on Good Morning America, in which he noted that the Parkland shooter, Nikolas Cruz, had purchased a gun at Dick's (though not the weapon used in the shooting). Stack pointed out:
We did everything that the law required, and still he was able to buy a gun. And when we looked at that, we said the systems that are in place across the board just aren't effective enough to keep us from selling a gun like that.
Stack added that the policy changes have nothing to do whatsoever with a lack of support for the Second Amendment, telling host George Stephanopoulus:
We're staunch supporters of the Second Amendment. I'm a gun owner myself. We've just decided that based on what's happened and with these guns, we don't want to be part of this story.
In a company-issued statement, Dick's seemed to take a swipe at what has become the standard response to gun violence from many Republican politicians and gun rights advocates. Opening by declaring their "thoughts and prayers" were with the victims and family members of the shooting at Marjory Stoneman Douglas High School, the company followed up by declaring "thoughts and prayers are not enough."
The company went on to describe gun violence as "an epidemic," and wrote that the fact someone like the shooter could legally purchase a firearm at their store "indicates on so many levels that the systems in place are not effective to protect our kids and our citizens."
There are 715 Dick's locations across the United States, making it one of the largest sellers of firearms in the country. Their widespread presence and name-brand recognition within the gun sales industry could have a potential ripple effect for their newly implemented policies, resulting in other outlets adopting a similar approach.
Walmart, currently the nation's largest seller of guns, took assault-style rifles off its shelves in 2015, following the murder of two journalists in Virginia. Cabela's, another major gun retailer, removed bump stocks from their shelves after the mass shooting in Las Vegas; they still, however, sell semiautomatic rifles.
Dick's could take a financial hit from its public decision to change its gun policies. Lackluster gun sales following the election of President Trump have already caused the company financial losses on the stock market, as gun sales make up a significant portion of its business.
Stack acknowledged as much. But he also noted:
If the kids in Parkland are being brave enough to stand up and do this, we [Dick's] can be brave enough to stand up with them.