Word Of The Year Picks For 2018 Are Fittingly Dark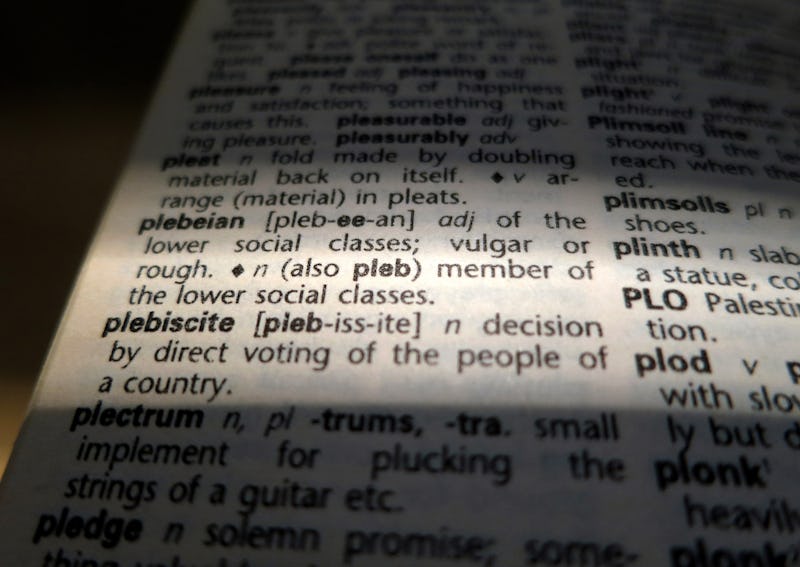 Hugh Pinney/Getty Images News/Getty Images
Every year, the word of the year picks from various dictionaries remind you that language is not a static thing, but rather a dynamic force that's always growing and changing. The words of the year also usually make a comment on the important events and trends of the previous year, and Dictionary.com's 2018 word of the year pick is no exception to that.
For 2018, Dictionary.com chose "misinformation," which it defines as "false information that is spread, regardless of whether there is intent to mislead." Dictionary.com linguist-in-residence Jane Solomon told the Associated Press that she and her team had made a deliberate choice of "misinformation" over "disinformation," which Dictionary.com defines as "deliberately misleading or biased information; manipulated narrative or facts; propaganda."
Solomon told the Associated Press that they had chosen "mis" over "dis" as a "call to action" against anyone who would knowingly or unknowingly spread untrue information. She pointed to the ongoing battle in social and mainstream media against fake news and groups like anti-vaxxers or flat earthers as an example.
"The rampant spread of misinformation is really providing new challenges for navigating life in 2018," Solomon told the AP. "We believe that understanding the concept of misinformation is vital to identifying misinformation as we encounter it in the wild, and that could ultimately help curb its impact."
As Dictionary.com explains, misinformation and disinformation can appear and then proliferate in tandem. When someone shares a piece of misinformation online, she often likely believes it to be true. That piece of misinformation likely originated as a piece of disinformation, though, put out by another person — a politician, for example — with an intent to mislead. This has led to the current situation on social media, where it can be very difficult for people to discern what is true and what is, as they say, fake news.
You might even say that that situation on social media is toxic — and if you did, you'd be using a different dictionary's pick for word of the year. As The New York Times reported earlier in November, Oxford Dictionaries chose "toxic" as its 2018 word of the year after witnessing the sheer number of contexts in which people had begun using it.
As Oxford Dictionaries explained in its post on the subject, toxic had already moved away from being a simple descriptor of chemicals or other substances decades ago, but this year marked a true proliferation in terms of its usage in other situations. For example, the word it was paired with the second most, after "chemical," was "masculinity."
"So many different things are tied together by the word," said Oxford head of U.S. dictionaries Katherine Connor Martin, speaking with The New York Times.
Looking at the dictionaries' runner up words of the year gives you an even deeper reflection on the year's most important trends. For example, among Oxford's runners up are "incel," "gaslighting," and "big dick energy," or BDE, as Oxford tweeted. Dictionary.com's runners up, as listed in the Dictionary.com announcement, included "representation," "self-made," and "backlash."
There's no indication that the two dictionaries worked together to choose their words of the year, but this year, "toxic misinformation" sure seems like a salient phrase. Perhaps, as Dictionary.com expressed was its hope, highlighting the word will help to slow its effects.