SPOILERS — April's 'Grey's Anatomy' Fate Has Been Revealed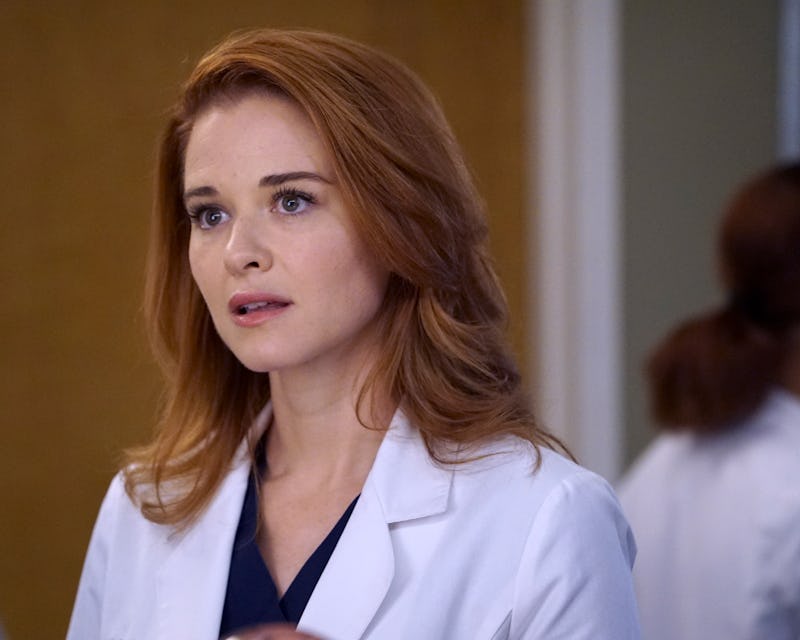 Eric McCandless/ABC
Warning! This post contains spoilers for the May 10 episode of Grey's Anatomy. Oh, someone hold me — the previews for the penultimate episode of Grey's Anatomy Season 14 showed April Kepner on a gurney, post-accident, and Jackson crying over her body, so naturally, fans assumed that the worst was about to happen for Grey Sloan's favorite cheerful doctor. Did April die on Grey's Anatomy? Thankfully, her end is near, but it's not here.
Yes, April did get into a car accident. She was with Matthew, who she's been dating for a few months (Arizona spilled the beans in the episode), and the car rolled over. Matthew was trapped in the car, but April got out to call 911, and she slipped and fell down an icy ravine. The cold weather and the fact that she wasn't found right away sent her into hypothermia — thankfully, the team at Grey Sloan was able to find her, bring her in, and, after much cajoling and a lot of warm saline, get her temperature up and kickstart that heart.
The episode was intense, but the acting here wasn't all about Sarah Drew, who plays April — it was more a testament to Jesse Williams, who plays Jackson Avery, because he went to some deep, dark places in order to beg a god he didn't believe in for April's life. In the end, though, April came out of the accident virtually unscathed, and she's happy now. Happy with Matthew, happy with Harriet, and ready for the next step.
But what is her next step? Well, we don't know. The Season 14 finale will focus on Alex Karev and Jo Wilson's wedding, so there's not a lot of room for drama there. Two people on Grey's Anatomy have pulled a runaway bride already (one of those being April), so I'm hoping that it won't happen again. Been there, done that.
Though I'm a #Japril fan and always will be, it seems like April will get her happy ending with Matthew. They're both heavily involved in missionary work and doctors-without-borders-type stuff, so maybe they'll head off and do that. Whatever it is, April has her own thing, and so does Jackson. And that's all we can hope for.
Finding out that Sarah Drew and Jessica Capshaw (who plays Arizona) were leaving Grey's Anatomy was tough to swallow. As reported by Deadline, Grey's Anatomy creator Shonda Rhimes lamented their departure and recognized the important impact that both characters have had on the television landscape. Rhimes said:
"It's always hard for me to say goodbye to any of my characters. Both Arizona Robbins and April Kepner are not only beloved but iconic — both the LBGTQ and devout Christian communities are underrepresented on TV. I will be forever grateful to both Jessica and Sarah for bringing these characters to life with such vibrant performance and for inspiring women around the globe. They will always be a part of our Shondaland family."
Grey's Anatomy showrunner Krista Vernoff said, "It has been a joy and a privilege to work with these phenomenally talented actresses." It would have been an even bigger joy to keep them on television, but hey — what do I know? I only watch a huge amount of programming a week. (I kid, but not really.)
It's been an honor and a privilege to watch Sarah Drew deliver powerhouse performances as April Kepner — from her beginnings as a naive new doctor who had never been kissed to her days fighting again to find her faith, April has been an integral part of the Grey's Anatomy cast. Viewers are certainly sad to say goodbye to her, but since she's suffered so much tragedy in her life, I'm glad that her goodbye will be more sweet than bitter.