Did Bonnie Just Get Her Powers Back On 'TVD'?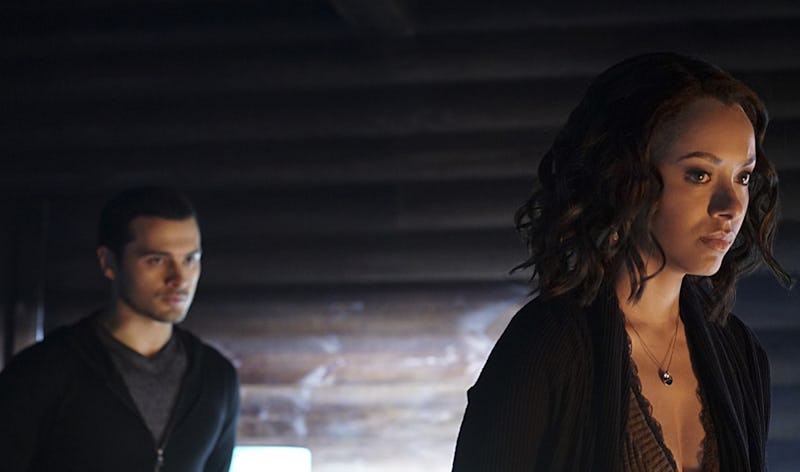 Annette Brown/The CW
Bonnie Bennett might still have some magic left in her after all. In this week's explosive Vampire Diaries episode, "You Made a Choice to Be Good," Bonnie injected Stefan with the cure after he killed Enzo right in front of her. But, while she might have turned Stefan into a non supernatural being, he might have just turned her back into one. After seeing Enzo lying dead on the ground, Bonnie let out a scream of agony, and it looked like she was in so much pain, a pulse was emitted into the air. So, did Bonnie get her powers back on The Vampire Diaries?
Bonnie has lost her powers a few times over the years, and the last time she lost and then regained her powers was in a moment of extreme emotional distress. To save Damon from Kai in the prison world, Bonnie's magic returned, but she lost her powers again last season after briefly becoming a vampire huntress. It looks like Enzo's death might be the emotional push she needed to unlock her dormant powers. Similar to Damon's life being in danger, Enzo's death is a huge emotional shock, and it could just have been enough to unlock her powers.
Granted, the pulse seen at the end of the episode could be something else. The last time Bonnie regained her powers, the power to start fires was the first to manifest itself again, and there was no fire at the end of "You Made a Choice to Be Good." Still, it certainly looks like Bonnie the witch is back. The only question is, what is she going to do with her powers now that Stefan killed Enzo?