Carrie Fisher's Daughter Follows In Her Footsteps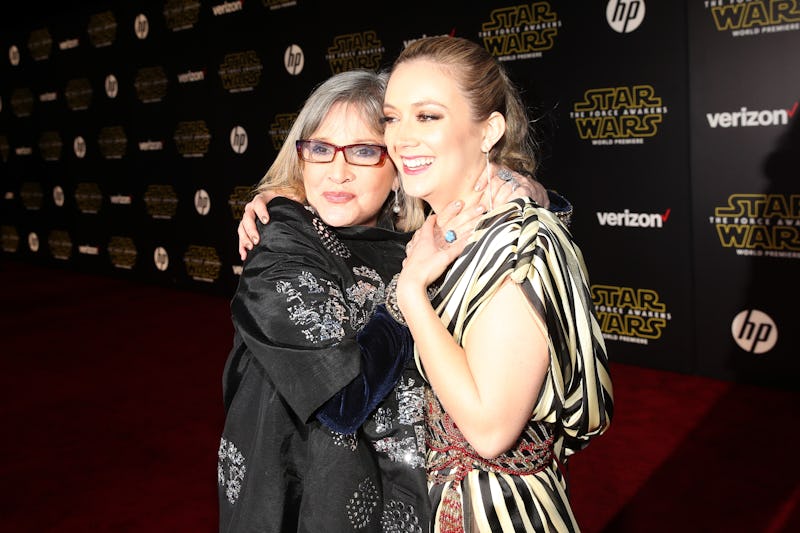 Jesse Grant/Getty Images Entertainment/Getty Images
After spending three days at a hospital recovering from a severe heart attack, beloved actress Carrie Fisher passed away at the age of 60 on Dec. 27. Fisher, best known for the role of Princess Leia in the Star Wars franchise, appeared in 41 fictional movies, at least two documentaries, and 43 television shows throughout a career spanning over four decades. She was well-accompanied in show business by her family: not only was she the daughter of actress Debbie Reynolds, but her three siblings also shared the same career path. It seems only fitting that Fisher's only daughter, Billie Lourd, is pursing her own career in Hollywood.
The 24-year-old Billie made her acting debut in 2015 as Chanel #3 in FOX's comedy-horror series Scream Queens, in which she currently still plays a main role. She headed to the big screen that same year as Lieutenant Connix in Star Wars: The Force Awakens.
Lourd's spokesman released a statement on Tuesday following her mother's passing. "It is with a very deep sadness that Billie Lourd confirms that her beloved mother Carrie Fisher passed away at 8:55 this morning," it read. "She was loved by the world and she will be missed profoundly. Our entire family thanks you for your thoughts and prayers."
While many might assume that Lourd's relatives prodded her in the show business direction, she claims to be completely rebelling against her family's wishes by taking that route. "The one thing they'd all say my whole life was: 'The last thing you want to be is an actress,'" Lourd shared with Vanity Fair. "They wanted me to be a doctor, a C.E.O., a trashman. Basically anything but an actress."
Her mother later seemed to recognize that movie sets might be the right settings for Lourd, though. "I walk on [the set of Star Wars] and I'm singing Jersey Boys," she revealed. "My mom pulled me aside that night and said, 'You know, it's really weird that you're this confident on set. That's rare. You should do this.'"
While Lourd isn't as active on social media as many of her peers in the industry, she did occasionally share warm photos of she and her mother spending time together at restaurants, film sets, and family occasions; their close relationship is easy to recognize from these few tidbits. Lourd's happy birthday message for her mother's 59th reads wishes a good day to "this glorious woman who has always taught me to be myself (and a lil more)."
Lourd's Scream Queens co-star Jamie Lee Curtis shared her condolences in light of Fisher's death on Instagram. "Her mother's spirit and talent lives on in [Billie] and I'm sure all of Carrie's fans and friends will give her space and privacy," reads the post.
Let's hope Lourd and the rest of Fisher's family has a healing grieving process.