'CBB' Fans, Here's The Truth About Those Gabby Allen & Dan Osborne Rumours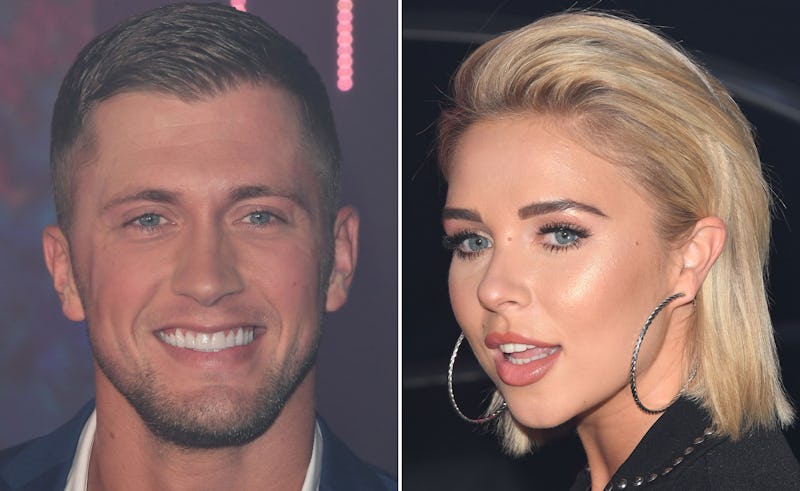 Stuart C. Wilson/Getty Images Entertainment/Getty Images
With the 2018 series of Celebrity Big Brother officially underway, I'm anticipating that things could get awkward very quickly for two of the newly announced housemates; Dan Osborne and Gabby Allen. The pair were romantically linked before entering the house after her ex-boyfriend, Love Islander Marcel Somerville, accused her of cheating with Dan. (It was a sticky situation, especially since his own infidelities were exposed before that.) But did Gabby Allen and Dan Osborne really hook up as Marcel claimed?
Dan and Gabby were first romantically linked together when they were photographed earlier this year at the Holistic Boot Camp in Marbella, as reported by The Sun. They were snapped sitting beside one another on a yacht and laughing, which resulted in a lot of speculation; were they friends or something more? Well, it turns out, all is not as it seemed. You see, they weren't alone on said yacht. There was in fact a whole group of them on board, including fellow celebs Stephanie Davis and Calum Best.
But as the rumours mill went into full-force, both Gabby and Dan decided to speak out to try and put out the fire once and for all. According to OK! magazine, he wrote on Instagram: "I am speaking and laughing with a friend. But of course, a man and a woman can't be friends in this day and age can they. Also you don't know me, don't know how I 'act' [sic]."
Meanwhile, Gabby was faced with the mortifying task of having to explain the situation to former Eastenders actress Jacqueline Jossa, aka Dan's wife and mother of their two children. She told The Sun: "Yeah, I have spoken to her. I never thought I'd have to explain anything before because I haven't done anything wrong, so why would you have to explain anything? But then we have spoken and it was fine."
She continued: "I'm never going to sleep with a married man. Ever. I've seen it happen to my friends, to family, I've been cheated on so badly before. It is not worth it."
Awkwardly, the rumours about Dan and Gabby came after a different woman claimed she had slept with him, according to The Sun. I have contacted Dan's team for comment regarding the claims. Whether there is any truth to the allegations or not, he and Jacqueline decided to split shortly afterwards, less than a year after they got married, reports the Mirror.
Rumour has it that the couple decided to give their relationship another go earlier this year, according to the Daily Mail. However, Dan appeared to suggest on Celebrity Big Brother during the launch episode that they are actually still separated. Before entering the house, he said: "As soon as it was out there that me and my wife had separated and had any problems, people jumped on it."
He then added: "People are gonna write what they want, that's up to them."
Meanwhile, Gabby is very much and ready to mingle. So, does that mean a house romance could potentially be on the cards for the former Islander? Well, if it is, it won't be with Dan as she's made it crystal clear that he is not her type.
"He's just not for me," she told new! magazine, "I'll wingman him though – if he is actually single! Because of everything that came out, we haven't even had the chance to be mates. "
Celebrity Big Brother is on Channel 5, daily at 9 p.m.