Emilia Clarke's Latest Instagram Post Thanking 'GoT' Will Leave You With All The Questions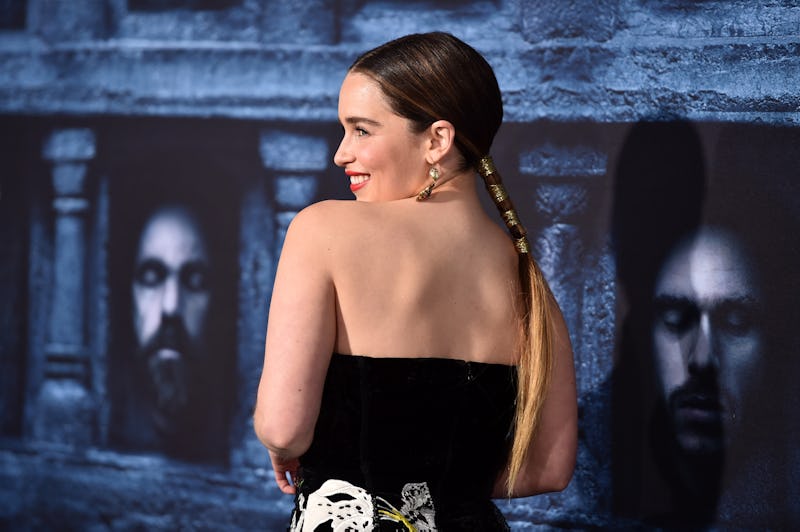 Alberto E. Rodriguez/Getty Images Entertainment/Getty Images
After the end of season 7 in 2017, fans were left in agony. They would have to go the entirety of 2018 without a new season. But, thankfully, the stars of Game of Thrones are leaving little crumbs on their social media to tune you in to the latest developments in Westeros. On Sunday, the silver-haired, dragon-wielding conqueror of arguably the most compelling TV universe in the past decade said farewell ... but to what, no one is exactly sure. In an Instagram post, Emilia Clarke might've suggested Game of Thrones finished filming — or at the very least, for her role. But, of course, no one can be 100 percent sure.
Lying against a backdrop of white flowers, Clarke took a selfie in a fur-hooded jacket while squinting into the camera. In the post, the 31-year-old actress wrote, "Hopped on a boat to an island to say goodbye to the land that has been my home away from home for almost a decade.It's been a trip @gameofthrones thank you for the life I never dreamed I'd be able to live and the family I'll never stop missing." She finished the caption with #💔#lastseasonitis.
It's unclear what island Clarke was referring to (the show frequently shoots in Iceland, Northern Ireland, Croatia, and Malta). But if she's saying goodbye to the "land that has been my home away from home for almost a decade," then it seems like it has to be one of the show's oft-filmed locations.
Clarke plays Daenerys, who is the heir of a former ruling dynasty. Throughout the epic fantasy series, her character grows stronger in character and power; she amasses a formidable army (topped off by ferocious dragons that only she can control) as she tries to reclaim a throne that she sees as her birthright. Daenerys, her blood link to the dragons, and her long shock-silver braids quickly catapulted her into one of the show's most recognizable and popular characters.
HBO has been coy about the details of the show's final season, which will return in 2019 for six episodes in its eighth season. Game of Thrones has been on since 2011 and unlike the typical trajectory of tv shows, the HBO juggernaut program has only gotten more popular the longer it's been on. And the immense popularity has justified an enormous budget by the network. The final season is estimated to cost at least $15 million per episode, according to Indiewire.
Here's to hoping that the millions poured into each episode will mean the storyline is stellar. Clarke has revealed clues about the final season before. In her summer issue interview with Vanity Fair, the English actress confirmed that she has shot Daenerys' "final on-screen moments," according to Independent, though there's obviously a ton more production work to be done.
"It f*cked me up. Knowing that is going to be a lasting flavour in someone's mouth of what Daenerys is…" said Clarke in her interview with Vanity Fair. The showrunners of Game of Thrones are notoriously secretive about spoilers and plot spills before the episode airs. Clarke's reaction to what happens to Daenerys in the final season is portentous; the mother of dragons has already seen some gruesome, truly maddening stuff in her path to power, so if whatever's left is enough to elicit that strong of a reaction, then things might not end on the (mostly) moral high note that has been key to Daenerys' character.
The Vanity Fair interview also revealed that Clarke has filmed scenes for the first time with other show favorites, including Maisie Williams (who plays a wiley Arya Stark) and Sophie Turner (Sansa Stark). Clarke mentioned that during the final season, she has been "doing all this weird sh*t — you'll know what I mean when you see it." No doubt everyone will be watching.
So, to Daenerys Stormborn of the House Targaryen, First of Her Name, the Unburnt, Queen of the Andals and the First Men, Khaleesi of the Great Grass Sea, Breaker of Chains, and Mother of Dragons, a grateful thanks for the hours and hours of emotionally-charged entertainment as she presumably says goodbye to the land that made her into one of the most badass characters in television history.