This Is The One Critical Thing Hurricanes Harvey & Irma May Have In Common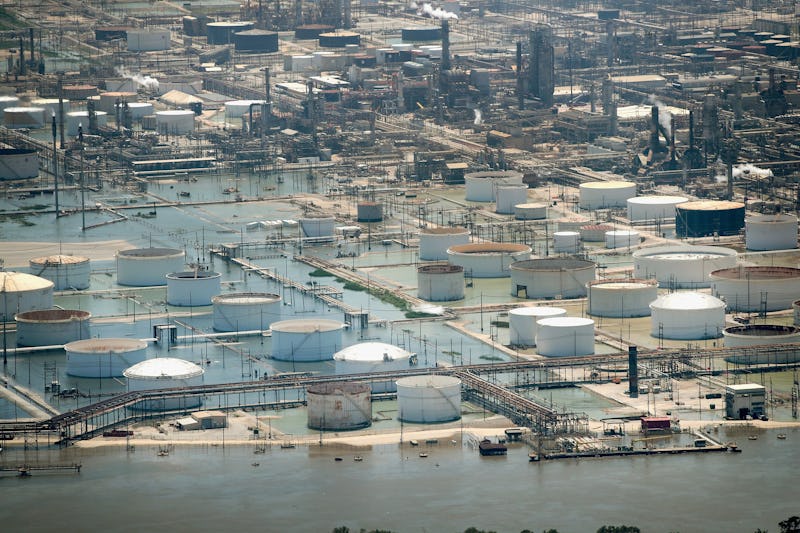 Scott Olson/Getty Images News/Getty Images
As the city of Houston continues to grapple with the damage from Hurricane Harvey, there's another major storm already on the horizon. Considering how close together these two events are, some may be wondering, did Hurricane Irma cause Harvey?
The short answer is no. It is currently what meteorologists call hurricane season, and Irma is the fourth in this 2017 season. Irma has grown in speed and strength in the eastern Atlantic Ocean — forecasted to be the second most powerful storm of 2017's hurricane season — and could hit the Caribbean and the southeastern United States hard.
Irma, is not directly linked to Hurricane Harvey, but the two do share some similarities, as scientists have said that climate change may have caused conditions that allowed the storms to strengthen. It began as a tropical wave off the coast of Africa before it began swirling toward North America — the same path traveled by Harvey and other Atlantic hurricanes. And on Thursday, after a period of rapid intensification, Irma reached a Category 3 hurricane designation, with sustained winds of of 115 mph.
"Irma has become an impressive hurricane," the National Hurricane Center said on Thursday, according to CNN.
And Irma is expected to intensify, as a high-pressure weather system just to the north of Irma's path has allowed the storm to avoid "wind shear," the force the essentially weakens storms. "There's practically no vertical wind shear, which is what would really prohibit storms from forming or strengthening, because it kind of keeps the top separate from the bottom, and they need to be stacked to really strengthen," said Brian McNoldy, a senior research associate at University of Miami's Rosenstiel School of Marine and Atmospheric Science, told The Atlantic.
While scientists are hesitant to make a causal link between climate change and Hurricane Harvey — and now Hurricane Irma — experts have said that climate change could have contributed to some of the underlying factors that made Harvey and now Irma so strong. According to Politifact, scientists have said that a warmer climate contributes to heavier rainfall.
"While it is not yet possible to determine exactly how much of the rainfall associated with Harvey was due to climate change versus how much would have occurred naturally, nearly every scientific study agrees that, as the world warms, on average the amount of rainfall associated with hurricanes will increase," Katharine Hayhoe, a climate scientist at Texas Tech University in Lubbock, told the fact-checking website. Furthermore, scientists are still exploring whether warmer ocean temperatures have fueled hurricanes to become more intense storm systems.
At this point, Irma's exact path remains unclear. "We have plenty of time to watch this," Dennis Feltgen, a meteorologist at NOAA's National Hurricane Center in Miami, told The Atlantic. But according to meteorologist's best predictions, Irma could make landfall on the Caribbean islands in the next four or five days, and proceed onward to the United States' Eastern Seaboard. And just as the hurricane's strength has been dependent on the high-pressure system that has hovered over the Northeastern region of the United States, the hurricane's path is based on that same pressure system.
"If it's a really strong system up there, it tends to keep hurricanes more toward the west," McNoldy told The Atlantic. "If there's a weakness in it somewhere ... hurricane tracks will find their way north a little bit quicker."